Cartel gunmen hung the bodies of three men from an overpass along with a posted warning sign in the Mexican coastal state of Nayarit. The reminder message shocked commuters as to the raging violence that continues to take place as rival cartels wage fierce territorial wars.
The shocking image three men hanging from the overpass along one of Tepic, Nayarit's, busiest roads sparked fear among local residents. The banner warned of future violence, a local news outlet reported. Tepic is the state capital of Nayarit, a Mexican coastal state that has been in dispute between the warring factions of the Sinaloa and the Beltran Leyva Cartels.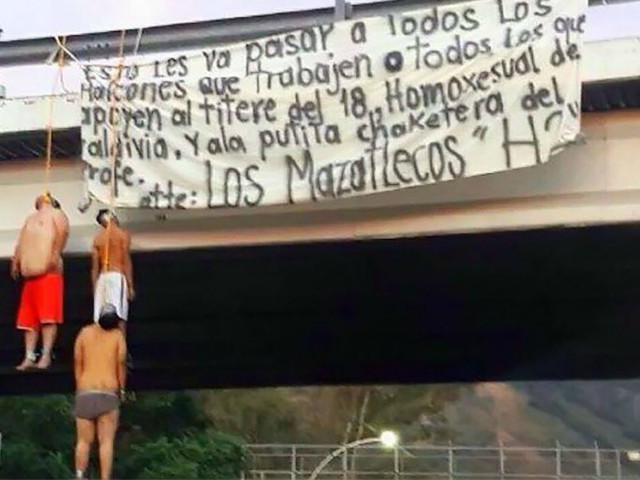 The macabre discovery of the bodies was similar to others that had been hung off the overpass in 2011 during the height of the narco-violence that engulfed the country, Mexico's Proceso reported.
The banner was presumably left by Los Mazatlecos an independent cartel who is allied with the Beltran Leyva Cartel and has been at war with factions of the Sinaloa Cartel. In the banner, the Mazatleco's gunmen threaten two rivals identified as a "puppet for El 18" named Valdivia and another man known as El Profe.
Los Mazatlecos originally started out as an armed wing for the Beltran Leyva Cartel but eventually branched out and began operating on their own after the Beltran Leyva Cartel was sorely weakened following the arrests or deaths of their main leadership. Los Mazatlecos are currently led by Fausto Isidro "Chapo Isidro" Meza Flores, who used to be a lieutenant with the Sinaloa Cartel but in 2008 switched sides and sided with those loyal to the Beltran Leyva family who were breaking away from the Sinaloa Cartel.

The banner was signed by" Los Mazatleco H2", a reference to a former top leader of the group named Juan Francisco "H2" Patron Sanchez, who was killed earlier this year. At the time of his death, Patron was considered to be one of Chapo Isidro's top associates.  Patrón was killed when he clashed with Mexican marines in the streets of Tepic; the military used a helicopter to rain down a barrage of gunfire on him, Breitbart Texas reported.
Robert Arce is a retired Phoenix Police detective with extensive experience working Mexican organized crime and street gangs. Arce has worked in the Balkans, Iraq, Haiti, and recently completed a three-year assignment in Monterrey, Mexico, working out of the Consulate for the United States Department of State, International Narcotics and Law Enforcement Program, where he was the Regional Program Manager for Northeast Mexico (Coahuila, Tamaulipas, Nuevo Leon, Durango, San Luis Potosi, Zacatecas.)