UNCASVILLE, Conn.—The world's most famous street fighter battles the "the World's Most Dangerous Man" in a bout for the ages—the old ages.
Kimbo Slice and Ken Shamrock, at a combined 92 years, fight in a heavyweight tilt in the main event of a June 20 Bellator MMA card in St. Louis. Breitbart Sports attended a press conference at Connecticut's Mohegan Sun casino on Friday night announcing the seven-years-in-the-making match.
"I hear people saying, 'He's doing it for the money'—Of course, I am," Shamrock told Breitbart Sports in response to a press-conference question. "That's what we do. I'm a professional. I fight for money, and I have my whole life. But that's not the only reason."
Breitbart Sports queried YouTube sensation Slice whether the fight represents a long-term commitment to mixed-martial arts. "It's not one and done for me," Kimbo responded. "I'm here, man. I'm here to fight anybody in the heavyweight division. I'm not here to make friends. I'm not here to shake anybody's hands. I'm here to thump."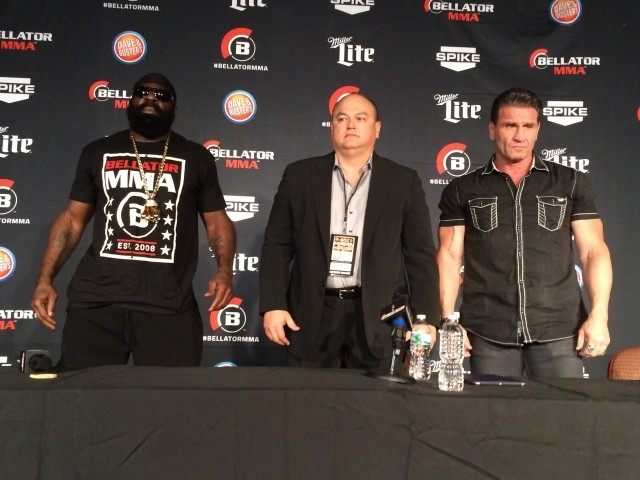 Shamrock, an MMA pioneer who owns wins over Bas Rutten and Dan Severn as well as a stalemate with Royce Gracie, acknowledged the need to pick his opponents carefully at his advanced age. Looking fit and trim but 51, Shamrock looked the smaller of the two man and unlikely to weigh in much over the 206-pound heavyweight minimum. Slice's size eclipsed even heavyweight great Fedor Emelianenko at a pre-presser autograph signing for fans.
"I'm not fighting a 27-year-old, number-one ranked opponent in the world," Shamrock noted of his 41-year-old opponent. "I am taking fights that are interesting to me, ones that I think the fans would enjoy, that would definitely enjoy, and ones that I believe are marketable businesswise."
The Bahamian backyard brawler, who defeated Houston Alexander and Tank Abbot during his brief MMA run, returns to the sport after a 7-0 sojourn in boxing. The pair looked to fight in 2008 before a last-minute cut above Shamrock's eye led to an embarrassingly quick defeat for Slice at the hands of replacement Seth Petruzelli.
Slice reasoned that the fight featuring two of the sport's most marketable names makes dollars, so it makes sense. Bellator MMA honcho Scott Coker, not looking certain that he could pass a lie-detector test, boasted: "I'm proud to put this on."
The battle will air on a free card on Spike TV. The fighters, particularly Shamrock, appeared enthused about another opportunity under the limelight.
"I have earned the right to be able to fight for fun," Shamrock told Breitbart Sports. "I think a lot of people have a hard time understanding that I don't want to go fishing. I don't want to go hunting. I like being in the room with a bunch of dudes getting ready for a fight, training, building camaraderie, patting each other on the shoulder, preparing for a fight, walking to the ring, competing, winning, walking out, enjoying a good time together. To me, that's the best thing in life. I love that."