An Egyptair domestic flight from Alexandria to Cairo was hijacked on Tuesday and landed in Cyprus, Egyptian officials said.
It's Over:
Everyone is now off the plane and the hijacker is in police custody.
Official sources at EGYPTAIR declared the release of all the hostages and the arrest of the hijacker. #EgyptAir

— EGYPTAIR (@EGYPTAIR) March 29, 2016
Mail: Passenger Posed for Selfie with Hijacker:
One grinning passenger posed for a SELFIE alongside #EgyptAir hijacker https://t.co/gj4teScAeR pic.twitter.com/mj7mgE6v1h

— Daily Mail Online (@MailOnline) March 29, 2016
Cyprus Foreign Ministry: Hijacker Arrested:
Its over. The #hijacker arrested. #LarnacaAirport # Egyptair

— Cyprus MFA (@CyprusMFA) March 29, 2016
Video of Man Jumping from Aircraft:
Phenomenal pictures from #Larnaca. Watch as #EgyptAir pilot(?) climbs out of cockpit window pic.twitter.com/JHwx7FbwQ5

— Rachel McArthur (@raychdigitalink) March 29, 2016
Picture: Man Climbs Out of Aircraft:
BBC: One Person Escapes By Cockpit Window:
The BBC is reporting that one person escaped the plane through the window of the cockpit.
Four more people leave plane:
#BREAKING At least four more people leave hijacked EgyptAir plane: AFP

— AFP news agency (@AFP) March 29, 2016
Now Media Reports Hijacker Claims to Be Egyptian Army Officer:
#Media reports tt hijacker of #EgyptAir plane reported 2 #Cyprus is an officer in Egyptian army, not university professor

— Helena Smith (@HelenaSmithGDN) March 29, 2016
Photo of Alleged Hijacker:
from all bawabah. photo of alleged hijacker #EgyptAir pic.twitter.com/Stl6PQNdCo

— Mokhtar Awad (@Mokhtar_Awad) March 29, 2016
EgyptAir Is Sending Another Plane to Pick Up the Released Passengers:
https://twitter.com/EGYPTAIR/status/714764527213142016
BBC: Downing Street "Aware of Speculation" About Britons on Board:
Downing Street say aware of "speculation" about UK passengers on hijacked Egyptian plane and are " working to establish the facts"

— norman smith (@BBCNormanS) March 29, 2016
Latest Image: Police Sniper Takes Aim:
Second AirEgypt Plane Not Allowed to Take Off:
Reuters: Security sources say #Cairo airport has delayed the departure of a New York-bound #Egyptair flight due to security fears #MS181

— Sky News Breaking (@SkyNewsBreak) March 29, 2016
Seven People Still On Board:
Egypt's foreign ministry says 4 passengers and 3 crew are still on board the aircraft.
Now there are claims the hijacker is asking for release of prisoners in Egypt:
#EgyptAir hijacker asks for release of prisoners in #Egypt (Cyprus State broadcaster) https://t.co/FGOS39lBgt pic.twitter.com/ppV3qmSsDl

— FRANCE 24 English (@France24_en) March 29, 2016
Egypt Foreign Ministry Denies Calling Hijacker 'Idiot':
Spokesperson for Egypt's Foreign Ministry denied issuing any statements or remarks to @guardian regarding hijacking of EgyptAir flight today

— Egypt MFA Spokesperson (@MfaEgypt) March 29, 2016
Ruth Michaelson, who quoted the officials, responds that "no one said it was the spokesperson".
No one said it was the spokesperson. https://t.co/foKnSr3rSE

— Ruth Michaelson (@msrmichaelson) March 29, 2016
Cyprus Names Hijacker:
Cyprus Ministry of Foreign Affairs says the hijacker of #Egyptair flight #MS181 is Seif Eldin Mustafa and the situation is still ongoing

— Sky News Breaking (@SkyNewsBreak) March 29, 2016
Hijacker 'Has Made No Concrete Demands':
Egypt transport minister says #Egyptair hijacker has not made any concrete demands so far. A lot of conflicting info

— Michelle Clifford (@skynewsmichelle) March 29, 2016
Hijacker Now Named as Seif El Din Mustafa:
Local media now claim this is the hijacker's name, although this remains unconfirmed.
Explosive Belt 'Dealt With As If Real':
Egypt's aviation minister told a press conference he did not know if explosives were real: "We didn't know if it was real, but we dealt with it as if it was real."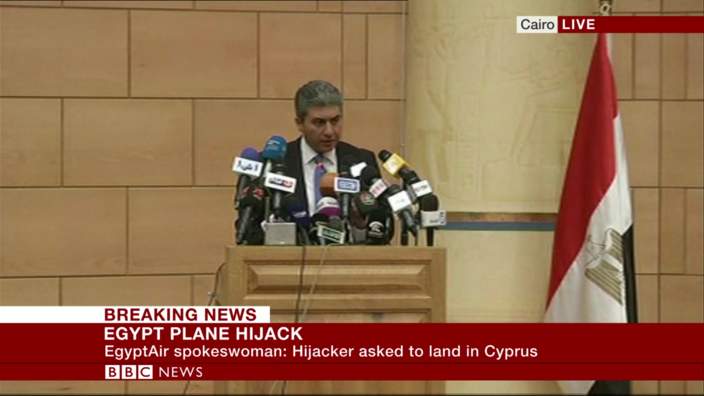 Man Wrongly Identified as Hijacker Speaks Out:
He told BBC Arabic: "We did not know what was going on. We got aboard the plane and we were surprised that the crew took all our passports, which is unusual for a domestic flight. After a while we realised that the altitude is getting higher. Then we knew we were heading to Cyprus. At first the crew told us there was a problem with the plane, and only later we knew it was hijacked."
Hijacker 'Misidentified':
Apparently Ibrahim Samaha, named as hijacker, has been released as a hostage. He's not the hijacker. #EgyptAir

— Hind Hassan (@HindHassanNews) March 29, 2016
Two Britons Still On Board:
hijacked #egyptair plane being kept 2 perimeter of #larnaka airport: 2 britons, 1 italian, 1 irishman sd 2 b among those still on board

— Helena Smith (@HelenaSmithGDN) March 29, 2016
Picture Emerges of Released Hostages:
Hijacker's Ex-Wife 'Helping Negotiations':
ex wife of man behind #egypt air hijacking now at #larnaka airport where #cypriot gov hopes she'll talk sense 2 love-sick former partner

— Helena Smith (@HelenaSmithGDN) March 29, 2016
Reports: Hijacker Teaches Veterinary Medicine:
Various reports are now naming the hijacker as Ibrahim Abdel Tawwab Samaha, a professor of veterinary medicine at Alexandria University.
BBC: Eight Americans, Four Britons on Hijacked Plane:
The BBC quotes the head of Alexandria's Borg El Arab Airport as saying eight Americans, four Britons, two Belgians, one Italian, four Dutch and 30 Egyptians were on board the flight.
Reuters: More Passengers Seen Leaving Plane:
BREAKING: More passengers seen leaving hijacked #EgyptAir aircraft: Cyprus state broadcaster https://t.co/RpwB2vpqMc pic.twitter.com/rFOLsE1DgC

— Reuters Top News (@Reuters) March 29, 2016
Egypt Foreign Ministry: He's Not a Terrorist, He's an Idiot:
The Guardian is quoting officials at Egypt's ministry of foreign affairs as saying: "He's not a terrorist, he's an idiot. Terrorists are crazy but they aren't stupid. This guy is."
Cypriot President: Not Terrorism, Personal Motive:
#cyprus pres nikos anastasiades confirms tt terrorism not behind hijacking but love-sick romeo. "it's 2 do w a woman!"

— Helena Smith (@HelenaSmithGDN) March 29, 2016
Egypt State TV Shows Purported Photo of Hijacker:
Those asking where the previous image of #EgyptAir hijacker #IbrahimSamaha was from – it is from #Egypt's State TV pic.twitter.com/J1qo8dknE3

— Rachel McArthur 🖋️ (@raychdigitalink) March 29, 2016
#Egyptair hijack: Egyptian TV are posting a picture of the alleged suspect https://t.co/IvCdRjAyxF pic.twitter.com/4qVeyAXNwb

— euronews (@euronews) March 29, 2016
Claim: Hijacker Teaches at Atlanta University:
Hijacker Ibrahim Samaha teaches at Atlanta University, says Head of Burg Al-Arab airport

— Daily News Egypt (@DailyNewsEgypt) March 29, 2016
Hijacker "Wants To Deliver Message to Ex-Wife":
Local media say the hijacker is Egyptian and asked the pilot to head to Istanbul but fuel was not enough so it landed in #Cyprus #EgyptAir

— Lutfi Abu Aun (@lutfiabuaun) March 29, 2016
EgyptAir hijacker's former wife lives in Larnaca, Cyprus – RIK TV says

– It must have been love

— Russian Market (@russian_market) March 29, 2016
✈ #Cyprus state TV says hijacker 'just wants to deliver a message to his ex-wife who's Cypriot'. #EgyptAir #MS181
😳

— Yannis Koutsomitis (@YanniKouts) March 29, 2016
Footage of Passengers Being Released:
Hijacker Named as Ibrahim Samaha
TV says #EgyptAirHijack perpetrator seeking asylum in #Cyprus. Don't think he'll get it now. Not looking like an #ISIS attack #Egypt

— Stephen Kalin (@stephenkalin) March 29, 2016
Reports Four of the Foreign Passengers are British:
The UK embassy in Egypt says on Facebook:
UPDATE: Egypt Air Says All Passengers Freed Except 5 and Crew:
Reuters reports:
EgyptAir said negotiations had resulted in the release of all passengers on the hijacked Egyptian plane except for five foreigners and the crew.

"The negotiations with the hijacker have resulted in the release of all the plane passengers with the exception of the crew and five foreigners," the airline said in a statement.
From Reuters:
The pilot of the plane was threatened by a passenger strapped with explosives, Egypt's Civil Aviation Ministry said.
The Cyprus Broadcasting Corporation reported that 55 passengers were on board and a crew of seven. The hijacking occurred in Cyprus's flight information region and the airliner was diverted to Larnaca.
The plane was an Airbus 320, Egypt's aviation ministry said.
The ministry in a statement that pilot Omar al-Gammal had informed authorities that he was threatened by a passenger who possessed a suicide belt and forced him to land in Larnaca.
CYBC said the airplane was parked at an apron at Larnaca airport. The hijacker asked police to back away from the aircraft, it said.
Israel scrambled warplanes in its airspace as a precaution in response to the plane hijacking, according to an Israeli military source.