Belgium has the highest number of people per capita in the European Union (EU) who have travelled to Iraq and Syria to join terror groups such as Islamic State.
The small European nation has produced between 420 and 516 foreign fighters, of whom 55 to 130 have returned home, according to a report by the International Centre for Counter-Terrorism.
Numbers are also increasing, with the number of foreign fighters in Syria and Iraq doubling between September 2014 and September 2015.
An estimated 4,000 people across the European Union are believed to have joined jihadist fighters in Syria, with the majority coming from just four nations: Belgium, the UK, Germany and France. Around 30 per cent of those are now believed to have returned home, potentially battle hardened and ready to launch attacks.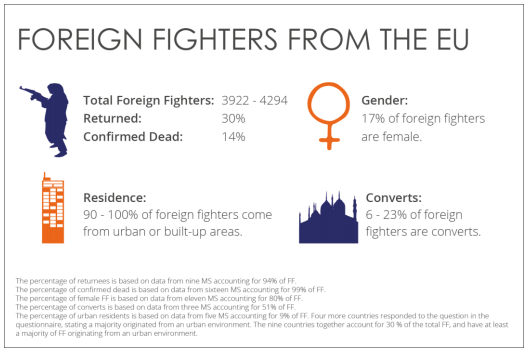 The report also reveals the scale of the phenomenon of so-called "jihadi brides", with nearly one in five foreign fighters being female. Many fighters also tend to come from the same neighbourhoods, indicating that pre-existing extremist networks may already be operating in these areas.
The Molenbeek neighbourhood in Brussels has become notorious as one such area, with Paris bomber Salah Abdeslam able to shelter there for some time before finally being caught.
A sizeable number of the fighters are also converts to Islam, with up to 23 per cent joining the religion from another faith or none.
Belgium is still reeling from last month's Brussels terror attacks that were perpetrated by radicalised Muslims living in the Belgian capital.
Last week, it was revealed that up to 50 supporters of Islamic State were working at Brussels Airport as baggage handlers, catering staff and cleaners, and that some may still have access to cockpits despite concerns being raised.
The Belgian police union warned the interior ministry on 18 March that airport workers may be briefing terrorists on the best places to attack, and even threatened to strike over the concerns. The airport was attacked just four days later.
Follow Nick Hallett on Twitter:

Follow @NickJHallett

or e-mail to: nhallett@breitbart.com