A Eurosceptic member of the Finnish parliament has been criminalised and fined for posting an anti-Islam Facebook post on his personal page.
Teuvo Hakkarainen, a member of the populist, nationalist Finns Party, made the comment following the Islamist attack in Nice, France, which claimed the lives of 86 innocent people last July.
"All Muslims are not terrorists but all terrorists are Muslims," the parliamentarian wrote in the comment, as well as speaking of a Finland without Islam and calling for deportations.
A Finns Party spokesman has already said Mr. Hakkarainen will be internally disciplined for his comments, but Central Finland's district court in Jyvaskyla sought to further punish him, claiming he was agitating against an ethnic group. They hit him with a €1,160 (£991) fine, YLE Uutiset reports.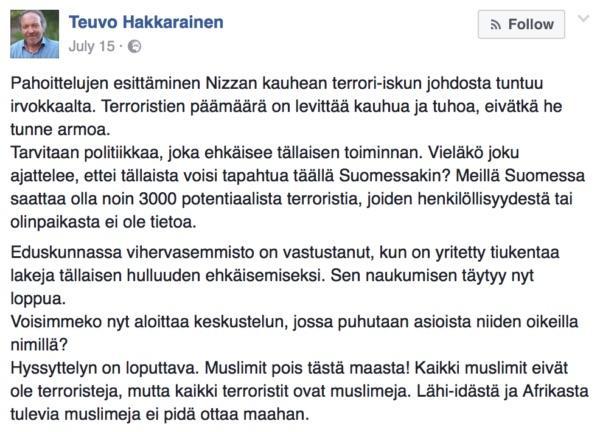 Mr. Hakkarainen accepted the verdict, however, and appears not be backing down.
Following the December Berlin truck attack, claimed by Islamic State, Mr. Hakkarainen remarked on his Facebook page: "This is yet another indication of how much [Islam] appreciates and respect the Western way of life."
The Finns Party rose from receiving 4 per cent of the vote in the 2007 parliamentary election to receiving almost 18 per cent in 2015.
They currently hold 37 of the 200 parliamentary seats in Finland and have been part of the country's governing three-party coalition since 2015.
Since stepping into government, the party has reportedly toned down many of its positions.
Finland, however, has responded to public demand by tightening its immigration policies, along with other Nordic countries, after about 32,000 migrants arrived in the country in 2015 – up tenfold on 2014.
Unwarranted asylum applications are now fast-tracked and applicants returned quickly. This includes those arriving across the border from Russia, which Finnish officials have declared a safe country.
Age tests are also conducted on asylum-seekers suspected of not being minors, and those using false documents are liable for punishment.