U.S. President Donald Trump met Russian President Vladimir Putin Friday at the G20 meeting, the two world leaders greeting each other with a handshake ahead of their formal meeting in the afternoon.
The White House is briefing that there is "no fixed agenda" for the meeting between Presidents Trump and Putin, though the Kremlin said that this will be a "fully fledged seated meeting", expected to last 15 minutes.
World leaders gathered earlier in the afternoon, local time, for a group photograph.
The president is also due to meet with President Enrique Peña Nieto of Mexico on Friday and British Prime Minister Theresa May on Saturday at the gathering hosted by German Chancellor Angela Merkel in the port city of Hamburg.
The summit is taking place amidst violent protests from anarchists and left wing extremists. G20 and other global leadership events are draws for anarchists, left wing extremists, and open borders activists.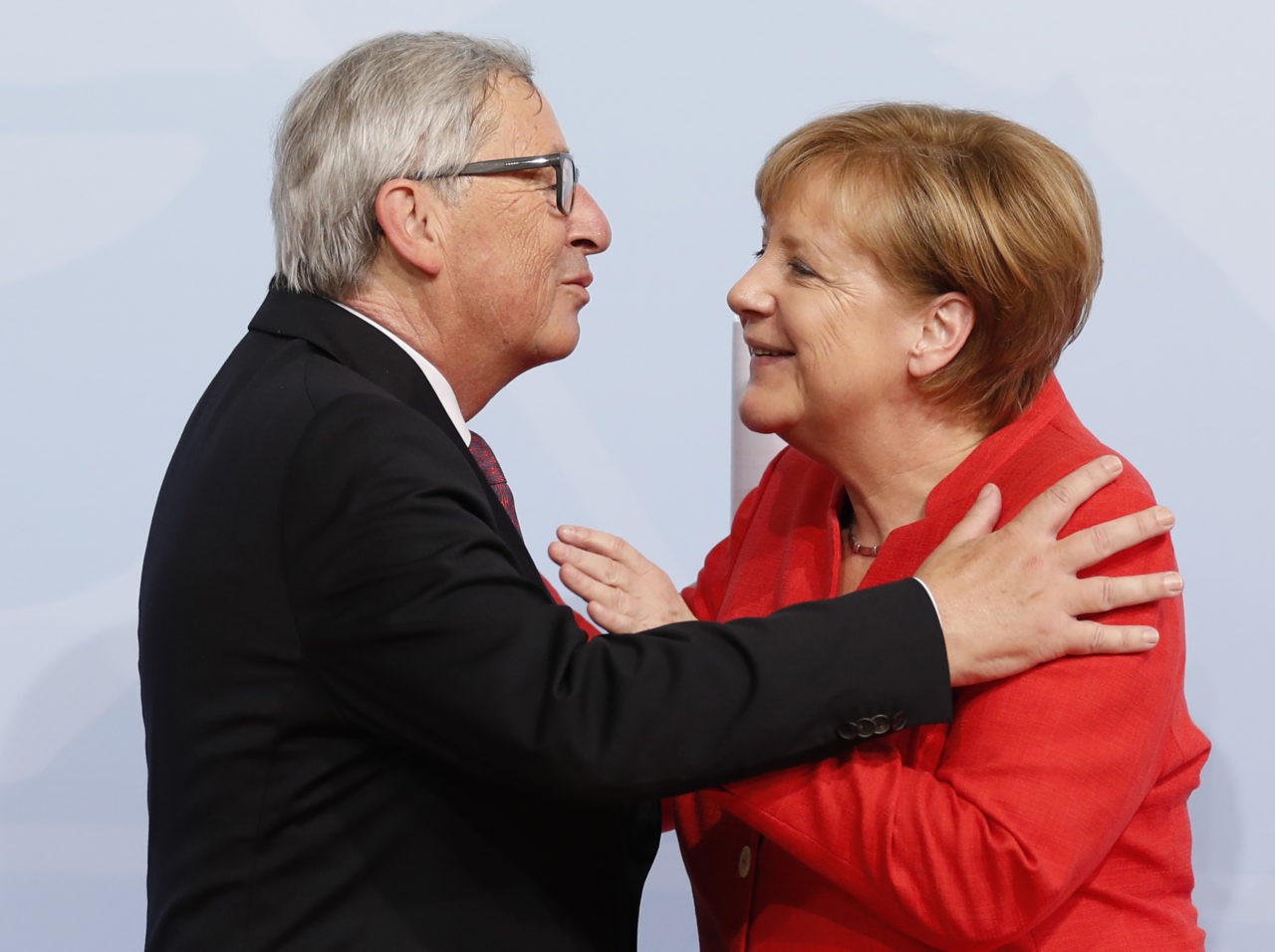 HAMBURG, GERMANY – JULY 07: German Chancellor Angela Merkel officially welcomes President of the European Commission Jean-Claude Juncker to the opening day of the G20 summit on July 7, 2017 in Hamburg, Germany. Leaders of the G20 group of nations are meeting for the July 7-8 summit. Topics high on the agenda for the summit include climate policy and development programs for African economies. (Photo by Friedemann Vogel – Pool/Getty Images)
On Thursday night,  Hamburg erupted in violence as an organised protest by left wing extremists and 'black bloc' anarchists, named "Welcome to Hell", led to arson, criminal damage to businesses and property, nearly 50 arrests, and 130 police officers being injured. Further demonstrations are expected throughout the day and Saturday.
The G20, or Group of 20, is a gathering of world leaders and bankers from the 20 of the world's largest and emerging economies (19 sovereign nations plus the European Union represented by the European Commission and the European Central Bank).
The Group was founded in 1999 to foster greater global economic cooperation.
G20 has a rotating presidency. Chancellor Merkel is chairing the meetings and Argentina and India are next in line to assume the presidency after Germany.
Prime Minister May will call on fellow world leaders to tackle the funding of terrorism, and will push for free trade deals post-Brexit.
President Trump flew to Hamburg ahead of the G20 Thursday night after a successful visit to the Polish capital of Warsaw, where he made an impassioned speech to an enthusiastic crowd in defence of conservative Poland, urging the defence of Western civilisation and faith.