TEL AVIV – Following the carnage in Brussels, Palestinian Authority Security Forces Spokesman said that the U.S. and Europe had created international terror and were therefore responsible for attacks on Western nations, Palestinian Media Watch (PMW) reported.
Adnan Al-Damiri further asserted in a post on his Facebook page that the U.S. and Europe are responsible for "exporting Jewish terror to Palestine."
"Those who prepare the poison will taste it themselves, and today Europe is having a taste of what it prepared with its own hands," wrote Al-Damiri the day after the Brussels terror attacks.
Al-Damiri lashed out at the West's treatment of Arab nations, saying,
We Arabs are the ones who have been most severely burned by the fire of terror, which has been created and exported by the U.S. and Europe since the Arab jihad fighters in Afghanistan, and before that by exporting the Jewish terror to Palestine, supporting it and justifying it. Today, Europe is being burnt by [terrorism's] fire in its airports and squares.

Unless you fight terror everywhere, first and foremost in Palestine, since the [Israeli] occupation is the ugliest form of terror, as well as in Syria, Iraq, Yemen, Libya, Egypt, Tunisia, and Jordan – you will be burnt by its fire, and terror has no religion.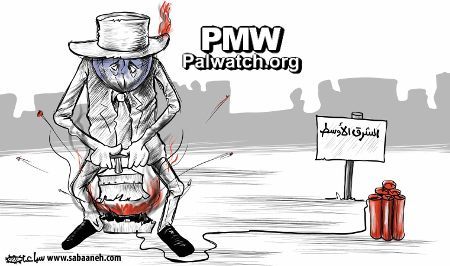 On Wednesday, the official PA daily Al-Hayat Al-Jadida published a cartoon that echoed Al-Damiri's sentiments. The image shows a man representing the Western world attempting to blow up the Middle East, but inadvertently blowing himself up.
You can see the cartoon at right.
Meanwhile, Palestinian daily Al-Quds argued that the West, with its support for Israel and its "destructive policy," was encouraging ongoing global terrorism:
The reasons for these contemptible terrorist actions are: The double standard employed by many countries that claim to champion democracy and human rights regarding certain peoples, chiefly the Palestinian issue, and the U.S.'s blind pro-Israel bias; the world's failure to take practical steps to force Israel to end its occupation of the Palestinian territories; the failure to implement the international resolutions regarding the Palestinian issue; and the continued support of many countries for Israel's destructive policy. All these encourage global terrorism. The Western world, particularly the U.S. and Britain, should deal with the real causes [of terrorism] rather than [merely] with its results, or else it will threaten not only Europe, but the entire world as well, and then no one will be safe from it.