JERUSALEM – The Palestinian National Security Forces, the Palestinian Authority body that coordinates with Israel on security matters, published two cartoons demonizing Prime Minister Benjamin Netanyahu and Israeli soldiers.
The first cartoon, published on the organization's official Facebook page last week and exposed by Israeli NGO Palestinian Media Watch, features Netanyahu with a blood-soaked hand holding a magnifying glass. See below: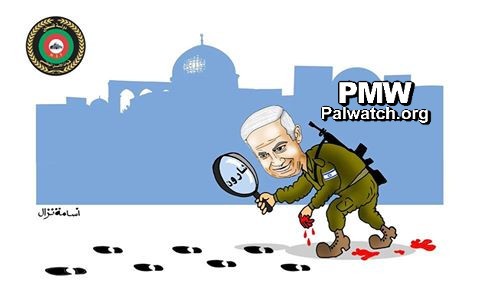 The word "Sharon" is written on the magnifying glass in reference to late prime minister Ariel Sharon, ostensibly demonstrating how Netanyahu is following in Sharon's footsteps. Sharon is regularly portrayed by the PA as an Israeli leader whose bloodlust for Palestinians knew no bounds.
After the attacks in Paris last year, Fatah posted a cartoon (top of page) depicting Netanyahu helping an Islamic State terrorist position a machine gun on the Eiffel Tower.
In a separate cartoon also posted last week, two Israeli soldiers with exaggerated long noses are shown manning a checkpoint and holding attack dogs. The dogs are shaped like assault rifles and are frothing at the mouth. One of the dogs stands on top of the apparently dead body of a Palestinian woman seeping with blood. Another dead Palestinian lies next to the woman. See below: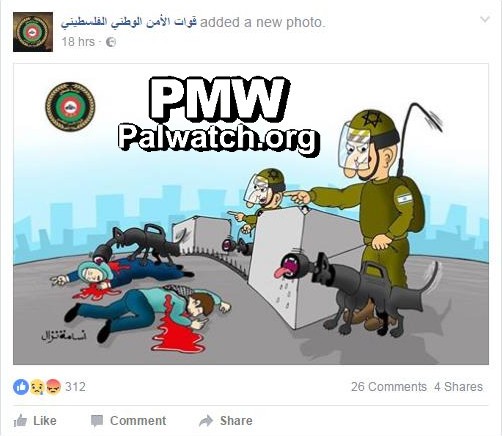 The cartoon reflects the PA's libel that Israel is guilty of "summary executions" of innocent Palestinians.
Last week, Breitbart Jerusalem reported that Palestinian President Mahmoud Abbas granted clemency to a security official from the PA National Security Forces after the latter criticized Abbas for attending the funeral of late president Shimon Peres.
The NGO Human Rights Watch (HRW) released a report in August showing that PA security forces have detained activists, including musicians, for condemning PA corruption and lambasting its security cooperation with Israel.