Israel staged 9/11, the London bombings and the Paris terrorist attacks, according to social media posts attributed to a rising Labour party star who is personally endorsed by leader Jeremy Corbyn.
Mohammed Pappu, 26, a newly elected councillor in the London borough of Tower Hamlets, was praised by hard-left Jeremy Corbyn last month for his help to create a "fair, just and decent society."
However a report in the Times newspaper paints a different picture of Mr. Pappu. The newspaper alleges he publicly shared messages over Facebook accusing Britain of attacking Syria "to install a Rothschild bank" as well as othe posts claiming that Israel had staged 9/11, the London bombings and the Paris terrorist attacks.
Mr. Pappu, an Uber driver, also reportedly uploaded a sermon in which he proclaimed The Smurfs and Hallowe'en were demonic and occult-related, therefore should be avoided by observant Muslim families to protect themselves from the burning "torment of Hell."
He is backed by the pro-Corbyn Momentum activist group and won the vote to become the black and ethnic minority officer for London Young Labour in February.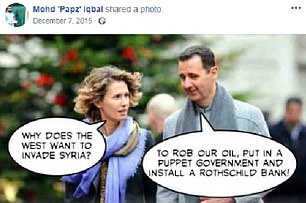 In another controversial post over Facebook, he shared a photograph of President Assad of Syria and his wife, Asma, with an illustrative cartoon speech bubble: "Why does the West want to invade Syria?"
Assad responded: "To rob our oil, put in a puppet government and install a Rothschild bank!"
He resigned from all his council posts yesterday and apologised unreservedly after the Times confronted him about his digital trail across social media. He also referred himself to the authority's standards procedure. The national Labour executive is understood to have suspended him pending an investigation.
Mr. Pappu is a trustee and former chairman of Soul (Social Organisation for Unity and Leisure), a charity that organises sports activities for children from disadvantaged backgrounds. His Facebook account was intended to be read by children as he used it until at least 2016 for updates on timings, cancellations, kick-offs and training for teams as young as under-tens.
The charity has launched an immediate safeguarding review.
The revelations come just 24-hours after Israel's ambassador to the UN, Danny Danon, said Mr. Corbyn "is an anti-Semite who wants to return Britain to dark periods in history."
Mr. Corbyn has previously welcomed "friends" from Hezbollah and Hamas – Islamist terror groups sworn to the destruction of Israel – into parliament and recently admitted attending conferences with Hamas members and a wreath laying at the grave of an anti-Semitic terrorist.
'Anti-Semite and a Racist': The Scandals Following Labour's Shift to the Far Left https://t.co/r8XlEppC5q

— Breitbart London (@BreitbartLondon) July 18, 2018
Footage has also surfaced of him comparing the state of Israel to Nazi Germany – a commonly recognised example of anti-Semitism.
Follow Simon Kent on Twitter:

Follow @SunSimonKent

or e-mail to: skent@breitbart.com