Update:
Protesters use horns, drums & whistles to overshadow Trump rally at @Portland_State pic.twitter.com/acVi9huD66

— Andy C. Ngo (@MrAndyNgo) April 16, 2016
The coalition of far-left students and faculty that aggressively disrupted a students for Donald Trump event last week at Oregon's Portland State University is at it again, planning to shut down millennials who want to discuss Trump's plan to "make America great again" at a rally planned for 1:30 pm Pacific time.
Posters have begun to appear on campus attacking Trump and the students who support him as "racist" and calling for a rally.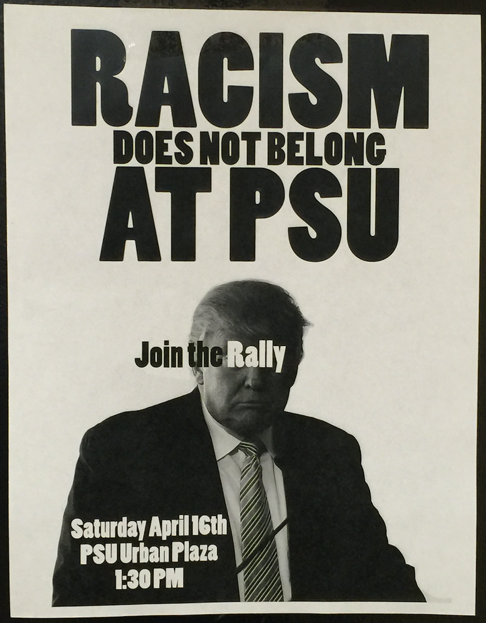 Sources tell Breitbart News that Portland police and the university itself have been unwilling to do anything to protect the First Amendment rights of the pro-Trump students, instead telling them to move today's event outside. Despite the intimidation and openly hostile atmosphere, the freedom-loving students plan to carry on the event.
The first attempt by about a dozen pro-Trump students to have a meeting eight days ago ended up with those students having their First Amendment rights trampled on as dozens of radical protestors affiliated with the Black Studies department and other left-wing groups connected to the Portland State University Student Union jumped on furniture, screamed at pro-Trump students and intimidated anyone who disagreed with them.
As Portland State University's student newspaper The Vanguard reported about the first event:
Protesters could also be seen gathered outside the cafeteria window in the Portland State Park Blocks donning banners, international flags and signs of protest. Protesters took over the attempted meeting using the mic check call and response method—mostly instigated by PSU Student Union organizers Olivia Pace and Alyssa Pagan. Pace yelled over the crowd in attempt to garner attention upon Pagan's arrival at the meeting takeover. "If you don't let her talk I will fuck shit up," Pace said.
In a bizarre turn of clear journalistic bias, The Vanguard story blames the victim for the anti-free speech attack by the leftists; the Vanguard's headline reads "SUPPORT FOR TRUMP POLARIZES CAMPUS CLIMATE."
However, even video released by The Vanguard shows how angry, disrespectful, and disruptive the entitled socialists takeover of a peaceful student meeting was. https://youtu.be/Jjr8DiIaNYc It was the latest example of America's college camp have become even more openly hostile to the free speech rights of far-left views.
The radicals at the Portland Student Union are said to have taken over an office meant for all students and plastered the door with posters and fliers with anti-America, pro-socialist and Black Lives Matter messages that would have fit in perfectly with Thursday's large protests in New York City.
Breitbart News will continue to monitor the situation in Oregon.
Follow Breitbart News investigative reporter and Citizen Journalism School founder Lee Stranahan on Twitter at @Stranahan.