Shots rang out early Sunday morning at a gay bar in Orlando, Florida
Early reports suggest that approximately

50 people are dead and 50+ more are injured

It is the highest body count from a terror attack on American soil since 9/11/01
The FBI has suggested that the attacker could have 'leanings to radical Islamic terrorism'
REPORT: Pledged allegiance to the Islamic State
Suspect ID'd: Omar Saddiqui Mateen, a U.S. citizen born to Afghan parents
This is the deadliest mass shooting in the history of the United States
STATE OF EMERGENCY DECLARED
President Obama condemns 'terror' and 'hate,' does not mention Islam
FBI interviewed Mateen in 2013 and 2014 but was not surveilling him currently
Update 10: 53 pm ET: Did the Orlando terrorist case other gay nightclubs in the area? 
Update 10:39 pm ET: Shooting survivors describing the terror/horror:
Chris Ortiz, #OrlandoShooting survivor who lost his friend: "It was a nightmare." pic.twitter.com/KkYTvg87Bm

— Fox News (@FoxNews) June 13, 2016
"We just wanted to get out" – Survivor from #Orlando shooting. #abc2020 https://t.co/1Jpomnmfbx

— 20/20 (@ABC2020) June 13, 2016
Update 10:30 pm ET: "Hamilton" creator's sonnet to honor Orlando terror victims:
Lin-Manuel Miranda breaks down while honoring #Orlando victims onstage at #TonyAwards https://t.co/TikHZRtDKL pic.twitter.com/ifyKzG4Hod

— People (@people) June 13, 2016
Update 10:17 pm ET:  Witness says the terrorist mentioned that he was the "fourth shooter" and there was a female who had a "bombing best." Witness says terrorist claimed there were snipers who were ready to shoot at the cops who would be on the scene. He also says the terrorist said U.S. needs to "stop bombing ISIS" and also, after asking people their race, said he didn't have "an issue with the blacks." Witness says he played dead for three hours in order to survive.
Witness: Orlando shooter asked club goers their race, said U.S. needs to "stop bombing ISIS" https://t.co/5QMQJeGrxr https://t.co/vckUgLqWaD

— ABC News (@ABC) June 13, 2016
Update 10:02 pm ET: 
Preview of Trump's Monday speech:
Trump campaign manager @CLewandowski_ previews Trump's speech tomorrow to @KatyTurNBC: pic.twitter.com/PZvDojtBWA

— Alexandra Jaffe (@ajjaffe) June 13, 2016
Update 9:57 pm ET: 
New York Post: ISIS vs. US:
Tomorrow's cover: What we know so far about the Orlando gay club shooting https://t.co/UvOHlgaJIK pic.twitter.com/RY0qcj6kAL

— New York Post (@nypost) June 13, 2016
Update 9:50 pm ET:
Empire State Building dark while One WTC lit up in rainbow "pride" colors:
Watch @EmpireStateBldg fade to black in haunting tribute to Orlando victims. https://t.co/HktrIQSrVD pic.twitter.com/3oBDrGtU2p

— PIX11 News (@PIX11News) June 13, 2016
The spire @OneWTC lit up in rainbow flag colors to honor #OrlandoMassacre victims pic.twitter.com/J970YuX5OT

— Rocco Vertuccio (@RoccoNY1) June 13, 2016
Empire State Building to remain dark in wake of #Orlando mass shooting while @OneWTC lights up in rainbow colors. pic.twitter.com/eGOSJtqiTj

— Preston Phillips (@PrestonTVNews) June 13, 2016
Update 9:45 pm ET: 
John Bolton on President Obama's refusal to say "radical Islam."
.@AmbJohnBolton on @POTUS not saying radical Islam: "It's not a question of magic words [but] of understanding what lies behind this attack"

— Fox News (@FoxNews) June 13, 2016
Update 9:42 pm ET: 
CAIR offers its condolences and focuses on the "marginalization" and "liberation" of groups that face discrimination.
Update 9:40 pm ET: 
The ex-wife of the Orlando terrorist says he was "mentally unstable" and abused her. She says she worried about her safety around him.
Update 9:35 pm ET: 
Co-worker says the Orlando terrorist was "unhinged."
Update 9:32 pm ET: 
Interesting comments/reasoning from the Imam at the terrorist's mosque:
Imam statement regarding why he would support @realDonaldTrump @WPTV pic.twitter.com/qaT9M7DaUH

— Meghan McRoberts (@MeghanWPTV) June 12, 2016
Unexpected statement: Imam says he is "pro trump". Says if trump were in office, the anger would shift away from Muslims. @WPTV

— Meghan McRoberts (@MeghanWPTV) June 12, 2016
Update 9:30 pm ET: 
Leave it to the New York Daily News to politicize the Orlando terror attack and blame the NRA:
The @NYDailyNews wood for tomorrow: pic.twitter.com/PdbzX7tdiy

— erica orden (@eorden) June 13, 2016
Update 9:25 pm ET: 
On the day of the worst mass shooting in U.S. history, Ken Burns rips into Trump for being an "anti-immigrant know-nothing" during his Stanford commencement address.
Ken Burns absolutely shreds 'anti-immigrant know-nothing' Trump at Stanford commencement https://t.co/chnAv7PCQh pic.twitter.com/xKSqZ7HrUI

— Raw Story (@RawStory) June 12, 2016
Update 9:20 pm ET: 
Benjamin Netanyahu says Israelis to Americans that "Israelis feel your pain as if it were our own."
Orlando is thousands of miles from Israel, but the tragedy there has deeply saddened me. We Israelis feel your pain as if it were our own.

— Benjamin Netanyahu (@netanyahu) June 12, 2016
Update 9:17 pm ET: 
It was Latin Night at the club where the terror victims were massacred.
Authorities begin identifying victims of #Orlandoshooting. It was Latin Night at the club.https://t.co/7z4VvukfVO pic.twitter.com/bcAhF6NXVD

— NBC Latino (@NBCLatino) June 13, 2016
Update 9:03 pm ET: 
From the Associated Press:
Officials have started removing bodies from inside an Orlando nightclub where 50 people were shot and killed.

Sunday night, workers brought four bodies on stretchers out of club Pulse and loaded them into white vans. The action was repeated over and over.

The bodies were then taken to the Orange County Medical Examiner's office.

Authorities say Omar Mateen opened fire at the nightclub, killing 50 people and wounding more than 50 others before he was gunned down by police.
Update 7:03 pm ET: 
House Intel chair @DevinNunes issues statement on #Orlando, says initial indications point to it being ISIS-inspired pic.twitter.com/xUGWB4Jwa7

— Rebecca Shabad (@RebeccaShabad) June 12, 2016
Update 6:53 pm ET: Statement from Vice President Biden still doesn't mention Islam. White House still waiting for enough facts to link Mateen to any terrorist org:
Per statement from @VP, as of 6:37 p.m. WH still doesn't know if #Orlando connected or inspired by terrorist orgs. pic.twitter.com/w1taTEdSZK

— Alex Mallin (@alex_mallin) June 12, 2016
Update 6:44 pm ET: City of Orlando urges citizens to wait before holding vigils:
We understand our community is grieving and vigils are being planned, but PLEASE hold off on vigils. #PrayforOrlando pic.twitter.com/9ZmbbLD4Tz

— City of Orlando (@citybeautiful) June 12, 2016
Update 6:43 pm ET: Seven names now.
Site with #pulseshooting #Orlando victims names is now updated: https://t.co/0HV2RZhbhd pic.twitter.com/6oWc1g5LCm

— David Clinch (@DavidClinchNews) June 12, 2016
Update 6:34 pm ET: Incredible outpouring of American charity already:
GoFundMe page for victims of #Orlando massacre raised more than $550,000. https://t.co/0DZc0KyzTJ pic.twitter.com/cLG2zhpa4P

— NBC Bay Area (@nbcbayarea) June 12, 2016
Update 6:25 pm ET: Profile of one young man among the named victims. An eyewitness says Stanley Almodovar III pushed others out of the way before he was shot three times.
Update 6:10 pm ET: Photos from Breitbart News contributor Andy Badolato:
Update 5:54 pm ET: Facebook purging Wrong Opinions.
https://twitter.com/PamelaGeller/status/742075713243746304
Update 5:22 pm ET: Two more victims named.
Two more (6 total) names of shooting victims released by the city of #Orlando: https://t.co/1IZ2QX4PiK pic.twitter.com/rkADpuu9qp

— WPTV (@WPTV) June 12, 2016
Update 5:18 pm ET: White House releases photo of Obama.
WH issues photo of Obama being briefed on #Orlando shooting by #FBI Director Comey. #StandWithOrlando pic.twitter.com/Yjw3wQ5iSc

— Jon Williams (@WilliamsJon) June 12, 2016
Update 5:16 pm ET: 
Empire State Building will be dark tonight out of respect for #Orlando 🙏🏻

— Ali Ehrlich (@ehrlichABC) June 12, 2016
Update 5:08 pm ET: Strong statement from Sen. Ted Cruz.
ISIS doesn't just target soldiers. They don't just target Republicans. Or Jews. They also target Christians and fellow Muslims. They target each and every one of us. As we saw this morning, they target the gay and lesbian community. Their objective, which they broadcast worldwide, is to murder or forcibly convert every single American.

For all the Democrats who are loud champions of the gay and lesbian community whenever there is a culture battle waging, now is the opportunity to speak out against an ideology that calls for the murder of gays and lesbians.
Update 4:58 pm ET: Trump in his statement and latest tweet reaffirms he will continue stressing a ban on Muslim immigration. Several left-wing reporters are snarking that Mateen was born in the U.S., but Trump's official statement makes it clear he is referencing Mateen's father.
What has happened in Orlando is just the beginning. Our leadership is weak and ineffective. I called it and asked for the ban. Must be tough

— Donald J. Trump (@realDonaldTrump) June 12, 2016
Update 4:40 pm ET: Statement from Trump reads in part:
Hillary Clinton wants to dramatically increase admissions from the Middle East, bringing in many hundreds of thousands during a first term – and we will have no way to screen them, pay for them, or prevent the second generation from radicalizing.

We need to protect all Americans, of all backgrounds and all beliefs, from Radical Islamic Terrorism – which has no place in an open and tolerant society. Radical Islam advocates hate for women, gays, Jews, Christians and all Americans. I am going to be a President for all Americans, and I am going to protect and defend all Americans. We are going to make America safe again and great again for everyone.
Update 4:35 pm ET: 
NEW: @realDonaldTrump's speech tomorrow shifting focus from @HillaryClinton to policy/national security -@JTSantucci pic.twitter.com/x6pkeBzCuY

— Good Morning America (@GMA) June 12, 2016
Update 4:25 pm ET: Arabic Twitter accounts react gleefully.
https://twitter.com/Ahmedaa1k/status/742032920441917441
Update 4:25 pm ET: Local news names the mosque that Mateen attended.
#DEVELOPING @CBS12: Orlando shooter Omar Mateen member of Islamic Center Fort Pierce for 13+yrs. Asked Imam reaction pic.twitter.com/39hmdDaAx5

— J. Israel Balderas, Esq. (@jisraelbalderas) June 12, 2016
Update 4:15 pm ET: Timeline from the Orlando Sentinel. Mateen had three hours to kill as many people as he could inside the club before police went in.
Update 4:00 pm ET: 
Thousands at @AlJazeera Arabic FB page celebrating #Orlando attacks:

h/t @FaisalAlMutar #ReligionPoisonsEverything pic.twitter.com/nT3HzGnBXW

— Ali A. Rizvi (@aliamjadrizvi) June 12, 2016
Update 3:48 pm ET: 
First names of victims in #Orlando #PulseShooting just released: pic.twitter.com/7p1NZ1LhbQ

— Andres Gutierrez (@AFGutierrez) June 12, 2016
Update 3:47 pm ET: Wolf Blitzer asks Karzai whether he considers Afghanistan a "failed state." Karzai denies.
Update 3:42 pm ET: CNN has former Afghanistan president Hamid Karzai in studio right now.
Update 3:39 pm ET: Shot.
Officials: Mateen's family told investigators he wasn't particularly religious. They expressed surprise about any ISIS connection #orlando

— Saeed Ahmed (@saeed_ahmed) June 12, 2016
Chaser.
Look at Omar Mateen Facebook page: "Proud Muslim and a proud Pakistani." pic.twitter.com/7O4J2VjYYZ

— Emily Miller (@EmilyMiller) June 12, 2016
Update 3:28 pm ET: Stop what you are doing. Bill Kristol has presented the hottest of takes:
It will be pathetic if this fall we have a choice only between politically correct progressivism and know-nothing authoritarianism.

— Bill Kristol (@BillKristol) June 12, 2016
Update 3:23 pm ET: Gay Republican org calls out President Obama. Reporting by Patrick Howley:
It's no secret that abroad men who are gay — and merely suspected of being gay — are targeted for execution; today, that threat has reached the United States. Log Cabin Republicans extends our deepest sympathy, condolences, and sorrow to the victims and families of those targeted in this morning's violence. If the shooter's suspected motivations are indeed confirmed, we call upon President Obama and the presumptive nominees of both parties to condemn the attacker and acknowledge in no uncertain terms the cause of this massacre: Radical Islamic terrorism.
Update 3:20 pm ET: ATF spokesman said Mateen bought two weapons in recent days/weeks, a handgun and a long gun.
Representative from @ATFHQ says at press conference that #Orlando shooter legally purchased a handgun and "long gun" within the last week.

— Dan Lamothe (@DanLamothe) June 12, 2016
Update 3:19 pm ET: 
FBI interviewed Omar Mateen twice in 2013. Cased closed after they couldn't verify any terror ties. #PulseShooting #Orlando

— T.J. Holmes (@tjholmes) June 12, 2016
FBI investigated and interviewed Omar Mateen again in 2014 for possible terror ties. Case again closed. #PulseShooting #Orlando

— T.J. Holmes (@tjholmes) June 12, 2016
Update 3:13 pm ET: From Katie McHugh:
Another woman, Aixa, who also spoke to Breitbart News and also did not want her identity revealed or to be filmed on camera, said she just moved out of New York City to escape violence and crime, and just narrowly missed the shooting.
"We weren't there when everything occurred, but however, we were about 15 minutes shy of everything that happened," Aixa said. "We came out to have a good time and everything was normal. There was nothing out of the ordinary — everyone was dancing, everyone was hanging out, everyone was drinking… Everything was fine."
The group couldn't stay long since one of them had to be at work at 3 AM that morning, she said: "If she didn't have to go to work, we probably would have been there."
"We literally just missed the attack." Cop cars began speeding past, and Aixa, the designated driver for the night, drove carefully as they rushed to the club. Aixa took her friend to her house to let her get ready for work, dropped her off at her job, and came home to her partner.
"When I woke up this morning, my partner, I've been with her for ten years, and she was blowing me up like, 'Where were you last night?'" Aixa explained she was out with her partner's cousin, but her partner demanded to know i she was at the Pulse nightclub. "Why are you screaming at me like this?" Aixa wondered. "She's like: Did you know there was a freaking massive shooting? And are you OK? Did you just miss it or were you there? And I'm like, I was in total disbelief."
"I just moved here. I just moved to Orlando a year ago, and I left New York for a lot of reasons, [it] being dangerous, and the economy — everything over there was just horrible, and I just came over here, and now we have to deal with this," she said. "It's scary as hell and I don't even know where to put myself. I don't know where to begin."
"I don't know if I should be happy that I'm OK," she said in a shaking voice. "It's just too fucking much. There are families right now mourning the loss of their fucking children. These are people who don't bother nobody. These are people who are going through diversity issues. They're going through their own sexualities. They're finding themselves. They're good people and we're not fucking monsters. We're fucking good people."
Update 3:12 pm ET:
#orlando police chief: 11 Orlando police officers exchanged gunfire with the suspect #PulseNightclub

— Kendall Downing (@kendall_downing) June 12, 2016
Update 3:10 pm ET:
Moment of silence at 6 pm tonight for victims of Pulse shooting.

— Orlando Police (@OrlandoPolice) June 12, 2016
Update 3:09 pm ET: 
NEW: https://t.co/t5OthU2PLa will be setup to update the identities of the deceased after families have been identified, #Orlando mayor says

— Nicole Emmett (@Nicole_Emmett) June 12, 2016
Update 3:07 pm ET: No mention of Islam in statement from Hillary Clinton campaign.
— Bradd Jaffy (@BraddJaffy) June 12, 2016
Update 3:05 pm ET: Orlando officials say their current press conference will be their last for the day.
Update 3:00 pm ET: 
Orlando is thousands of miles from Israel, but the tragedy there has deeply saddened me. We Israelis feel your pain as if it were our own.

— Benjamin Netanyahu (@netanyahu) June 12, 2016
Update 2:56 pm ET: G4S, the private security company at which Mateen worked, issued the following statement: "We are shocked and saddened by the tragic event that occurred at the Orlando nightclub. We can confirm that Omar Mateen had been employed with G4S since September 10, 2007. We are cooperating fully with all law enforcement authorities, including the FBI, as they conduct their investigation. Our thoughts and prayers are with all of the friends, families and people affected by this unspeakable tragedy."
Update 2:54 pm ET: New York Times reporter sheds light on Mateen's pledge of allegiance to the Islamic State: instructions from spokesman Abu Mohammad al-Adnani.
26. As early as 2014, ISIS explained that *anyone* could carry out an act of terror in their name. "Do not ask for permission," Adnani said

— Rukmini Callimachi (@rcallimachi) June 12, 2016
27. They later codified this, and advised that their supporters should pledge allegiance in a public forum, before carrying out the attack

— Rukmini Callimachi (@rcallimachi) June 12, 2016
Update 2:49 pm ET: Marco Rubio says the killer had a "warped ideology." "Islamic terrorists need to know that they will not win," he continues.
Update 2:46 pm ET: Via Warner Todd Huston: Mateen worked for the security firm G4S since 2007.
Update 2:32 pm ET: The Islamic State has claimed credit for Mateen's massacre.
Source to #AmaqAgency: The attack that targeted a nightclub for homosexuals in #Orlando, #Florida and that left more than 100 dead and wounded was carried out by an Islamic State fighter.
Update 2:22 pm ET: From Katie McHugh.
Elizabeth, a woman who was in the night club and spoke with Breitbart News but asked that her identity not be revealed, left Pulse at 1:45 am Sunday night, just as gunshots rang out.
"I don't really have family, I just have friends, and I don't know what friends are living or dead, and it's so terrible," she said.
"I left my home around 10:50 [PM] so I could get in the club no charge," she said, adding that she goes every week and has been going to Pulse for three years. "And yesterday as I was coming in, I saw the vibe was good," she said, and the club was packed. "Everybody was drinking and having a good time."
"Every time I go there all I see is happy people enjoying their time and loving each other, and just being them," she said. "And at the end of the night as I was walking out at 1:45, I was getting in the car and we heard gunshots. And we just left, because it was scary!"
"So we just drove out and rolled out, and within two or three minutes there were cops coming everywhere. I didn't know if it was an accident, or the gunshots I heard… So I just went home and went to sleep, and now I see all the news, and the Facebook, and all of my friends," she said, adding that she was getting frantic calls asking if she was safe.
She getting into her parked car on the other side of the club when she heard the gunshots. "I couldn't see where they were coming from, but they were real loud, like BAM BAM BAM… And we speeded out. Thank God we were on the other side of that."
"It was scary. I was scared," she said.
Update 2:18 pm ET: Reddit, one of the biggest social media hubs on the Internet, began censoring discussion of the Orlando attack once Mateen's Islamic faith came to light. From Breitbart Tech:
There are reports of mass censorship on /r/News, the chief Reddit community for breaking news stories, in the wake of last evening's deadly terrorist attack. Moderators of the subreddit even deleted a post offering blood donation advice to Orlando residents.

One user reported that he was banned from the /r/News subreddit after he posted a link to a news story detailing the FBI's suspicions that the Muslim shooter, who attacked a gay nightclub in Orlando, had ties to Islamic extremism.
The only Reddit community where large-scale discussion of the jihadist angle in Orlando is still occurring is "The Donald," the subreddit for Donald Trump fans. One user shared a screenshot of the top posts on the entire site, observing: "reddit without /r/The_Donald: not a single mention of the worst US terror attack since 9/11, worst shooting ever."
Update 2:05 pm ET: Obama does not take questions from the press.
Update 2:03 pm ET: Obama references gun control and says killer used a "powerful assault rifle." Says America must choose whether it wants to change whether people can "easily" purchase weapons. "To actively do nothing is a decision, as well."
Update 2:01 pm ET: Obama says this is even more heartbreaking in light of the killer's targeting of LGBT victims. Says that it is an attack on all Americans.
Update 1:59 pm ET: Obama speaking now. Says the attack was clearly "an act of terror and an act of hate." No mention of Islam yet. "This is an open investigation. We've reached no definitive judgment on the precise motivations of the killer."
Update 1:56 pm ET:
https://twitter.com/BraddJaffy/status/742051297801691137
Update 1:53 pm ET: Horrific.
Horrifying. pic.twitter.com/p5XdSOmrw8

— Greg Bluestein (@bluestein) June 12, 2016
Update 1:45 pm ET: More details on weapons found in California suspect's car:
Source: this just went out to top LA law enforcement officials. Suspect w/ assault weapons, camo arrested in WeHo. pic.twitter.com/9pfBt72spK

— Robert Faturechi (@RobertFaturechi) June 12, 2016
Update 1:42 pm ET: L.A. mayor Eric Garcetti says the city believes the arrest last night is "completely unrelated" to the Orlando massacre.
Update 1:38 pm ET: A man has been arrested heading to the Los Angeles Pride Festival with an arsenal of weapons, according to breaking news reports.
Early Sunday,  Santa Monica police received a call of a suspected prowler near Olympic Boulevard and 11th Street. Patrol officers responded and encountered an individual who told officers he was waiting for a friend. That led officers to inspect the car and find several weapons and a lot of ammunition as well as tannerite, an ingredient that could be used to create a pipe bomb.
Update 1:35 pm ET: Mateen's father is on video praising the Taliban.
Orlando shooting suspect's father hosted a political TV show and even tried to run for the Afghan presidency https://t.co/UFVA2x0prf

— The Washington Post (@washingtonpost) June 12, 2016
Update 1:34 pm ET:
BREAKING: Pope Francis expresses deep 'horror and condemnation' of 'homicidal folly' in Florida mass shooting

— The Associated Press (@AP) June 12, 2016
Update 1:21 pm ET:

Omar Mateen called 911 just before club shooting, swore allegiance to Islamic State, multiple law enforcement officials say – NBC News

— Breaking News (@BreakingNews) June 12, 2016
Update 12:42 pm ET — Photos from Breitbart News's Andy Badolato, who is in Orlando: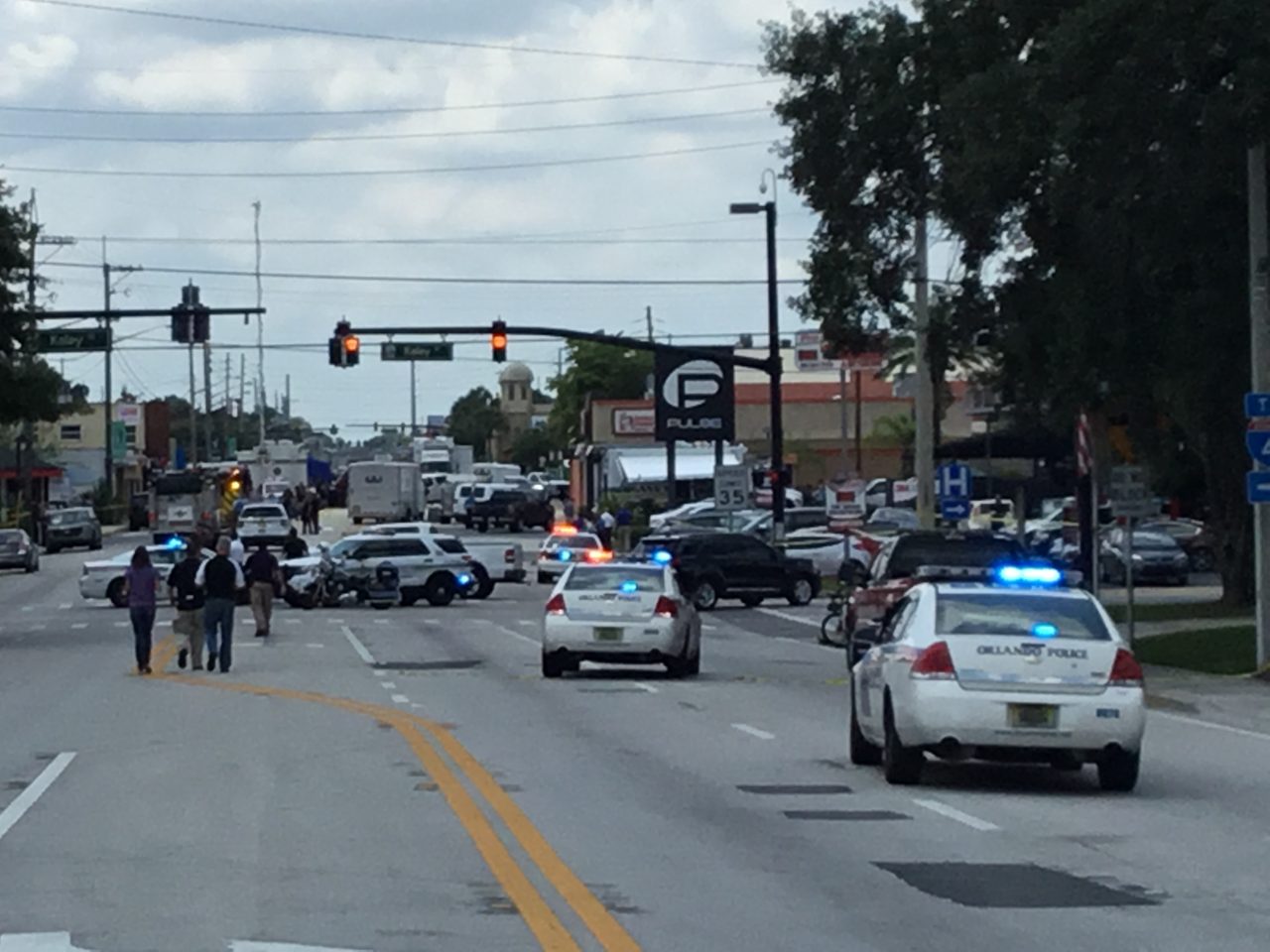 ***
Update 12:42 pm ET — The Washington Post reports:
Ex-wife of suspected Orlando shooter: 'He beat me' 

The ex-wife of the 29-year-old man suspected of killing 50 people in a Orlando nightclub early Sunday said that he was violent and mentally unstable and beat her repeatedly while they were married.

The ex-wife said she met Omar Mateen online about eight years ago and decided to move to Florida and marry him.

At first, the marriage was normal, she said, but then he became abusive.

"He was not a stable person," said the ex-wife, who spoke on the condition of anonymity because she feared for her safety in the wake of the mass shooting. "He beat me. He would just come home and start beating me up because the laundry wasn't finished or something like that."
Update 12:40 pm ET — From Breitbart News's Daniel Nussbaum:
Florida Gov. Rick Scott said during a press conference Sunday morning the shooting was "clearly an act of terror" and  that he had declared a State of Emergency for Orange County. 

"For anybody that thinks they should do this… law enforcement will be swift in their justice," he added
Update 12:27 pm ET — The Daily Beast reports:
Omar Mateen, Terrorist Who Attacked Orlando Gay Club, Had Been Investigated by FBI 

Mateen was a 'known quantity' to federal law enforcement before he killed 53 people in the worst mass shooting in U.S. history. 

Omar Mateen of Port Saint Lucie, Florida, came to the attention of federal authorities twice prior to being identified as the gunman in the Orlando nightclub mass shooting, a senior law enforcement source told The Daily Beast.

[…]

The senior law enforcement source reports that Mateen became a person of interest in 2013 and again in 2014. The Federal Bureau of Investigation at one point opened an investigation into Mateen but subsequently closed the case when it produced nothing that appeared to warrant further investigation.
Update 12:21 pm ET — From Breitbart News's Michelle Moons:
Fox News' Bret Baier reported that Florida Senator Bill Nelson told the media that he has talked to intelligence staff who say that "it is believed that there is some connection here to ISIS."

Baier went on to say, "He says it's not completely confirmed, it's not from the FBI, but that intelligence staff believes there is some connection to ISIS."
Update 12:21 pm ET — From Breitbart News's Charlie Spiering:
President Barack Obama will deliver a statement at the White House 1:30 p.m. in reaction to the Orlando shooting. The president has been briefed by counter-terrorism officials
Update 12:19 pm ET: Islamic Society of Central FL on the scene to urge calm:
"No one could have predicted this," Islamic Society of Central Florida official says: https://t.co/J54RiATgwT https://t.co/HZOvGb43wZ

— CBS News (@CBSNews) June 12, 2016
Update 12:16 am ET:
.@RepAdamSchiff, top Democrat on House Intel Committee, says Orlando gunman Omar Mateen pledged allegiance to ISIS https://t.co/NsNpEvx36S

— Natasha Bertrand (@NatashaBertrand) June 12, 2016
Update 11:40 am ET: NBC News interviews suspect's father:
NBC News spoke with the suspect's father: 'We're apologizing for the whole incident… This had nothing to do with religion," he said. He went on to say that "his son got very angry when he saw two men kissing in downtown Miami."
The NBC News report also notes that approximately 320 people were in club when the shooting began.
Update 11:33 am ET: 
Florida Gov has declared a state of emergency. City of Orlando also declared state of emergency.

— Orlando Police (@OrlandoPolice) June 12, 2016
Update 11:18 am ET: Hot takes begin.
EVERY religion has sub-groups of intolerant extremism. You can't tell me the problem is religion. The problem is intolerant extremism!

— Sally Kohn (@sallykohn) June 12, 2016
Update 11:12 am ET:
More from Badolato: Many of those brought into area hospitals, local reports say, were in grave critical condition. Hospitals are preparing for intensive trauma surgeries. In addition, local eyewitnesses reported seeing police officers doing chest compressions on victims in the back of pickup trucks.
Update 11:09 am ET:
ORLANDO, Fla — Breitbart News' Andy Badolato, reporting from the scene, says the local police have swept the night club for bombs. They have not, however, removed any of the at least 50 dead bodies yet. At least 53 people were also taken to local hospitals putting, the victim count at at least 103 total. The status of those taken to area hospitals is unclear.
Update 10:54 am ET:
NBC's Pete Williams reports that terrorist was on a "watch list" over associations w "suspicious" ppl several yrs ago.

— Josh Kraushaar (@HotlineJosh) June 12, 2016
Update 10:32 am ET:
BREAKING: Mayor: Orlando nightclub shooter used assault rifle, 'there's blood everywhere'

— The Associated Press (@AP) June 12, 2016
Update 10:29 am ET:
BREAKING: Mayor: 50 casualties, including shooter, and 53 hospitalized in mass shooting at Orlando nightclub.

— The Associated Press (@AP) June 12, 2016
VIDEO: "He has us and he's going to kill us" – mom gets text from son hiding from shooter in Orlando club: https://t.co/QpOUllN0gt

— The Associated Press (@AP) June 12, 2016
Update 10:10 am ET – Find the glaring omission on Huffington Post's front page:
Elsewhere on the HuffPo front page: "Army Reserve Major Charged With Threatening Muslims With Gun, Bacon"
Update 10:06 am ET: From USA TODAY:
Orlando recently wrapped up its annual weeklong Gay Days festival on June 6 in which up to 150,000 in the LGBT community attend area theme parks, gay nightclubs and special events. It was the 25th anniversary of Gay Days. It is one of the largest gay pride events in the world.
Update 9:54 am ET — Sessions:'More of these attacks are coming'
The GOP Senator said on Fox News:
And it's not stopping as we see apparently today. More of these attacks are coming. It's a real part of the threat that we face and if we can't address it openly and directly, and say directly that there is an extremist element within Islam, that's dangerous to the world and has to be confronted.
Meanwhile, #GunControlNow is trending on twitter.
Update 9:50 am ET: Blood donors needed.
Update 9:30 am ET: 
MORE: Orlando shooter ID'd as Omar Mateen, U.S. citizen from Port St. Lucie, FL https://t.co/ekBHZaL2A8pic.twitter.com/E0cw3YAMb3

— CBS News (@CBSNews) June 12, 2016
CBS reports he is a U.S. citizen born to Afghan parents. CBS also notes that there may have been multiple explosive devices that did not detonate.
Update 9:20 am ET: 
JUST IN: Pres. Obama has been briefed on #Pulse nightclub shooting: pic.twitter.com/7Jin5ZrqQC (via @abc)

— WSB-TV (@wsbtv) June 12, 2016
Update 9:10 am ET: From USA TODAY:
Witnesses reported seeing a bomb in the gunman's possession, but the police did not confirm that detail
Hostage situation lasted approximately three hours
Dramatic video from CBS:
Update 9:05 am ET:
Dozens of witnesses in #pulseshooting bussed to @OrlandoPolice headquarters for questioning.@WFTV pic.twitter.com/Jay6mDa9aH

— Roy Ramos (@RRamosWFTV) June 12, 2016
Update 9:03 am ET: CNN reports that local hospitals are on lockdown:
A few miles away, the Orlando Regional Medical Center was placed on lockdown, the hospital said in a statement. Only essential workers are being allowed access into the building.

Arnold Palmer Hospital and Winnie Palmer Hospital were also placed on lockdown out of an abundance of caution, officials said.
Update 8:52 am ET:
The FBI says shooter at #PulseNightclub may have been inspired by ISIS. More: https://t.co/8vIRiuVH3N #abc13 pic.twitter.com/n5yVFpn32W

— Houston News (@abc13houston) June 12, 2016
Update 8:36 am ET:
"I don't think anybody really knew what was going on": Orlando shooting witness describes the scenehttps://t.co/Ktbkn65nrz

— TODAY (@TODAYshow) June 12, 2016
Update 8:30 am ET: Social media round up:
UPDATE: Mother outside reports her son inside the club texted 'he's rounded us up and he's going to kill us' #FloridaShooting #Pulse

— Rav Vadgama (@TVRav) June 12, 2016
PHOTOS: This is the scene at the #Pulse nightclub mass shooting. You can see nightclub behind the dozens of vehicles pic.twitter.com/PccAwwjlCE

— Christal Hayes (@Journo_Christal) June 12, 2016
Alleged video from outside the club at the time of the incident:
WARNING: Graphic. video of victims outside pulse in orlando right now. terrifying. #PulseOrlando #PulseShooting pic.twitter.com/8hBaXB2ueT

— ELIAS (@wtfelias) June 12, 2016
Video of shots being fired outside of Pulse night club in #Orlando pic.twitter.com/tyWXneIR5i

— Joel Franco (@OfficialJoelF) June 12, 2016
Update 8:22 am ET: The FBI believes the massacre may have perpetrated by someone "leanings to radical Islamic terrorism."
ORLANDO, Fla. (AP) — It had been an evening of drinking, dancing and drag shows. After hours of revelry, the party-goers crowding the gay nightclub known as the Pulse took their last sips before the place closed.
That's when authorities say Omar Mateen emerged, carrying an AR-15 and spraying the helpless crowd with bullets. Witnesses said he fired relentlessly – 20 rounds, 40, then 50 and more. In such tight quarters, the bullets could hardly miss. He shot at police. He took hostages.
When the gunfire finally stopped, 50 people were dead and dozens critically wounded in the deadliest mass shooting in modern U.S. history. Mateen, who authorities said had pledged allegiance to Islamic State in a 911 call shortly before the attack, died in a gun battle with SWAT team members.
Authorities immediately began investigating whether the assault was an act of terrorism and probing the background of Mateen, a 29-year-old American citizen from Fort Pierce, Florida, who had worked as a security guard. The gunman's father recalled that his son recently got angry when he saw two men kissing in Miami and said that might be related to the assault.
Thirty-nine of the dead were killed at the club, and 11 people died at hospitals, Mayor Buddy Dyer said.
Jon Alamo had been dancing at the Pulse for hours when he wandered into the club's main room just in time to see the gunman. "You ever seen how Marine guys hold big weapons, shooting from left to right? That's how he was shooting at people," he said.
"My first thought was, oh my God, I'm going to die," Alamo said. "I was praying to God that I would live to see another day."
Pulse patron Eddie Justice texted his mother, Mina: "Mommy I love you. In club they shooting." About 30 minutes later, hiding in a bathroom, he texted her: "He's coming. I'm gonna die." As Sunday wore on, she awaited word on his fate.
At least 53 people were hospitalized, most in critical condition, and a surgeon at Orlando Regional Medical Center said the death toll was likely to climb.
The previous deadliest mass shooting in the U.S. was the 2007 attack at Virginia Tech, where a student killed 32 people before killing himself.
Mateen's family was from Afghanistan, and he was born in New York. His family later moved to Florida, authorities said.
A law enforcement official said the gunman made a 911 call from the club in which he professed allegiance to the leader of the Islamic State, Abu Bakr al-Baghdadi. The official was familiar with the investigation, but was not authorized to discuss the matter publicly and spoke on condition of anonymity.
The extremist group did not officially claim responsibility for the attack, but the IS-run Aamaq news agency cited an unnamed source as saying the attack was carried out by an Islamic State fighter.
Even if the attacker supported IS, it was unclear whether the group planned or knew of the attack beforehand.
Mateen was not unknown to law enforcement: In 2013, he made inflammatory comments to co-workers and was interviewed twice, according to FBI agent Ronald Hopper, who called the interviews inconclusive. In 2014, Hopper said, officials found that Mateen had ties to an American suicide bomber, but the agent described the contact as minimal, saying it did not constitute a threat at the time.
Asked if the gunman had a connection to radical Islamic terrorism, Hopper said authorities had "suggestions that individual has leanings towards that."
Mateen purchased at least two firearms legally within the last week or so, according to Trevor Velinor of the Bureau of Alcohol, Tobacco and Firearms.
In a separate incident, an Indiana man armed with three assault rifles and chemicals used to make explosives was arrested Sunday in Southern California and told police he wanted to do harm to a gay pride parade.
The Orlando shooting started about 2 a.m., with more than 300 people inside the Pulse.
"He had an automatic rifle, so nobody stood a chance," said Jackie Smith, who saw two friends next to her get shot. "I just tried to get out of there."
At 2:09 a.m., Pulse posted on its Facebook page: "Everyone get out of Pulse and keep running."
Mateen exchanged gunfire with 14 police officers at the club, and took hostages at one point. In addition to the assault rifle, the shooter also had a handgun and some sort of "suspicious device," the police chief said. About 5 a.m., authorities sent in a SWAT team to rescue the remaining club-goers, Police Chief John Mina said.
At first, officers mistakenly thought the gunman had strapped explosives to the dead after a bomb robot sent back images of a battery part next to a body, Orlando Mayor Buddy Dyer said. That prevented paramedics from going in until authorities determined the battery was something that fell out of an exit sign or a smoke detector, he said.
The robot was sent in after SWAT team members put explosive charges on a wall and an armored vehicle knocked it down in an effort to rescue hostages.
Just before 6 a.m., the Pulse posted an update on its Facebook: "As soon as we have any information, we will update everyone. Please keep everyone in your prayers as we work through this tragic event. Thank you for your thoughts and love."
Authorities were looking into whether the shooter acted alone, according to Danny Banks, an agent with the Florida Department of Law Enforcement.
"This is an incident, as I see it, that we certainly classify as domestic terror incident," Orange County Sheriff Jerry Demings said.
Mateen's father, Mir Seddique, told NBC News about his son seeing the men kissing a couple of months ago.
"We are saying we are apologizing for the whole incident," Seddique said. "We are in shock like the whole country."
Mateen was a security guard with a company called G4S. In a 2012 newsletter, the firm identified him as working in West Palm Beach. In a statement sent Sunday to the Palm Beach Post, the company confirmed that he had been an employee since September 2007. State records show that Mateen had held a firearms license since at least 2011.
President Barack Obama called the shooting an "act of terror" and an "act of hate" targeting a place of "solidarity and empowerment" for gays and lesbians. He urged Americans to decide whether this is the kind of "country we want to be."
Authorities said they had secured a van owned by the suspect outside the club. Meanwhile, a SWAT truck and a bomb-disposal unit were on the scene of an address associated with Mateen in Fort Pierce, about 120 miles southeast of Orlando.
Across the country, police departments stepped up patrols in neighborhoods frequented by the LGBT community.