Gun ownership is an American right, and protecting the guns you buy goes right along with owning them. For this reason, Breitbart News presents a list of six of our favorite gun safes.
Some of the safes on the list are classic, stand-up safes that hold a lot of guns, and some are compact, one-gun safes that keep a pistol or revolver close at hand for when trouble strikes.
Winchester Ranger 26 Gun Safe — The Ranger 26 is a 602-pound safe that holds 28 firearms. It has a classic, mechanical combination lock and is constructed out of 12 gauge steel. The safe is designed to withstand 1400°F for 60 minutes, which means your guns are protected not simply from burglary but fire as well. The Ranger 26 has large interior spaces where long guns can stand upright and shelving on which handguns can be placed. The door of the Ranger 26 also has pockets on the inside that can hold handguns.
Amazon sells the Ranger 26 for approximately $1,400.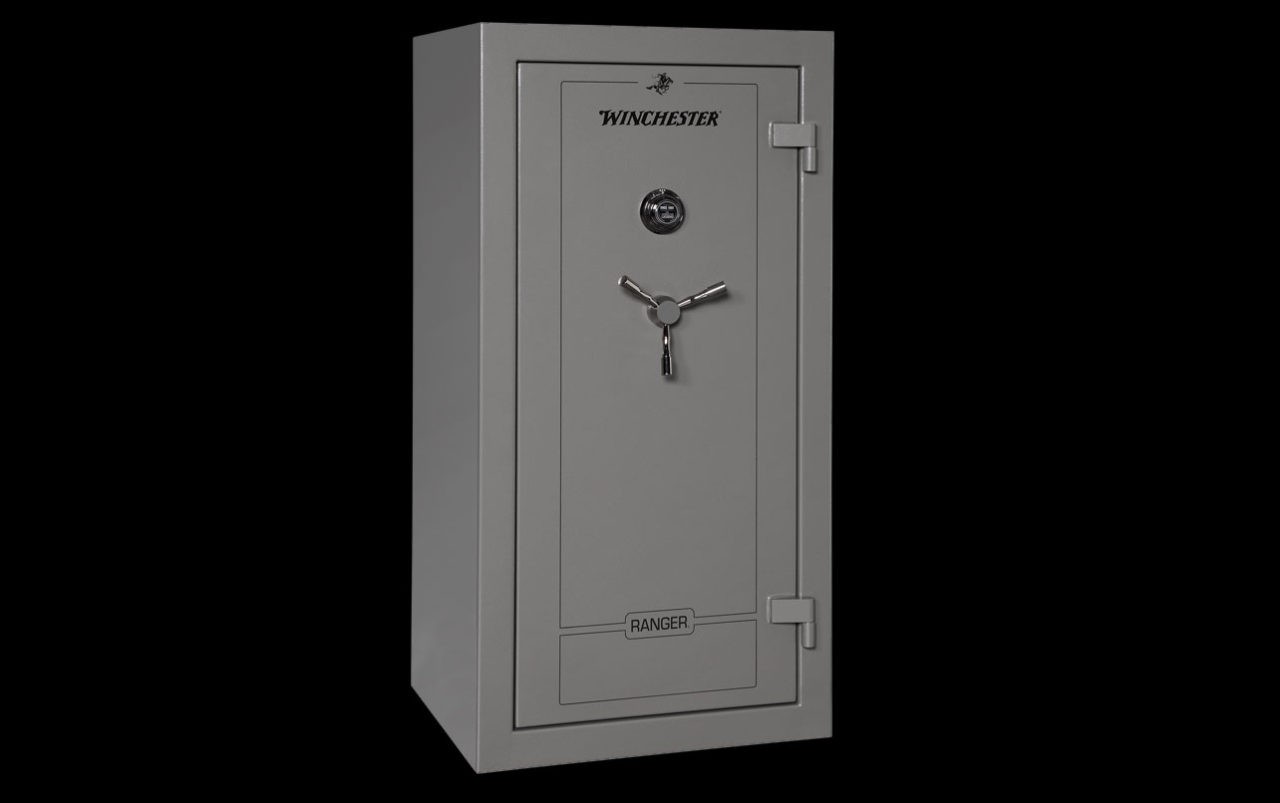 Champion Ironside Series SI-31 — Champion's Ironside Series SI-31 weighs 700 lbs and holds 36 guns. It has a Sargent & Greenleaf® Group II Dial Lock and is designed to withstand 1350°F for 60 minutes. Champion prides itself in building its safes from "100 percent American-made, high-strength steel." They do not import China-built safe bodies then finish them out as their own. Because of this, they can say, "The Ironside's body is pressure formed from American-made 12-gauge steel which is almost 3 times stronger than 2 mm or 14-gauge steel used in most China-built or lightweight American containers." Champion describes the Ironside as "a steel fortress you'll be proud to own for many years."
Approximate price of a Champion Ironside Series SI-31 is $2,000.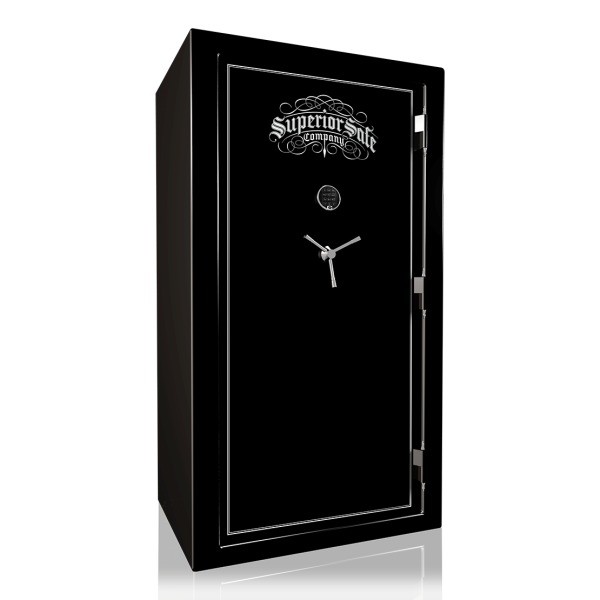 Browning Black Label Mark III — The Black Label Mark III is 40-gun safe that weighs 665 lbs. It has "ThermaBlock" to withstand 1400°F for 60 minutes. Browning describes Thermablock as protection that "features thicker sheets of fire insulation arranged in an interlocking design that minimizes gaps that would allow the internal temperature in the safe to rise during a fire." Also, the Mark III has a one-inch thick formed door "with partial inner plates" to keep burglars and unauthorized users away from your firearms.
Cabela's sells the Browning Black Label Mark III safe for approximately $2,100.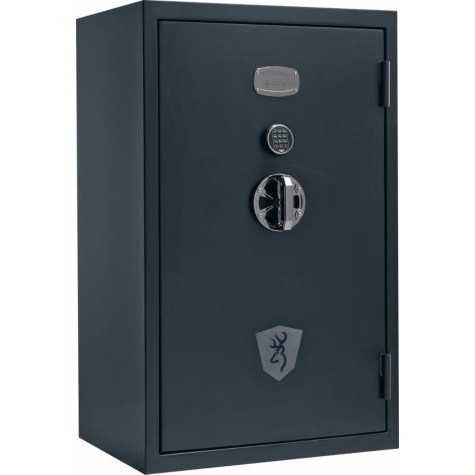 Liberty FATBOY Jr. 48 Gun Safe — Liberty's FATBOY Jr. is a classic gun safe for people with larger gun collections. The safe is designed to hold 48 firearms and has "triple case hardened steel plates protect lock from drill attack." The whole of the safe is 11 gauge steel; it is built to keep your guns safe. Liberty says the FATBOY Jr. provides an hour of fire protection in intense heat: "60 minutes [of fire protection] @1200°F or 83,000 BTUs." During such heat, the seal on a liberty safe is designed to expand up to "7 times its size" to increase protection.
Amazon sells the FATBOY Jr. for approximately $2,300.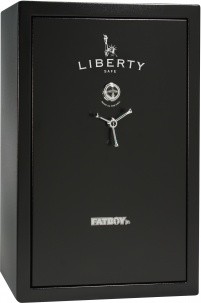 Gun Vault GV1000S Mini Vault — The GV1000S Mini Vault is a single gun safe designed to be mounted near your bed or anywhere in your home or office where you want quick access to a firearm while hiding it from burglars, children, and unauthorized users. The GV1000S's door springs open after you input the correct code on the fingerpad or use a key (supplied) to override the fingerpad. The GV1000S does not have a biometric reader, which means you can access your firearm even if your hands are wet, dirty, bloody, or gloved. The GV1000S is a good option for someone who has one gun or a go-to gun that they keep close at hand.
Amazon sells the GV1000S for approximately $100.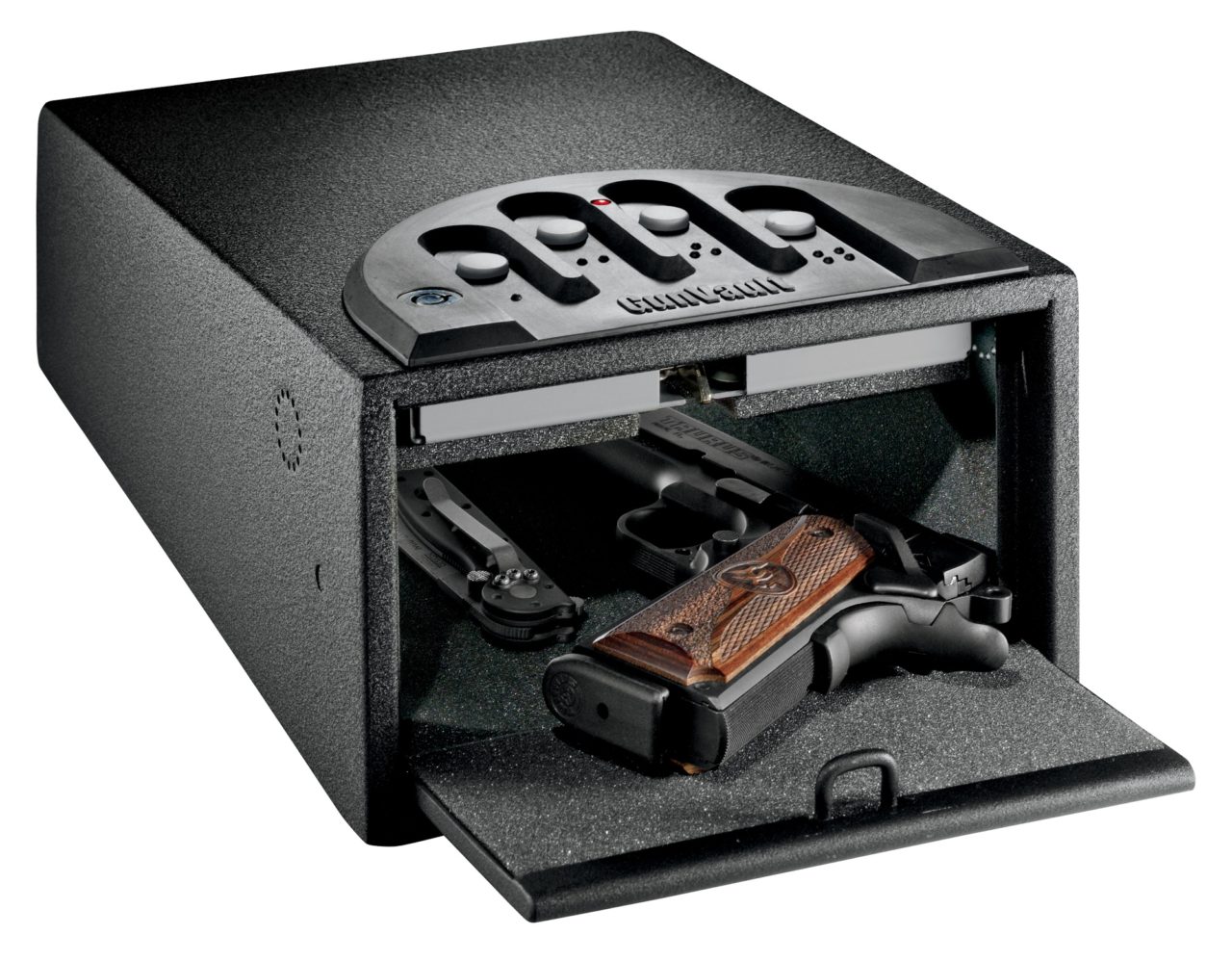 Hornady RAPID Safe — The RAPID Safe is a single handgun safe, but it is plusher than the Gun Vault. Fox example, when you open the RAPID Safe, it lifts the handgun toward you. The intention of the lifting the gun is to place it at the best angle for quick retrieval. The exterior of the RAPID Safe is made of 14 gauge steel and Hornady says the RAPID Safe "exceeds ASTM International safety standards for child and pry-resistance, lock strength, drop/pick/saw tests and hinge attack resistance." The RAPID Safe can be opened by swiping a Hornady-supplied wristband or sticker over the reader on the front. It can also be opened via keypad combination or a key lock.
Amazon sells the RAPID Safe for approximately $190.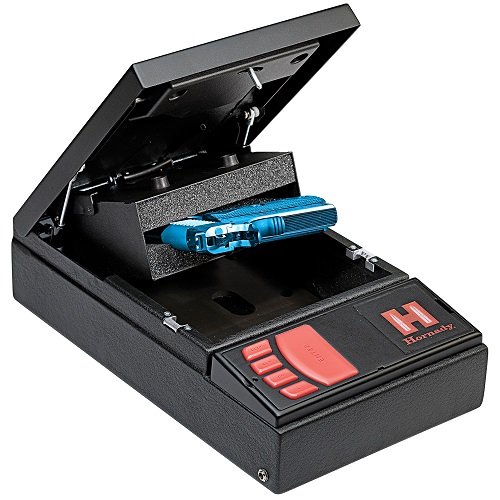 AWR Hawkins is the Second Amendment columnist for Breitbart News and host of Bullets with AWR Hawkins, a Breitbart News podcast. He is also the political analyst for Armed American Radio. Follow him on Twitter: @AWRHawkins. Reach him directly at awrhawkins@breitbart.com.