Best-selling author and conservative commentator Ann Coulter addressed a panel of the Washington Post-sponsored "Free to State: A New Era for the First Amendment" conference Tuesday.
Moderated by the Post's Charles Lane, Coulter gave her thoughts on free speech today, along with law professor and former American Civil Liberties Union President Nadine Strossen. The topic was "On Offense," an examination of offensiveness as it pertains to free speech in today's polarized climate.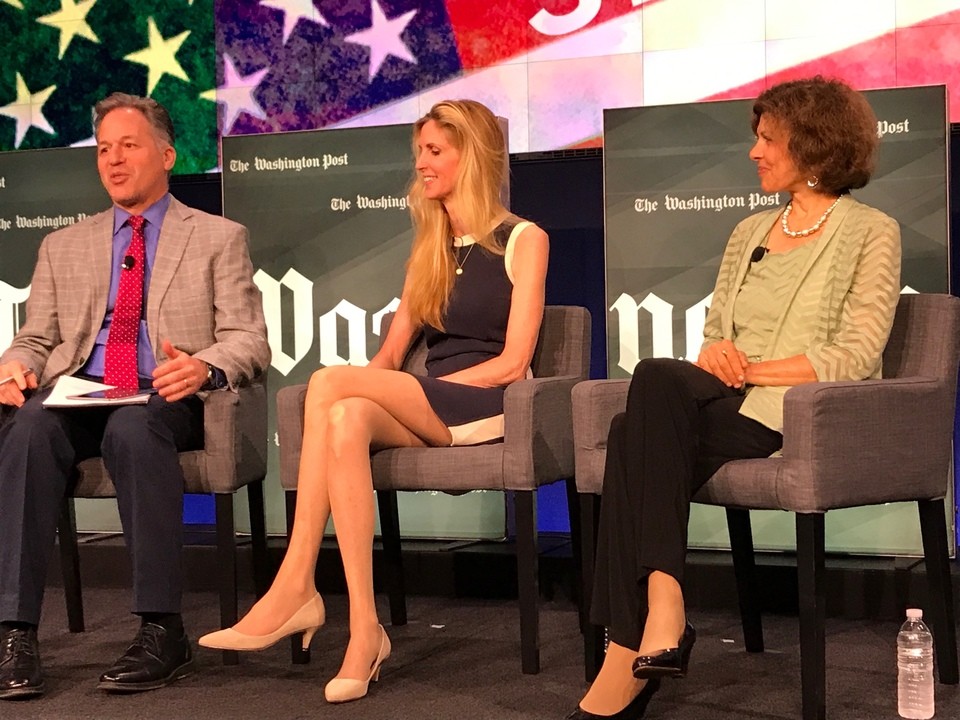 Lane asked Coulter, well known for her refusal to water down her arguments and rhetoric, if she felt she ever went 'too far.' "I don't think so," she replied.
Coulter focused on "offensiveness" being an excuse for political violence against speakers. "'The immigration laws that are on the books, we should enforce them.' That apparently is worthy of riots," Coulter gave as an example. Coulter made headlines nationwide when fears of political violence lead to the cancellation of her speaking date at the University of California, Berkeley.
Strossen gave a full-throated defense of free speech in nearly every situation, in the tradition of her organization. Coulter and Strossen found common ground on their condemnation of European so-called "hate-speech" laws, with Ann pointing to a double standard in allowing Muslim preachers to avoid prosecution.
Coulter posited that there were instances in which  she supported less free speech than Strossen and others in which  she supported more. Challenged by Lane and Strossen to find an area in which she advocated for more free speech than Stossen, Coulter pointed to the ACLU's support of bans on protesters at abortion clinics. Coulter then smiled and raised her arms in triumph exclaiming, "Ann wins!"
Lane closed the panel by asking Coulter what she thought the mainstream media and political left would be doing to counter her message if they were "smart."
Coulter replied that she would recommend acting roughly as they do now "pretending I don't exist and preventing me from speaking at college campuses."