PHOENIX, Arizona — A Twitter user seeking funds for "facial feminization surgery" and posing as a Starbucks employee at the Phoenix Convention Center threatened to slip estrogen hormone pills into the coffee of attendees at a conservative conference taking place here today.
"I love my job at the Phoenix Convention Center Starbucks and I love slipping my spare estradiol pills in the coffee of anyone wearing a #WesternConservativeConference lanyard," tweeted user @LLW902 earlier today.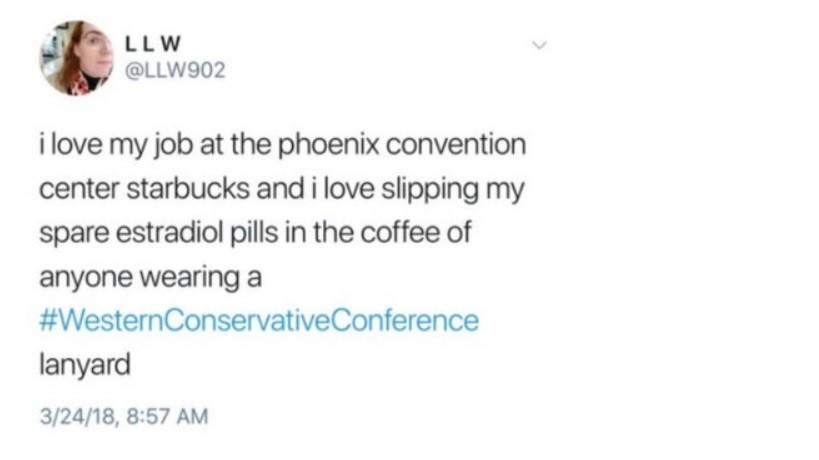 The offending tweet has since been removed, but was screen grabbed earlier by WND.com and WesternJournal.com.  The same twitter user has since retweeted numerous replies to the original threatening tweet.
Estradiol is the major female hormone estrogen. The drug is routinely prescribed for women going through menopause as well as to individuals going through transgender treatment.
The Western Conservative Conference, which took place Friday and Saturday at the Phoenix Convention Center, describes itself as "the premier gathering of conservatives in the Western United States."
Featured speakers included this reporter, as well as WND.com CEO Joseph Farah; Rep. Dave Brat (R-VA); Sheriff Joe Arpaio; Herman Cain; National Review's John Fund; Rep. Paul Gosar (R-AZ); James O'Keefe of Project Veritas; conference organizer Floyd Brown, and Stephen Moore, chief economist of Heritage Foundation.
Security at the conference reported the threat to local law enforcement.  A conference organizer told Breitbart News that it was quickly determined that the Twitter user is not an employee at the Phoenix Convention Center Starbucks.
The Twitter user goes by the name of Lauren and has a profile that reads: "If you dont like my face you can pay me for a new one."  The user links to a webpage seeking to raise $17,000 to travel abroad and get "Facial Feminization Surgery."
Aaron Klein is Breitbart's Jerusalem bureau chief and senior investigative reporter. He is a New York Times bestselling author and hosts the popular weekend talk radio program, "Aaron Klein Investigative Radio." Follow him on Twitter @AaronKleinShow. Follow him on Facebook.