A progressive activist who was quoted by the Washington Post and whose writing has been featured in Ravishly and Boing Boing claimed to be a "pedophile" and defended white nationalism, Breitbart can reveal.
Sarah Nyberg, a transsexual formerly living as Nicholas Nyberg, sometimes known as Sarah Butts, is a well-known critic of the GamerGate movement who was recently quoted on the topic by The Washington Post. She enjoys the support of prominent progressive commentators including Salon columnist Arthur Chu, former NFL punter Chris Kluwe and academic Katherine Cross.
But a recent leak from an online chat room owned by Nyberg reveals Nyberg's disturbing past. In 2005, Nyberg described herself as a pedophile, revealed how she was obsessed with her young cousin, who was 8 years old at the time and whom we will refer to as "Alice," defended white nationalism, and orchestrated a cyberattack against a rival's website. Public records reveal that she currently owes at least $100,000 in back taxes and is classed as a "delinquent" by the Wisconsin Department of Revenue.
The content below is disturbing; readers are advised to proceed with caution.
CLAIMED PEDOPHILIA
Leaked chat logs from the Final Fantasy Shrine (FFshrine) forums, a website then owned by Nyberg, show how she condoned consensual sex between adults and children as young as age 6, openly fantasised about sex play with underage girls (including Alice) and shared pictures which others referred to as child porn.
Nyberg has admitted that the chat logs, which date back to 2005, are genuine and later, in a further admission of ownership, filed a DMCA copyright claim against at least one website that hosted the logs.
Many of the links to archived FFShrine content are unstable thanks to a spate of takedown requests Nyberg and her supporters issued when we approached her for comment on this story. Breitbart has obtained the full archives of all logs, leaked by citizen journalists over the past year.
The logs have been dissected by amateur sleuths on YouTube, such as "LeoPirate," whose video on the subject had attracted nearly 70,000 views as we went to press. The logs themselves are still available in several locations online.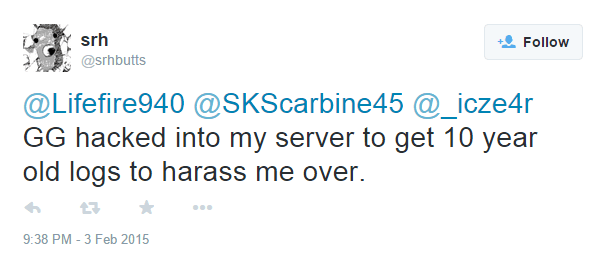 In a shocking post in Nyberg's own FFShrine chat logs, dated 26 October 2005, Nyberg, who used the screen name "Sarah," describes herself as a "submissive male to female transsexual pedophile that's fond of ageplay and penisgirls that really misses Alice." Elsewhere in the logs, she says "yes, I am a pedo. I embraced my childlover soul long ago." Nyberg says she knows pedophiles: "I've probably known 8-12 pedo trannies," she says.

Elsewhere in the FFShrine logs, Nyberg jokes: "If you're not willing to hook up with an 11 year old, you're an ageist, we hate you, and you need to leave."
Nyberg told the chat room that she feared pedophilia might "run in the family" because her father is "dating someone 10 years younger than him" and because her brother's girlfriend "isn't legal."
Nyberg claims to have been the subject of some kind of investigation in the past. She says that her computer was seized in 2005. Nyberg expressed concern that they might find her encrypted drive, which contained what she described as "non-nude model" pictures.
She also admitted to hosting pictures of "ptms" (pre-teen models) on one of her websites. In her view, naked pictures of children "isn't cp." (CP is web slang for child pornography.)
There seem to have been other members of the FFShrine chat room Nyberg operated who had similar inclinations. One member, writing under the pseudonym "Ego" tells the group that he is "waiting on the little neighbour twins to develop." In response, Nyberg requests pictures of them.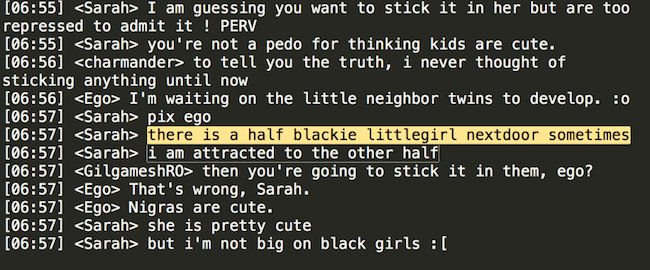 Nyberg joked about using FFShrine as a grooming forum. "We use FFShrine to lure unsuspecting kiddies into our gingerbread house," she writes at one point. But there are also signs that she wasn't joking, as elsewhere in the logs she says: "other girls at FFshrine have talked to me about really young masturbation stuff in private."
Nyberg entertains ambitions of having children herself one day, telling the chat room in 2007 that she "want[s] kids eventually. Being a mom." She regularly talked about the possibility of adoption, sharing with others that she would try and "secure a single parent adoption" although she added that "trannyness + pedoness might complicate that."
COUSIN "ALICE"
Alice is a pseudonym, which we are using to protect the identity of Nyberg's cousin. Nyberg specifically names her then 8-year-old cousin using the latter's real name and describes in detail how they are related. Using the information Nyberg posted online we were easily able to locate and contact Alice's parents, who said they knew nothing about these logs but had made sure that Nyberg and their daughter had never been left alone together. Alice's father preferred not to elaborate on why he and his wife took the decision to make sure Nyberg, then called Nicholas and living as a twentysomething man, was never given unsupervised contact with Alice, 8.
As the following logs reveal, ten years ago a then-twentysomething Nyberg developed an obsession with Alice, when the latter was just 8 years old.
"I used to think 5/6/7 was too young, but Alice changed my mind," Nyberg writes.

In another FFShrine post, Nyberg boasts about how she plans to "finally get pictures of her," telling chatroom members that "it's all about Alice man."
Nyberg kept her promise, and later, shared a folder of images of Alice with a fellow chat room member. The folder was hosted on FFShrine's servers.
In another exchange on FFShrine, she goes on to talk about Alice wearing a bathing suit.
In yet another post about her cousin on the same site, Nyberg refers to herself as a "pedophile" who is attracted to Alice and seems to admit that she may get an erection if she spends time with Alice. Nyberg is a male-to-female transsexual, and at this point was presumably still able to achieve an erection.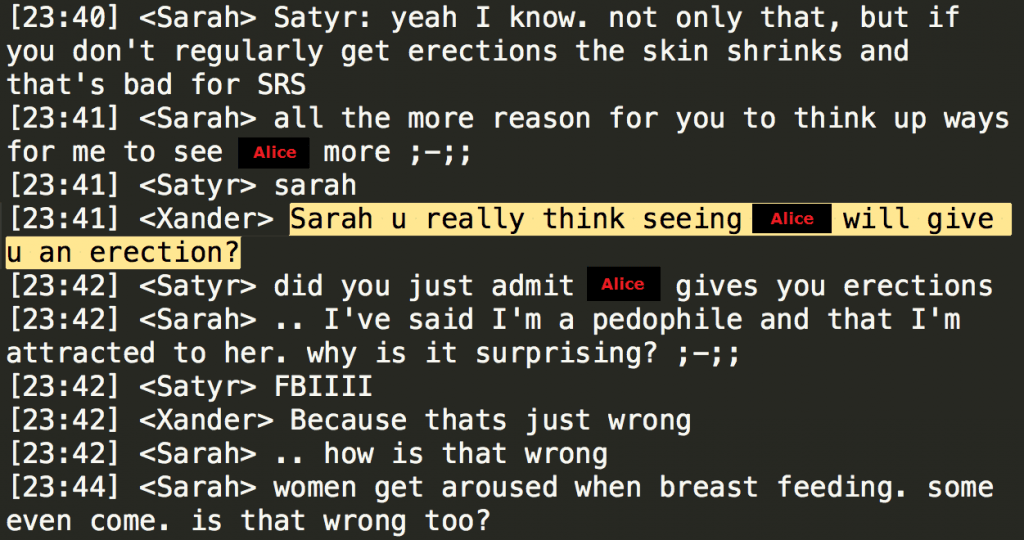 She also spoke openly about her moments of physical contact with Alice on FFShrine, telling the chatroom about how "cute" she was when Nyberg tickled her feet.

Not only did Nyberg share photos of her then 8-year old cousin with her associates online, but she also referred to her cousin by her real name and provided all the information needed to track someone down not just today in the age of Facebook but then, too, by simply using the Yellow Pages.
There are tens of thousands of pages of FFShrine chat logs, and they have not been comprehensively swept. But even at this early stage of research, Nyberg's obsession with Alice is clear.
In the logs, Nyberg says she believes that sexual relationships between adults and children will one day be legal, but laments the fact that "by then, Alice will be too old." She regularly told the chatroom that she missed Alice, and joked about paying her parents to keep her.

PICTURES
Nyberg insists that she has never molested anyone. In the logs, she argues that being a pedophile and a child molester are "not the same." Nevertheless, Nyberg may have shared images of barely-clothed underage girls in the FFShrine chat room.
In one post, she links to a .jpg image from 12chan, a now-defunct imageboard. Another chatroom member responded to Nyberg's post with the words: "that's CP" and "I can see underage twat."
"I see some vagin," agreed another member.
Nyberg responds saying "she can't see anything" and that "nudity isn't CP."
"Oh bullcrap," came the response.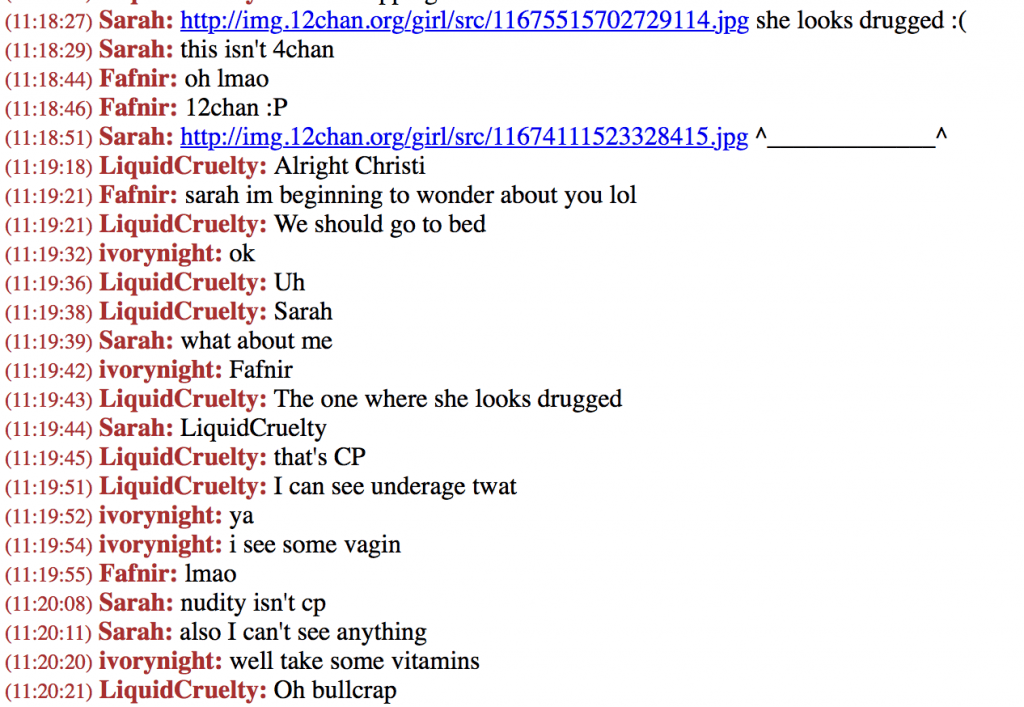 In another post, Nyberg shared images from a website called "adieskids," which described itself as a site for "appropriate, respectful images of children." But in a chatroom post, Nyberg references a "nipple" in one of the pictures from the site.
Nyberg also joked about "evil nipples" in another of the images, while another chatroom member quipped that they would "report u 2 FBI."
At one point, Nyberg accidentally uploads pre-teen model (ptm) pictures to her own site.

In an attempt to justify posting the images, Nyberg referenced U.S. laws on child pornography, which she described as "pretty bullshit." She complained that "almost any pics of kids COULD be illegal." Elsewhere, Nyberg says that child pornography "isn't a moral issue. Not a controversial one, anyway."
ADVOCACY
"Most ethical pedos don't advocate penetrating little girls," says Nyberg in one logged FFShrine post. But in another, she says: "I'd have sex with a little girl if she wanted to." Elsewhere in the same chat room, Nyberg says that she "honestly doesn't think there's anything wrong with sleeping with kids," adding that she wouldn't do it but only "to avoid getting in trouble."
"Most pedophiles wouldn't be dangerous if society didn't treat them the way they do," lamented Nyberg in one post. "There's nothing wrong with being a pedophile," she says in another. Astonishingly, Nyberg also claims that "homosexuality is just as much of a mental disorder as pedophilia."
Nyberg entertains hopes that society may change its attitudes. In one post, she discusses whether the age of consent should be lowered to 4. In another, she rails against TV shows that attack pedophiles, such as NBC's To Catch A Predator. At one point, she praises a girl called "leeloo" for "standing up for pedos in her class because of me." Elsewhere, she shares her hopes that adult-child sex will one day be legal.
FFShrine forum posts show Nyberg discussing the concept of child sexuality. "Child sexuality is typically not expressed in the form of full-blown intercourse," Nyberg writes. "Childhood sex play is typically anything from playing doctor to mutual masturbation to "show me yours and I'll show you mine." There's nothing harmful about it. What's harmful is society pretending children are asexual."

In 2007, she told the chat room: "Everything Illegal is better than what we have, Pot beats Beer. It is healthier than smoking. and Child Porn is healthier than pot. So by looking at child porn you are using time you might use to smoke or drink. Thus a healthier america looks at child porn."
WHITE NATIONALISM
The FFShrine chat logs also reveal Nyberg to be a defender of white nationalism. "White nationalism is 'racist' in the same sense that feminism is 'sexist,'" she said. "I'm mad at [other IRC users] for buying into everything the media says regarding white nationalism when they rant so often about the media skewing pedophile stuff."
"You can be proud of being white without hating other races," Nyberg continued. "You can be concerned with white issues without wanting to kill the n****rs."

Nyberg's comments are at stark odds with her Twitter persona today, where she regularly accuses others of racism. She accused a prominent game developer, Mark Kern, of "retweeting bigots" after a user featuring a picture of an Iron Cross appeared on his feed. When another Twitter user pointed out that Iron Crosses continue to be used by ordinary Germans, Nyberg retorted that "racists and white nationalists" also use the symbol.
Nyberg also accused the gaming subreddit /r/KotakuInAction of hosting racist content, and complained on Twitter that her critics were "perpetuating racism" by "pretending it doesn't exist."
Nyberg may have changed her views since she defended white nationalism 9 years ago, but she has yet to acknowledge or apologise for her previous comments.
CYBERATTACKS
One of the features on FFShrine was a large database of pirated video game music. In 2006, this database was copied, or cloned, by a third party. Nyberg went to the FFShrine chatroom, and spoke to another member, Roph, about potential retaliation.
Nyberg suggests a range of retaliation options, including releasing the man's personal information online (a practice known today as "doxing"), as well as "nasty stuff" including "hacking and cracking." She also responds positively to another user who suggests that FFShrine members "send him a bunch of hatemail."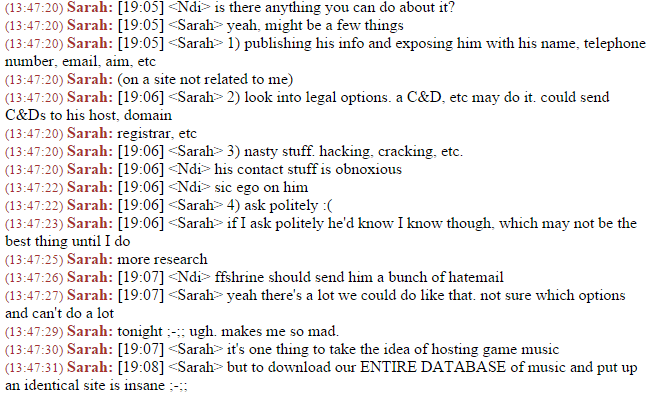 A day later, Nyberg returned to the chat room and asked a fellow member to test a link to the man's website. The chatroom member confirmed that the link was down, and asked Nyberg what she had done. "It's a secret," said Nyberg. "I have neat friends. That is all."
For someone who talks frequently and hyperbolically about "online harassment campaigns," Nyberg's involvement in her very own campaign of cyber-attacks represents an extraordinary double standard.
TAX PROBLEMS 
Although forum and chat posts show Nyberg boasting about how much she earns from advertising on FFShrine, she also claims to have avoided taxes. In February 2007, she tells the chatroom that "I don't pay quarterlies because im a fckn rebel, also IRS [please] don't hurt me." A Google Answers thread from 2006 shows Nyberg asking how to exempt her website purchases from federal tax.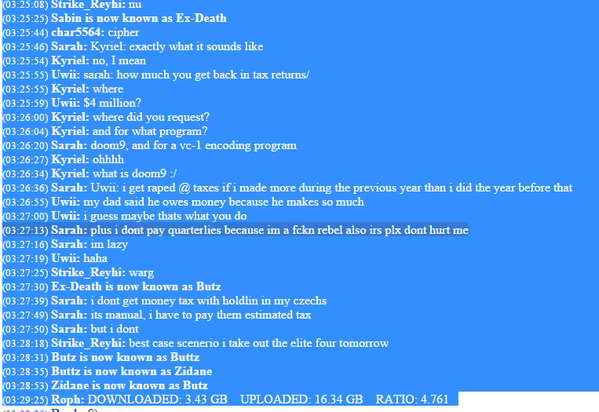 "I don't get money tax with holdlin in my [cheques]" she continues. "Its manual, I have to pay them estimated tax. But I don't."
The financial arrangements between Nyberg and her parents appear complex. When another user remarks that Nyberg's parents drain money from her account, Nyberg remarks that "at least I can buy my own drugs," adding that her mother "gets out of prison really soon" and she has yet to move out of her parents' house. "I'd rather have my parents drain money from me than vice-versa."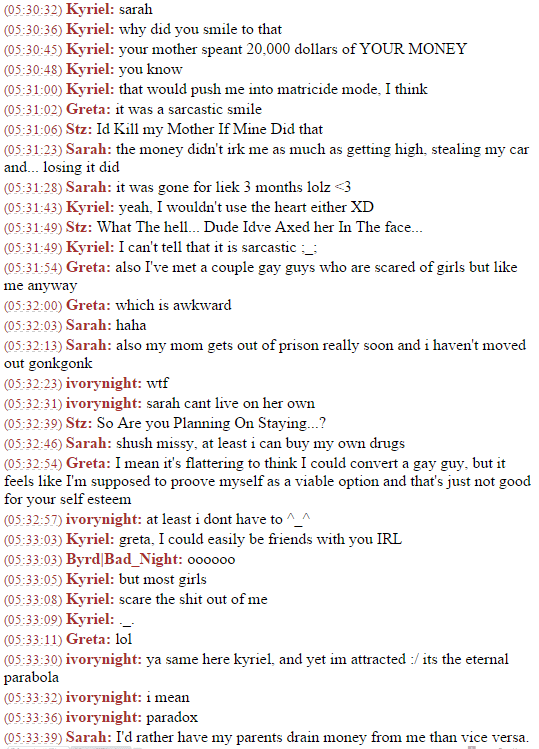 Nyberg's main source of income was FFShrine, a site which owed much of its traffic to its large bank of copyrighted video game and anime music. When Boing Boing games editor Leigh Alexander published an article from Nyberg on the site, she was giving a platform to someone who admitted to making a profit from pirated video game content.
Yet Nyberg's financial situation is not as secure as it once was, to put it mildly. Public records show that she is currently facing legal demands totalling at least $134,496, including a federal tax lien for $103,891. The most recent state tax warrant, for $7,290, was issued in May 2015.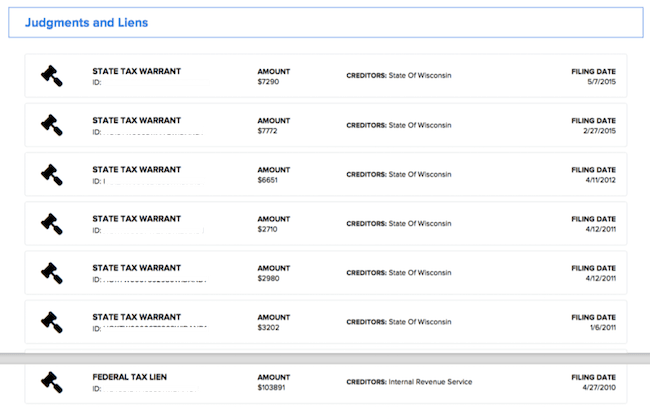 Additionally, publicly searchable Wisconsin Department of Revenue records show that Nyberg is currently "delinquent" on debts to the state amounting to $49,603.31.

RUNNING FROM THE PAST
If you look at Sarah Nyberg's comments on Twitter these days, they seem totally at odds with her history. Despite describing herself as a pedophile just nine years ago, she has posted streams of Tweets attacking the imageboard 8chan for their alleged failure to tackle child porn on their site.
Once, she defended white nationalism as "no more racist than feminism is sexist." Now she regularly accuses her opponents of racism. Once, she mulled the possibility of a hate mail campaign against the owner of a rival website. Now, she tweets endlessly about alleged "online harassment."
This is the behaviour of someone who wants to leave their past behind without owning up to it. She has tried to convince the public that she is a paragon of social justice, doling out advice for society on social media, and writing columns for prominent feminist and gaming publications.
Nyberg has convinced many people, who are presumably unaware of the allegations against her. Her work attracted praise by former NFL player Chris Kluwe, who praised Nyberg for doing a "great job" compiling questionable comments from GamerGate supporters. British comedian Graham Linehan praised Nyberg for her "tireless" work curating GamerGate tweets.
In most political movements, revelations about tax evasion, potential cyber crime and white nationalist apologism would be enough to sink an activist. In Nyberg's case, they are just the tip of the iceberg. Yet progressive commentators continue to line up in support of her. To date Sarah Nyberg's writings have appeared on the feminist-supporting sites Boing Boing and Ravishly despite these allegations being widely circulated since January of this year.
A third, ferociously pro-feminist progressive website, The Mary Sue, featured a writer called "Sarah Butts," an alias of Nyberg's, writing critically about GamerGate. But The Mary Sue now denies that this is the same person. Hardly surprising, when you consider a comment in one of these logs: "I am rape incarnate."
But none of that compares to identifying by name, uploading pictures of, and publicly expressing sexual interest in that 8-year-old girl, Alice, nine years ago.
Several posters on the 8chan imageboard who claimed to have connections to the family expressed their intention to report Nyberg to local and federal law enforcement following the publication of our story. Nyberg herself did not respond to repeated requests for comment; nor did her editor at Boing Boing, Leigh Alexander, or any of the other people professionally connected to Nyberg whom we contacted.
All in all, we sent six requests for comment. MailTrack software confirms that at least four of these requests were read, but ignored. After our requests for comment, Nyberg began a frantic effort to remove all traces of the leaked chat logs from the internet.
One website owner contacted Breitbart after its host received an email from Nyberg asking the latter to remove the logs, on the grounds that they are her "copyrighted content" and that they are causing her "financial and personal problems." She went on to threaten the host with legal action. Nyberg's supporters have made similar claims to other websites, citing "harassment."
Whether or not these copyright claims are valid, Nyberg has asserted that she is the owner of FFShrine and the writings posted in the site's chat rooms, and she has asserted intellectual property rights over them in allegations made against multiple websites across the internet.
Breitbart is in contact with both of Alice's parents. They confirm the facts of our story but have declined to comment on the record.
Follow Milo Yiannopoulos (@Nero) on Twitter and Facebook. He's a hoot! Android users can download Milo Alert! to be notified about new articles when they are published.