Today is the day Texas commemorates the National Day of Prayer. It's an especially timely observance, given that it comes on the day after the terrorist shooting tragedy in Garland, Texas, on Sunday.
Breitbart Texas was in Garland at the event when the shooting occurred and produced exclusive video at the very moment shots were fired.
The Governor had previously declared May 4th, 2015 as the Texas National Day of Prayer. May 7, 2015, is the National Day of Prayer.
"As we gather for this Day of Prayer, it's worthwhile remembering Luke 18:1. People should always pray and not lose heart," Governor Abbott said, in a statement obtained by Breitbart Texas. "In America today, we're in a time of great need. There is an urgent need to pray now more than ever, for through the example of His life, I know there is no force as formidable, as indomitable, as a prayer to Almighty God. So I pray that God will bless you and keep you and may God forever bless the great State of Texas."
The Governor attended the Texas National Prayer Breakfast on Monday morning, at the Double Tree Hotel on the north side of Austin. Chuck Norris served as keynote speaker, while First Lady Cecilia Abbott led the assembly in prayer.
Governor Abbott told those attending, "Let me begin today with Romans 8:28. In all things God works for the good of those who love Him – who have been called according to His purpose."
The Governor commended the service Chuck Norris and his wife, Gina, have given to others. He highlighted their Kickstart Kids program, noting Chuck Norris is a world-famous movie star who could "live a Hollywood-style, ego-filled life," but instead, "Chuck and Gina have devoted their lives to improving the lives of others."
The Governor saluted Kickstart Kids for helping over 80,000 children in Texas. He said the program teaches children "discipline, hard work, respect, and character. If all of our kids were products of these programs, there would be far fewer laws needed in Texas."
The Governor of Texas said "Chuck and Gina are – indeed – showing that God uses all of us for His good."
The Governor's advice to those at the event, quoting Luke 18:1, was that "people should always pray, and not lose heart."
He quoted his grandfather, Pastor A.G. Abbott, who said 50 years ago, "Only through the inspiration that comes through the worship of God, can one receive the power and strength needed for life's testing problems."
Those who attended the event in Garland yesterday, and ended up in lockdown for their safety during the terrorist attack, took the time to pray. They prayed for those who were shot, for our country, and for all those who were in the lockdown facility.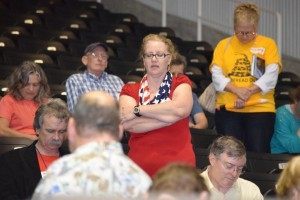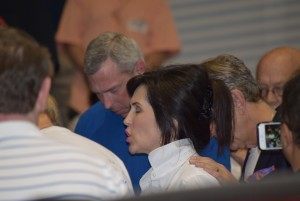 Women lead attendees in prayer in Garland after the shooting. Breitbart Texas photos by Lana Shadwick.
Breitbart Texas was there when those in Garland began praying, and recorded their singing of "God Bless America" and the National Anthem.
"Prayer is an act of acknowledging dependence upon and accountability to a higher authority, a tradition deeply embedded in the American DNA," Dave Welch, Executive Director of the Texas Pastors Council, told Breitbart Texas. "This day recognizes the tradition, but most importantly helps reignite it as an active part of our national life."
The Governor ended his remarks at the Texas event commemorating the National Day of Prayer by declaring, "Through the example of his life I know there is no force as formidable, as indomitable, as a prayer to Almighty God. So I pray that God will bless you and keep you and may God forever bless the great State of Texas."
Lana Shadwick is a contributing writer and legal analyst for Breitbart Texas. Follow her on Twitter @LanaShadwick2