PIEDRAS NEGRAS, Coahuila — The Mexican cartel known as Los Zetas has been stockpiling Soviet-era rocket propelled grenades, body armor, assault rifles, and ammunition in this border city.
The discovery was made after a special state police unit designed to clash head-on with cartels, gathered intelligence about a business being used to stockpile weapons, information provided to Breitbart Texas by Coahuila authorities revealed.
Following their investigation and after receiving an anonymous tip about a truck with gunmen arriving at the business, investigators obtained a search warrant and had members of Fuerza Coahuila raid a local junkyard in the Buena Vista neighborhood of the city. Because of the high-risk operation, federal police officers and the military arrived to the house to provide backup.
Authorities were not able to locate the gunmen but found five, Soviet-era rocket-propelled grenades, a launcher, 15 tactical vests with bulletproof metal plates, assault rifles, various loaded ammunition magazines, 19 marijuana bundles, and an SUV without license plates.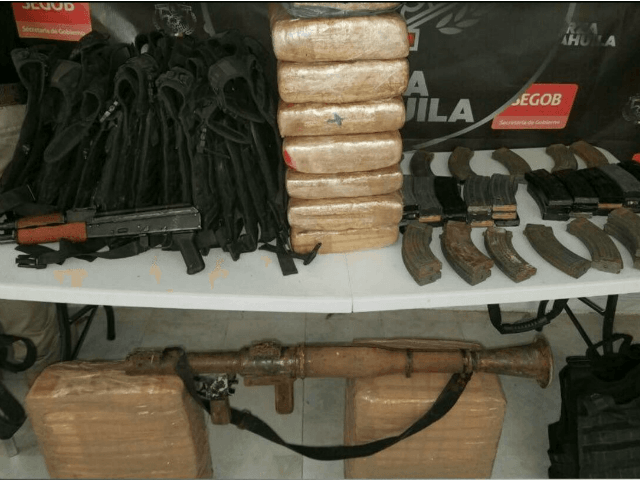 As Breitbart Texas has been reporting, the Cartel Del Noreste faction of the Los Zetas continues to be a dominant criminal organization in Coahuila. That faction of Los Zetas is currently fighting with another known as Los Zetas Vieja Escuela over control of lucrative drug trafficking routes in this state as well as Tamaulipas and Nuevo León.
The raging war between the two factions has led to almost daily kidnappings, gun battles, beheadings, dismemberments, and other gory executions. Both factions have previously used RPGs not only in their fights, but also to threaten each other through various messages, Breitbart Texas reported.
The Los Zetas cartel is also the criminal organization that is responsible for the kidnapping, murder and incineration of more than 300 victims, including women and children from the rural communities of Allende and Cinco Manantiales. Between 2011 and 2013, when the murders took place, half of the victims were taken to the Piedras Negras state prison where gunmen used 55-gallon drums to incinerate the human remains. Others were incinerated at local ranches. The case continues to be largely ignored by U.S. mainstream media.
Editor's Note: Breitbart Texas traveled to the Mexican States of Tamaulipas, Coahuila and Nuevo León to recruit citizen journalists willing to risk their lives and expose the cartels silencing their communities.  The writers would face certain death at the hands of the various cartels that operate in those areas including the Gulf Cartel and Los Zetas if a pseudonym were not used. Breitbart Texas' Cartel Chronicles are published in both English and in their original Spanish. This article was written by "J.M. Martinez" from Piedras Negras, Coahuila.