Stefano Gabbana, one half of the fashion house Dolce & Gabbana, proudly bragged on Instagram this week that future First Lady Melania Trump had worn a D&G dress on New Year's Eve — and then, when critics threatened to boycott his brand, he met them head-on.
Shortly after New Year's, Gabbana posted a photograph of Donald and Melania Trump to his Instagram account. The photo shows the Trumps celebrating the occasion at the Mar-a-Lago estate in Palm Beach, Florida, with Melania Trump wearing a black D&G cocktail dress from the company's Cruise collection.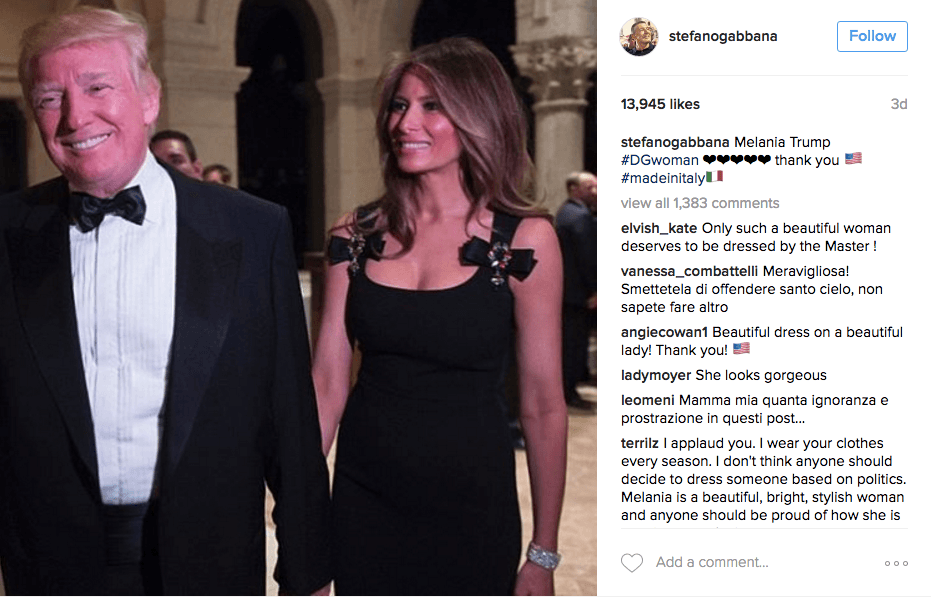 A proud Gabbana captioned the photograph: "Melania Trump #DGWoman thank you #madeinitaly," along with several heart emojis.
While the post drew a number of highly supportive comments, some of Gabbana's followers wrote that they would never again buy his products or wear his clothes. One commenter likened Melania Trump to Eva Braun, the girlfriend of Nazi leader Adolf Hitler.
"How many stupid and ignorant people r on Instagram!!!" Gabbana wrote back in one of several comments taking aim at the negative posters. "Please if you don't like my post unfollow me… thank you."
The designer continued to post photographs throughout the week of media coverage of his initial Instagram post, appearing to delight in the minor controversy he had caused.
The fashion world has been split over its reception to Melania Trump, after eight years in which nearly every designer in the world wanted to work with and create clothing for First Lady Michelle Obama.
Shortly after Trump's victory over Hillary Clinton in the presidential election, American designer Sophie Theallet urged her fellow designers not to design for the future First Lady.
"As one who celebrates and strives for diversity, individual freedom and respect for all lifestyles, I will not participate in dressing or associating in any way with the next First Lady," Theallet wrote. "The rhetoric of racism, sexism, and xenophobia unleashed by her husband's presidential campaign are incompatible with the shared values we live by. I encourage my fellow designers to do the same."
In the wake of Theallet's announcement, designers Tom Ford and Marc Jacobs have both said they would not dress Melania Trump, though a number of other designers, including Tommy Hilfiger and Diane von Furstenburg, have said they'd be glad to do it.
Follow Daniel Nussbaum on Twitter: @dznussbaum