A series of new advertising billboards from the UK Independence Party (UKIP) have caused a storm on Twitter just hours after going up around the country.
More professional than their previous efforts, these UKIP billboards will take the party into May's European Elections, and focus on the party's core themes: immigration, jobs, and sovereignty.
Spotted in Sunderland and Newcastle, the billboards have sparked outrage from some, and delight from others. Jason Sinclair in London called the posters "sinister", and Edward Reach said "Ukip appear to have taken xenophobic scaremongering to a whole new level with their billboard posters."
But the Nationalist_UK twitter feed said: "Lefties going bananas over this UKIP billboard. Strikes a little too close to home for them", and UKIP supporters begged for more: "A massive #UKIP billboard has gone up in #Sunderland. As a city, it is time to stand against the #Labour monarchy who have held us back!"
UKIP says the campaign has been funded by Yorkshire businessman Paul Sykes, and will run on digital and newspaper advertising too.
UKIP leader Nigel Farage said: "These posters are a hard-hitting reflection of reality as it is experienced by millions of British people struggling to earn a living outside the Westminster bubble. Are we going to ruffle a few feathers among the chattering classes? Yes. Are we bothered about that? Not in the slightest.
"UKIP is hugely grateful to Paul Sykes for his magnificent contribution to the great cause of restoring Britain's ability to be a self-governing nation. The political earthquake I have spoken of is on its way."
Mr Sykes, who has invested £1.5million of his own money in the campaign said: "I am supporting the biggest advertising campaign in UKIP's history to bring home to the British people what is at stake.
"The European elections are the most important for many years. We have the chance to support a party – UKIP – that represents a complete break with the past. The other parties, whatever their merits, are content to work within the existing Brussels straitjacket.
"They cannot do anything about immigration or British workers being undercut by cheap foreign labour and they are prisoners of the European Court of Justice and the closely related European Court of Human Rights, which stops us deporting foreign criminals and terrorists.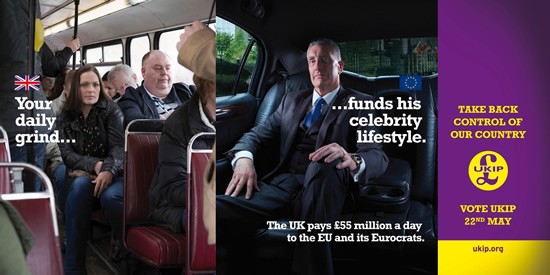 UKIP's posters will run in two waves over the next four weeks and will be displayed on hundreds of prime billboard sites right across the country. There will also be many thousands of digital ads carried by news, entertainment and listings websites.