Murdered soldier Lee Rigby's mother is determined to ensure his name is remembered in school's across the country while at the same time warning children against the hate-filled ideology of Islamic extremism.
Lyn Rigby says she wants to be allowed into schools "to teach the right message to young and impressionable kids" as part of her plan to "make a difference".
A memorial to Fusilier Rigby (pictured above) was unveiled in his home town of Middleton, Greater Manchester, earlier this year. He was brutally slaughtered as he returned to ­Woolwich barracks in May 2013 by Michael Adebolajo and Michael Adebowale, both radicalised by hate preachers.
However speaking in a Remembrance Sunday newspaper interview, Mrs Rigby said she wanted to go a step further than the bricks and mortar commemoration she helped build by personally having a positive influence on "young and impressionable kids".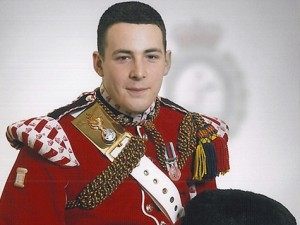 She told the Daily Mirror: "If I can go into schools with the foundation and teach them the right message it would be an astounding legacy for Lee and one he'd have supported.
"Also I want my son's foundation to offer real support to those like me in their darkest hour. When we lost him, I didn't have anyone to turn to.
"And it's important to me to support the injured men and women who fought for our country, including those with post-traumatic stress disorder."
She also revealed her educational peace mission is one of the aims of the family's new charity, The Lee Rigby Foundation.
The soldier's stepfather, Ian, said Remembrance Sunday was 'very emotional time' for the family, who had laid a wreath at the father of one's grave.
In a post on the foundation's Facebook page on Sunday, Mrs Rigby said she would remember her 'beautiful son and all the brave men and women who were lost to so many families who suffer their grief as I do'.
Follow Simon Kent on Twitter:

Follow @SunSimonKent

or e-mail to: skent@breitbart.com