One woman has been killed and five people have been injured "Somali Origin" man with a knife attacked people, apparently at random, in the busy area of Bloomsbury in Central London.
Update Aug 5, 15:28 – The Mail reports the attacker's neighbour says that mental health is being used as a "scapegoat".
The report says:
…neighbour Parmjit Singh, a BBC radio DJ known as 'DJ Precious' on the Asian network, said he had known 'impressionable' Bulhan for seven years, adding: 'His mental health problems are a scapegoat.'

The 36-year-old said: 'They said he had mental health issues but that was not the boy I knew.

'The news of his mental illness is completely new, we never heard that. Honestly, I think his mental health problems are a scapegoat.'

Asked what he thought motivated the attack, Parmjit said: 'I think peer pressure, hanging around with gangs. He wasn't working, he was hanging around with Somalian boys and I think they had possible links to serious ISIS people – not directly, but they see all this stuff and are inspired by it.

'Why would he attack an American woman tourist in a random attack? I think boys have put pressure on him to go there and do something. He was very impressionable growing up'.
Update 1900 — Attacker named as Somalian origin, Norwegian passport holder, South London resident Zakaria Bulhan
Police have this evening identified the 19-year-old Somalian heritage male arrested this morning on suspicion of murder as Zakaria Bulhan. If Mr. Bulhan had social media accounts on services such as Twitter and Facebook — not uncommon for 19-year-old men of any nationality in London — they have been removed from the internet.
Despite this, an unverified account on book website Goodreads which may belong to the killer and has stood apparently dormant since 2015 shows interest in titles like Sirat-un-Nabi, a major biography of Allah, No god but God: The Origins, Evolution and Future of Islam, a text on developing liberal interpretations of Islam by Reza Aslan, and Riyad-us-Saliheen, a "collection of sayings of the prophet Muhammad".
Instead of a profile picture illustrating the user Zakaria Bulhan himself, the Goodreads profile shows an image bearing the text: "Knowing is not enough; we must apply. Willing is not enough; we must do".
Speaking earlier, a spokesman for the Metropolitan police said: "Whilst the investigation is not yet complete, all of the work we have done so far increasingly points to this tragic incident having been triggered by mental health issues".
Update 1200 — Attacker of "Somali Origin" 
Metropolitan Police have given some more details on the attacker and victims, including the nationality of the killer — Norwegian — and his heritage which is described as "Somali Origin". Police are still emphasising that they do not believe the attack was motivated by terror, and there are no indications of radicalisation. The attack has been described as "random and spontaneous".
The murdered woman, described as being in her 60's has been identified as an American citizen. Those injured are British, American, Australian, and Israeli.
The story so far:
Extra armed officers have been deployed in a high visibility precautionary role this morning after police received reports of a man attacking people in Russell Square at 10:33pm yesterday evening. Officers responded to the incident within five minutes of the first call according to a Metropolitan Police statement. Discharging a Taser stun-gun, officers were able to arrest the attacker.
The arrival of officers and ambulance crews were not fast enough to save the life of one victim, a woman described to be in her 60's who was pronounced dead at the scene. A body bag was observed to be removed from Russell Square in the early hours of this morning.
Another woman and four men were injured and as of this morning two have been discharged from hospital, suggesting they had relatively light injuries.
The attack came on the same day the Met Police announced 600 extra, armed police officers for London and just days after the head of London's police said that an attack on the British capital was a matter of "when, not if".
The Metropolitan police Homicide and Major Crime Command is being assisted in their investigation by the Counter Terrorism Command, and a spokesman for the force has said they are keeping an open mind over a potential terror motivation for the crime, although mental health issues are also being considered.
Initial speculation that suggested "gang violence" was responsible appear to have now been discounted on by police.
The identity of the attacker is presently unknown, with London's police declining to provide a description. Eye-witnesses reported by Sky News have described the killer variously as being "dark skinned, possibly African", and being a "chubby faced white man".
The Metropolitan Police's latest statement released this morning reads:
A man has been arrested on suspicion of murder following an attack in north London last night, Wednesday 3 August, which left one woman dead and five others injured.

Armed police and London Ambulance Service attended and the woman, who is believed to be in her 60s, was pronounced dead at the scene.

Police received the first call just after 22:30hrs reporting a man armed with a knife was assaulting people at Russell Square, Camden.

Numerous other calls were made by members of the public between 22:30 and 23:00hrs with reports of a man attacking people with a knife between Russell Square, Montague Street, Bloomsbury Square and Great Russell Street.

Armed officers attended the scene within approximately five minutes of receiving the first call. A Taser was discharged during the arrest of the suspect, a 19-year-old man. No shots were fired. After receiving treatment at hospital he currently remains in custody at south London police station.

Two women and three men received various injuries in the attack. Two victims remain in hospital while the others have been discharged (no further details at this stage).

We continue to focus our lines of inquiry on mental health while retaining an open mind regarding the motive.

The Metropolitan Police Service's Homicide and Major Crime Command is leading the investigation, supported by officers from the Counter Terrorism Command.

Assistant Commissioner Mark Rowley, from the Metropolitan Police, said: "This was a tragic incident resulting in the death of one woman and five others being injured. Early indications suggest that mental health was a factor in this horrific attack. However we are keeping an open mind regarding the motive.

"As a precautionary measure, Londoners will wake up this morning to notice an increased presence on the streets of officers, including armed officers today. We would urge the public to remain calm, alert and vigilant."

Officers are continuing to interview witnesses and most of the cordons have been removed. One partial road closure remains in place.
PICTURES:
The Mail reports that Paul Hutchinson, a taxi driver, said: "I drove past Russell Square and the road wasn't shut but the pavement was all taped off by police, lots of armed police, lots of cars and the body was just lying on the floor. You could see the boots sticking out from under the cloth.
"Loads of armed police, cars with lights on and the body on the floor."
Russell Square was one of the sites of the 7/7 bombings of 2005, when 52 people were killed by Islamist terrorists.
In December 2015 a knife man was tasered and arrested at Leytonstone tube station after stabbing three people. Attacker Muhaydin Mire was heard to be shouting "This is for Syria, my Muslim brothers" as he stabbed passers by. He was sentenced to life imprisonment.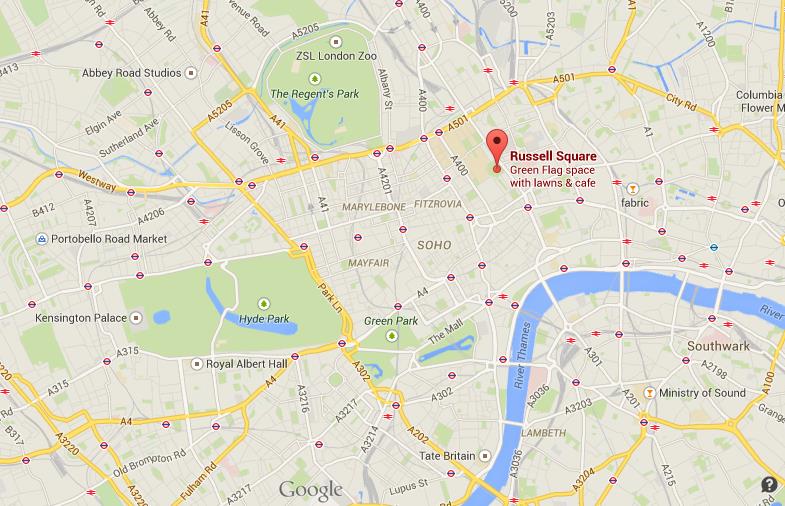 Russell Square is, though usually quiet at that time of night, a location populated by students, tourists, social housing, and just moments away from London's legal district. It is a nine-minute walk from the British Museum.