The International Organization for Migration has launched 'MigApp' – a mobile phone app developed to "engage" and "empower" migrants and help them "migrate safely".
Introduced on Monday to coincide with International Migrants Day by the Geneva-based United Nations Migration Agency, MigApp is sold as a "one-stop-shop" app for migrants and "migrants-to-be" to find "services relevant to their specific migration process".
The app descriptor boasts it gives information on migrant rights, risks, visa regulations, and intends to further the "IOM's commitment to the principle that humane and orderly migration benefits migrants and society", the UN agency hoping that one million migrants will be using the app by the end of 2018.
The app was launched prominently on the IOM's website, with press releases heralding its arrival linking to posters and printable bumper stickers with a QR code to advertise the service.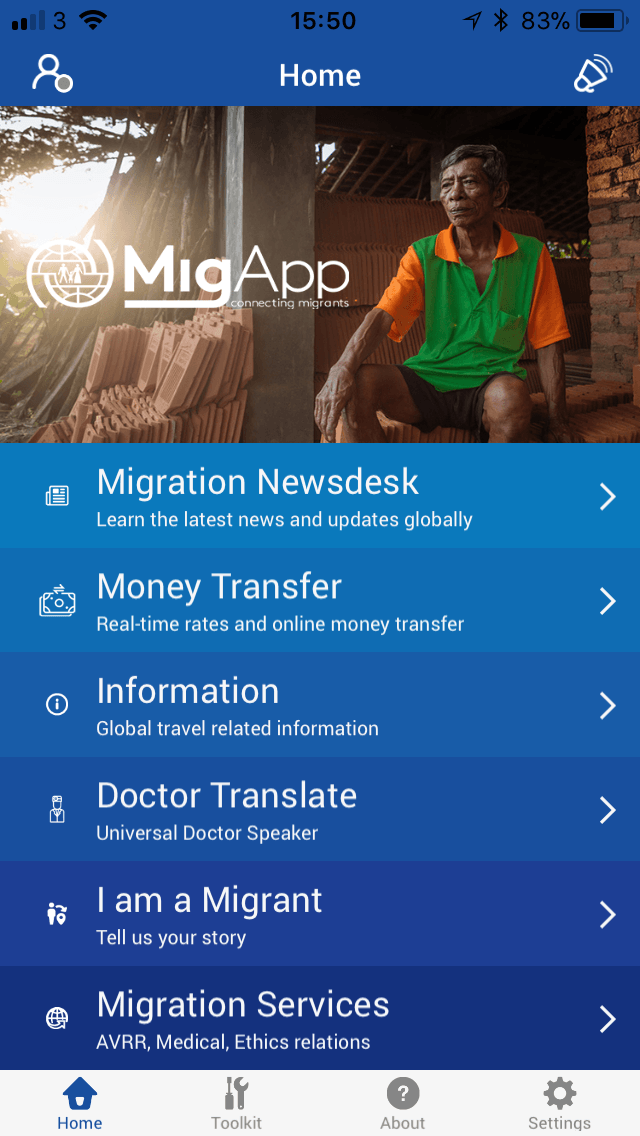 Pitched nominally at legal migrants by prompting users to have valid passports and providing information on visas and immigration processes, the app is also angled towards non-legal and asylum-seeking migrants.
One button directs users to the IOM's Assisted Voluntary Return and Reintegration service based across Europe as a means of returning failed asylum seekers and illegal immigrants to their home country, aiding them to "avoid the stigma of deportation and its negative repercussions".
Another directs migrants to hundreds of organisations across the world where they can report people trafficking and "modern slavery" via its "Global Counter Trafficking Hotlines".
On the move in search of new opportunities, stability and safety?

Download #MigApp for free to access reliable information on Travel, Visa, Health requirements, Government Sponsored and IOM facilitated travel arrangements. Available Now! #engagingmigrants #connectingmigrants pic.twitter.com/VWWku52sir

— IOM MigApp (@MigrantApp) December 18, 2017
Aiming to "provide a platform for migrants to share their experiences" and "connect migrants", another feature is the "I am a Migrant" button where users can read stories of legal migrants and asylum seekers and share their own.
"'I am a migrant' is the UN Migration Agency's campaign to promote diversity and inclusion of migrants in society. The campaign uses the testimonials of migrants to connect people with the human stories of resilience and courage," the agency explains.
Stories include those of an Afghani asylum seeker at a migrant centre in Greece, a Congolese refugee in Australia, and a Bosnian migrant in Portugal who left Serbia during the Yugoslav conflicts.
Today is #InternationalMigrantsDay

Let us celebrate by taking action for the protection of the rights of migrants workers and their loved ones. #MigApp is one with @UNmigration's mission in engaging, empowering and #connectingmigrants. MigApp is available now. pic.twitter.com/zWyuKxthOy

— IOM MigApp (@MigrantApp) December 18, 2017
Waves of migrants from Africa and the Middle East are entering Europe in unprecedented numbers unknown in the modern era following the conflict in Syria which prompted German Chancellor Angela Merkel to invite, unilaterally, more than one million migrants into the continent.
Though an EU-Turkey deal has seen the slowing of migrants arriving in Greece and progressing through the Balkans on to the wealthier, northern European nations, other routes have opened up from North Africa with African migrants landing in Italy and even Spain. This year, Mediterranean migrant arrivals in Spain, Greece, and Italy numbered 168,317 – down on 358,527 arrivals in 2016.
On International Migration Day, the Council of Europe stated that mass migration is "Europe's present and future opportunity", with Special Representative of the Secretary-General on Migration and Refugees Tomáš Boček urging European Union nations to adopt a raft of pro-migrant policies.
The statement came after EU Commissioner for Migration Dimitris Avramopoulos wrote a piece for the left-wing website POLITICO entitled, "Europe's Migrants Are Here to Stay" where he states that Europeans must accept mass migration from the third world as the "new norm" and that the continent cannot remain "homogenous and migration-free".
Follow Breitbart London on Facebook and Twitter.