As Europe wakes to the momentous result in Greece, some of the continent's papers are predicting a near apocalypse over the 'No' result.
The German papers are relatively muted, although not exactly pleased, about the result. Die Welt says "Greece votes 'No' to reform," a sentiment echoed in Frankfurter Allgemeine. The papers lament the Greek people's intransigence, but stop short of the hysterics other countries have indulged in.
In France, Libération has the most striking front page with a silhouette photo of Alexis Tsipras accompanied by the headline "Non de Zeus". The paper calls the result an "Earthquake in Europe". Le Figaro says that Greece has made a "giant leap towards leaving the euro", while La Croix calls the result "The 'no' that shook Europe".
In Italy, La Repubblica calls the result a "slap" for Brussels while Il Giornale says "Greece wins, Merkel loses, Europe hanging in the balance." It also calls the result a "humiliation" for Italian Prime Minister Matteo Renzi, who has tried to mediate between Greece and its creditors.
In Spain, a country which is facing the prospect of a Syriza-like party coming to power later this year, the press reaction is almost universally negative.
La Razón shows Greek premier Alexis Tsipras in the polling booth, with the headline "Sin OXIgeno [without oxygen]", describing the result in near apocalyptic terms. It says that Greece is caught "between the rock of populism and the hard place of Grexit" and calls today "another black Monday".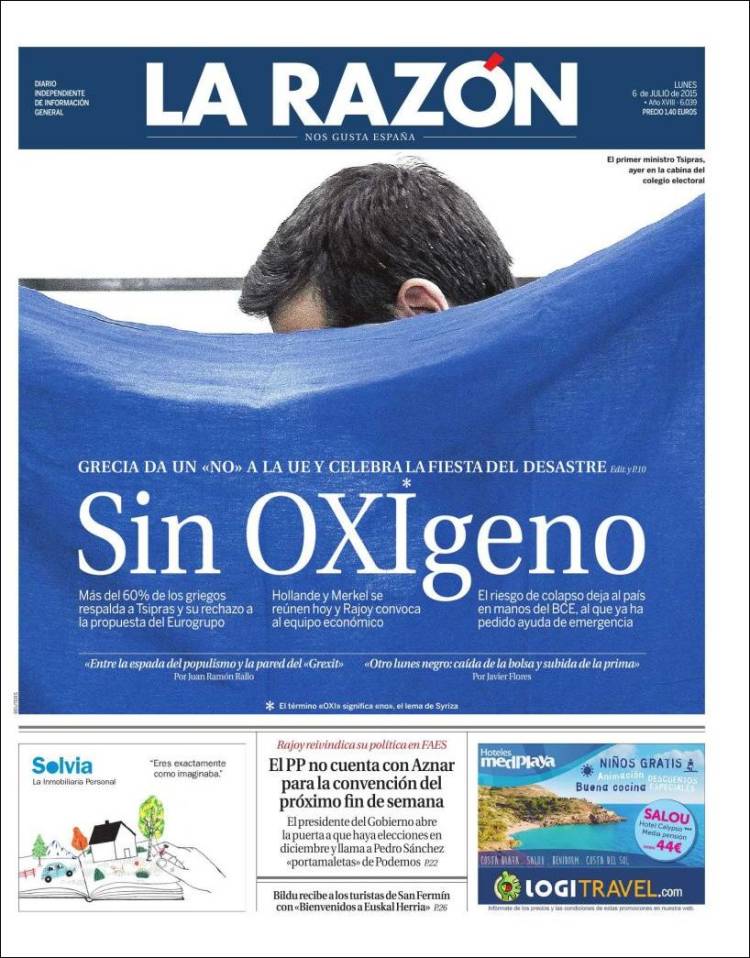 El Mundo says that Greece has "Said 'No' to Europe", while ABC said that Greece risks "ruin" after the result. El País is slightly more moderate, simply calling to result the "hour of truth" for Europe.
In other countries, the Netherlands' De Telegraaf splashes the word "CHAOS!" on its front page, while Portugal's Público says that Grexit is close.