For the third day in a row, leftist agitators stormed Brazil's largest city, Sao Paulo, hurling rocks at police, detonating "homemade bombs" and turning the city's most trafficked streets into a "war zone" to protest the impeachment of leftist former president Dilma Rousseff.
Portugal's Diario de Noticias described Sao Paulo as a "war zone" Wednesday night, highlighting individual instances of violence that exemplified the chaos in the city. Protesters blockaded roads with garbage fires, hurling rocks at police, and detonating homemade bombs near police to prevent them from curbing the mass of protesters.
Folha de Sao Paulo, the city's biggest newspaper, reports seven injuries, four photographers and a policeman among them. At least two of the photographers were hit with shrapnel from the homemade bombs. Two others, lost in the crowd, "were beaten by military police." The protesters also appeared to take their wrath out on the media, as some stormed the headquarters of Folha, one caught by a photographer throwing a chair into its entrance.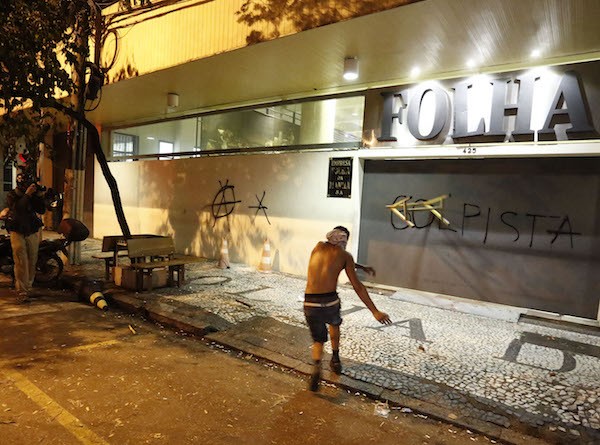 O Globo, another Brazilian outlet, reports that the protests were not limited to blocking streets and vandalizing media locations. "Bus stops were destroyed, shops attacked and bank branches vandalized," the newspaper notes.
Another injury occurred when a woman trying to drive through the illegal assembly, fearing for her life, tried to drive through the crowd and hit a female agitator.
The newspaper notes that police have not estimated the size of the crowd. Police attempted to dispel the crowds with tear gas and water cannons, but were attacked with rocks instead.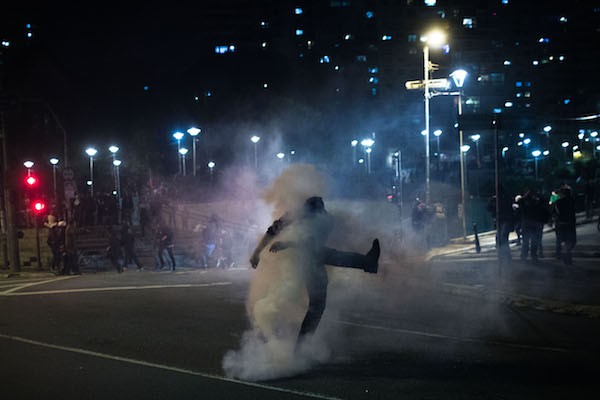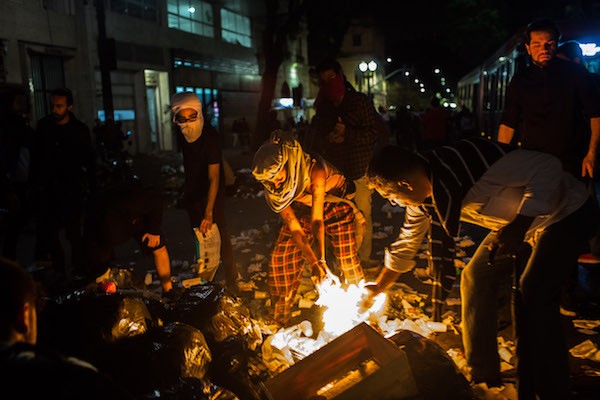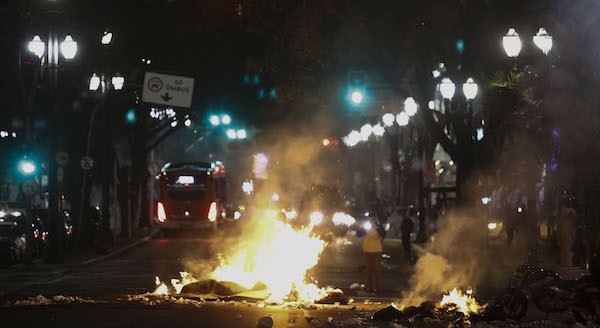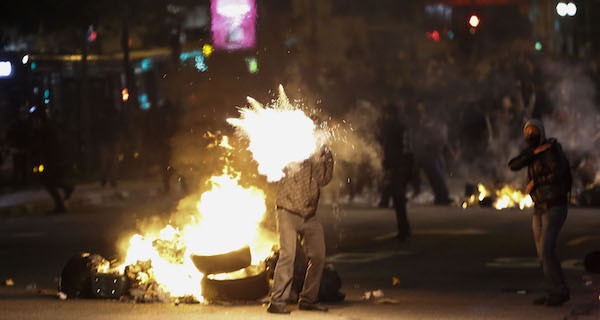 Wednesday was the third day such protests occurred, with most media reporting before Wednesday that these protests were significantly smaller than those attracting millions in March in favor in impeachment. The protests this week, organized by a coalition of Brazilian leftist special interest groups, are meant to protest the Senate's vote to impeach Rousseff, finalized Wednesday.
The vote means Rousseff will be permanently replaced by her vice president, Michel Temer, until December 2018. Rousseff lost her position after being found guilty of misrepresenting the nation's finances, misleading investors to generate more revenue for the federal government. Popular opinion turned against Rousseff for a different scandal, however: the Petrobras corruption scheme, known as "Operation Car Wash."
During the tenure of her predecessor, Luiz Inácio Lula da Silva, the state-run oil corporation Petrobras systematically overcharged on contract projects. Rousseff's Workers' Party (PT) colleagues pocketed the difference to the tune of millions. Rousseff was Minister of Energy while the scheme was ongoing. In March, shortly before the vote to hold an impeachment trial against Rousseff, police detained da Silva for his involvement in the Petrobras scheme. Rousseff rapidly appointed him her chief of staff, shielding him from prosecution and triggering waves of millions-strong protests nationwide. While Rousseff denied that she appointed him to her cabinet to obstruct the investigation, Judge Sergio Moro, who was in charge of the case at the time, released an audio wiretap of a conversation in which Rousseff promised da Silva she would do just that should prosecutors get too close to finding evidence against him.
The PT's ouster may not guarantee stability for Brazil, however, as prosecutors say they have evidence that Temer, too, was involved in pocketing illicit money from the corporation.