The Democratic National Committee (DNC) is financially insolvent heading into the 2016 election year, Breitbart News has learned.
Federal Election Commission records reveal that the DNC is millions of dollars underwater and running up a deficit each month, lagging far behind its financially savvy counterpart, the Republican National Committee.
Just last month, the DNC turned a nearly million-dollar debt, marking the fourth month in a row that the DNC spent more money than it took in. In fact, the committee chaired by Debbie Wasserman Schulz took a loss in seven of the last ten months.
The DNC raised $4,456,789 in the month of October, according to its most recent filing. But the committee spent $5,254,928, for a net loss of $798,139.
That's not quite as bad as September, when the party took in $4,296,011 but spent $5,504,823 for a net loss of more than $1.2 million.
So, where does that leave the embattled organization?
The DNC has only $4,703,185 in cash on hand against $6,921,661 in debts.
If you're counting along at home, that means the DNC is more than $2.2 million in debt.
Four years ago, when it filed its November 2011 FEC report in preparation for President Obama's re-election run, the DNC had more than $11 million in cash on hand, more than twice as much as it has now.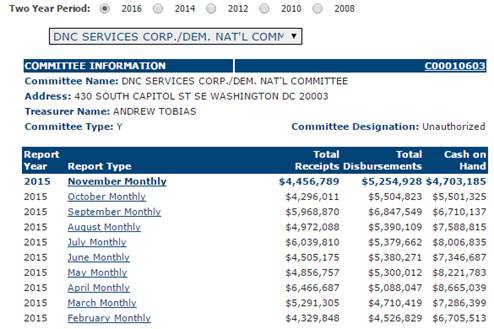 By contrast, the Republican National Committee (RNC) is soaring. The Republican committee has more than $20.3 million in cash on hand and only $1.825 million in debts.
The RNC raised $8,654,443 in the month of September and spent $7,717,031, managing to save $937,412.
The RNC has raised more money than it spent in each of the last ten months.
The RNC has also out-raised and out-spent the DNC in each of those ten months.
Breitbart News has reached out to a DNC representative for comment.