Scenes from the city of Milwaukee on August 14, 2016 — where the death of Sylville Smith in a police-involved shooting has sparked riots.
On Sunday night, reporters on the ground described heated protests, with guns fired and one man wounded. Photographers from news wire services captured clashes between protesters and police — but did not post photos of protesters hurling bricks. They also did not document any looting or arson committed throughout the night.
Shots fired as #Milwaukee protests intensify https://t.co/kJcMmLvPaI pic.twitter.com/U36goYENgg

— Ruptly (@Ruptly) August 15, 2016
VIDEO: Protesters chanting "America was never great" in #MilwaukeeUprising pic.twitter.com/gOirMOIj60

— Tim Pool (@Timcast) August 15, 2016
LIVE on #Periscope: Protesters throwing objects at riot police in #MilwaukeeUnrest https://t.co/dtKXEN30gO

— Tim Pool (@Timcast) August 15, 2016
Tonight in #Milwaukee. Active gunfire, person shot, heavy barrages of bricks thrown at police. Watch the archive https://t.co/YI5wfGwQ9N

— Tim Pool (@Timcast) August 15, 2016
An officer injured in the #Milwaukee confrontation w demonstrators gets assistance @greta @foxnews pic.twitter.com/kpSrRh0e60

— Griff Jenkins (@GriffJenkins) August 15, 2016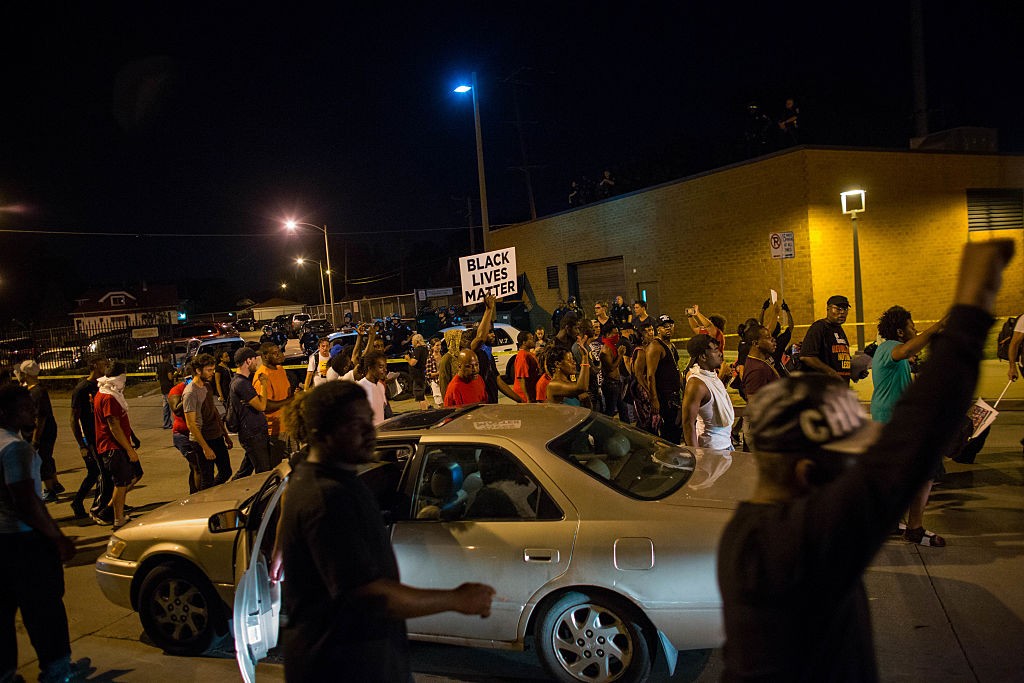 Local news reporters again found themselves under attack.
Small group of people threw rocks at our news car as we drove on Sherman. We left the area immediately and are safe. pic.twitter.com/plq4AFMjem

— Adrienne Pedersen (@AdriennePed) August 15, 2016
Buzzfeed's @JimDalrympleII, who's covering Milwaukee protests, was chased while returning to his hotel: https://t.co/OePdf2QTLk

— Peter Sterne (@petersterne) August 15, 2016
A local news chopper caught the explosion of a car set on fire with live video.
Car explodes on live TV https://t.co/YH5mn3GF9K pic.twitter.com/WJ22tvmyLW

— WISN 12 NEWS (@WISN12News) August 15, 2016