Leeann Tweeden, a journalist who anchors the morning news at TalkRadio 790 KABC in Los Angeles, California, is accusing Sen. Al Franken (D-MN) of fondling her while asleep and shoving his tongue down her throat without her consent.
At the time, December of 2006, Tweeden had a boyfriend (who is now her husband) and was on a two week USO Tour with the then-55-year-old Franken and others. Included in her article is a photograph that clearly shows the Democrat Senator grabbing her breasts while she is asleep.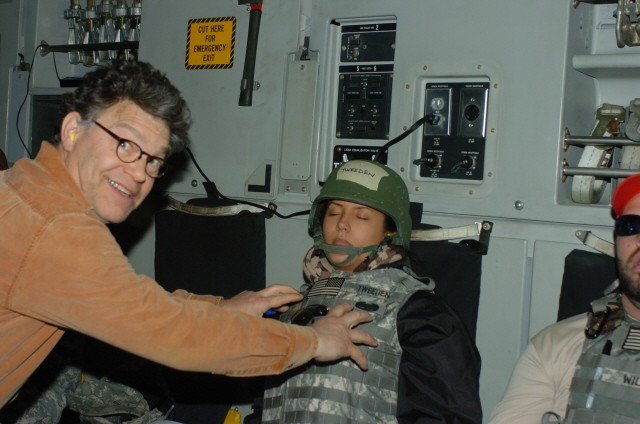 According to Tweeden, the unwanted kiss occurred during rehearsal for a USO skit. She believes Franken (who was married) intentionally wrote a skit for the two of them so he would have an excuse to kiss her, something she did not want to do. She says that Franken insisted they rehearse until it got uncomfortable and she relented. This is when she alleges he "aggressively" shoved his tongue in her mouth:
He repeated that actors really need to rehearse everything and that we must practice the kiss. I said 'OK' so he would stop badgering me. We did the line leading up to the kiss and then he came at me, put his hand on the back of my head, mashed his lips against mine and aggressively stuck his tongue in my mouth.

I immediately pushed him away with both of my hands against his chest and told him if he ever did that to me again I wouldn't be so nice about it the next time.

I walked away. All I could think about was getting to a bathroom as fast as possible to rinse the taste of him out of my mouth.

I felt disgusted and violated.
During the actual performance of the skit, she says she turned her head so that Franken could not kiss her and then avoided him as much as possible for the rest of the tour. It was at this point, Tweeden claims, that the rebuffed Franken became vindictive. "Franken repaid me with petty insults, including drawing devil horns on at least one of the headshots I was autographing for the troops."
The ultimate act of apparent vindictiveness occurred while she was asleep on the flight home:
The tour wrapped and on Christmas Eve we began the 36-hour trip home to L.A. After 2 weeks of grueling travel and performing I was exhausted. When our C-17 cargo plane took off from Afghanistan I immediately fell asleep, even though I was still wearing my flak vest and Kevlar helmet.

It wasn't until I was back in the US and looking through the CD of photos we were given by the photographer that I saw this one [the photograph above.]
Tweeden says the discovery of the photograph made her feel "violated all over again. Embarrassed. Belittled. Humiliated."
"I couldn't believe it. He groped me, without my consent, while I was asleep," she writes, adding, "How dare anyone grab my breasts like this and think it's funny?"
Franken, who has been married since 1975, was elected to the United States Senate in 2008.
UPDATE:
I've already heard about a second Al Franken victim.

— Phil Kerpen (@kerpen) November 16, 2017
UPDATE: Franken released a statement where he questions the alleged-victim's interpretation of events and verifies that the photo is real."As to the photo," he writes, "it was clearly meant to be funny but wasn't."
Any fair reading of Tweeden's side of the story would interpret Franken taking that photo as an act of hostility and vindictiveness, a desire to humiliate her after she refused to kiss him. The full statement is below:
NEW Stmt from @SenFranken: "I certainly don't remember the rehearsal for the skit in the same way, but I send my sincerest apologies to Leeann."

Says he "shouldn't have done" the picture. pic.twitter.com/cJ0avgDroM

— Frank Thorp V (@frankthorp) November 16, 2017
Follow John Nolte on Twitter @NolteNC. Follow his Facebook Page here.