The collapse of American manufacturing thanks to decades of international free trade agreements acted as the catalyst for the general economic decline of the U.S. white working class and black Americans, a new study reveals.
The latest research by economist Eric D. Gould of the Institute of Labor Economics reveals the extent to which white men and black men in the U.S. were crippled by the country's manufacturing collapse, which came as trade deficits racked up and free trade deals were readily implemented.
Gould's research notes that for white men and black men, the number of U.S. workers in the manufacturing in 2010 was actually less than half of what it was in 1960.
"The loss of these jobs represented a significant worsening of economic opportunities," Gould notes.
In 1970, American manufacturing work had the fifth highest wages for white men, while the sector had the third highest wages for black men. When the study adjusts the U.S. manufacturing sector for age and education, manufacturing jobs end up being the third highest wage jobs for both white and black men in 1970.
The dramatic decline of U.S. manufacturing at the hands of free trade—where more than 3.4 million American jobs have been lost solely due to free trade with China, not including the American jobs lost due to agreements like the North American Free Trade Agreement (NAFTA) and the United States-Korea Free Trade Agreement (KORUS)—has coincided with growing wage inequality for white and black Americans, a growing number of single mother households,  a drop in U.S. marriage rates, a general stagnation of working and middle class wages, and specifically, increased black American unemployment.
"So, the loss of manufacturing work since 1960 represents a steady decline in relatively high-paying jobs for less-educated workers," Gould writes.
Most recent polling on free trade reveals that 54 percent of GOP voters say free trade has hurt the country and cost Americans their jobs, as Breitbart News reported:
Majority of GOP Voters: Free Trade Has Hurt U.S., Cost Americans Their Jobshttps://t.co/JX7Z5yByu9

— John Binder 👽 (@JxhnBinder) April 8, 2018
Since 2001, free trade with China has cost millions of Americans their jobs. For example, in a report by the Economic Policy Institute, between 2001 and 2015, about 3.4 million U.S. jobs were lost due to the country's trade deficit with China.
Of the 3.4 million U.S. jobs lost in that time period, about 2.6 million were lost in the crippled manufacturing industry, making up about three-fourths of the loss of jobs from the U.S.-Chinese trade deficit.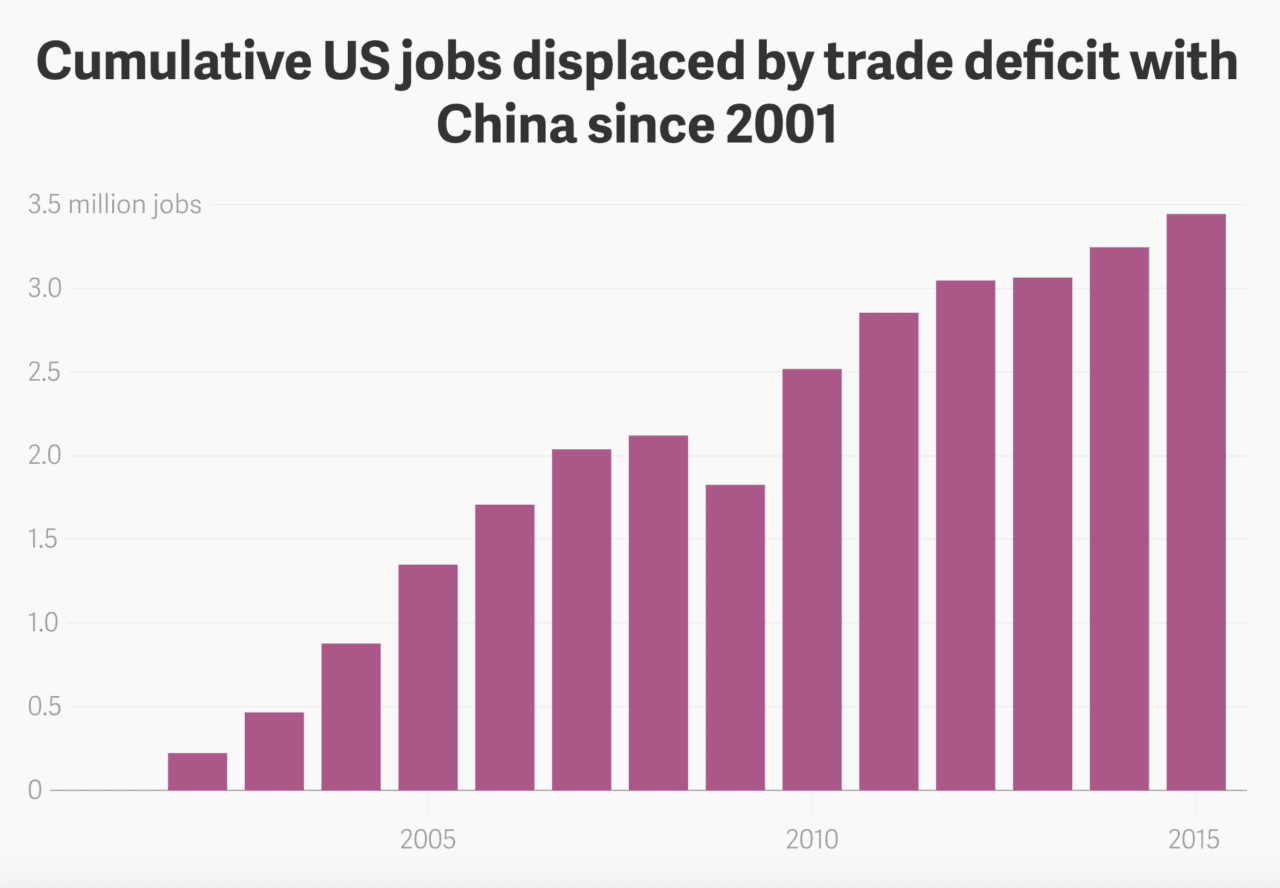 The Atlas
The Rust Belt has been one of the hardest regions hit because of U.S. free trade with Mexico. In total, about 700,000 U.S. have been displaced, including:
14,500 American workers displaced in Wisconsin
43,600 American workers displaced in Michigan
2,600 American workers displaced in West Virginia
26,300 American workers displaced in Pennsylvania
34,900 American workers displaced in Ohio
34,300 American workers displaced in New York
6,500 American workers displaced in Iowa
24,400 American workers displaced in Indiana
34,700 American workers displaced in Illinois
Meanwhile, since NAFTA took effect in the 1990s, at least one million net U.S. jobs have been lost because of the free trade deal. Between 2000 and 2014, there have been about five million manufacturing jobs lost across the country as trade deficits continue soaring.
One former steel town in West Virginia lost 94 percent of its steel jobs because of NAFTA, with nearly 10,000 workers in the town being displaced from the steel industry.
John Binder is a reporter for Breitbart News. Follow him on Twitter at @JxhnBinder.