President Biden's approval rating on key issues continues to sink well into the third year of his presidency, a recent Harvard/Harris survey found.
The survey found Biden's overall approval under water, with 43 percent approving of his job performance and 53 percent expressing disapproval. However, Biden is seeing falling figures on specific issues, despite already being under 50 percent approval in every single category listed in the poll.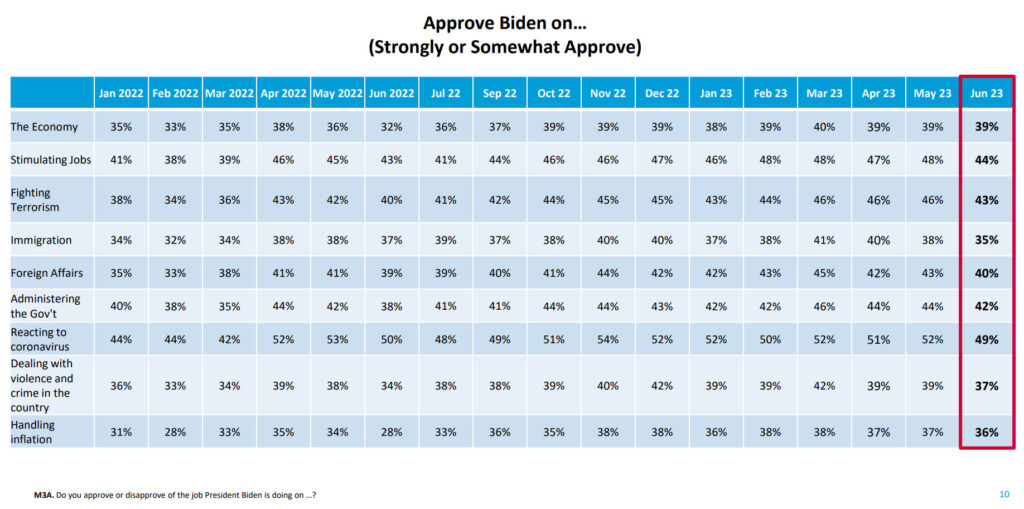 In May, for example, just 38 percent approved of Biden's handling of immigration. That figure has dropped three points over the last month, as 35 percent now approve of his handling of immigration. That is also down from his high of 40 percent in November and December.
In June, 44 percent approve of Biden in the category of stimulating jobs, reflecting a four-point drop from the 48 percent who said the same last month.
Biden also experienced a three-point drop in fighting terrorism — 46 percent to 43 percent — as well as foreign affairs, falling from 43 percent approval to 40 percent over the last month.
Voters are continuing to sour on the 80-year-old's handling of violence and crime in the country, as those figures dropped from 39 percent approval to 37 percent. Just 36 percent approve of his handling of inflation, down from 37 percent last month. And while reacting to the coronavirus has consistently stood as his strong suit in this particular survey, 49 percent now approve of his handling of that issue, down from 52 percent approval last month.
Biden only remained consistent in one issue over the last month, as his approval on the economy remained the same, with just 39 percent approving.
The survey was taken June 14-15, among 2,090 register voters.
Notably, this same survey also shows former President Donald Trump defeating Biden in a hypothetical 2024 matchup by six points — 45 percent to 39 percent.
🚨 NATIONAL POLL: Harvard/Harris

PRES:
(R) Trump: 45% (+6)
(D) Biden: 39%

(R) DeSantis: 41% (+1)
(D) Biden: 40%
.
GOP PRES:
• Trump — 59% (+45)
• DeSantis — 14%
• Pence — 8%
• Haley — 4%
• Ramaswamy — 3%
• Scott — 2%
• Christie — 2%

Harris (B) | 06/14-15 | 2,090 RV pic.twitter.com/z8Qo4HLowH

— InteractivePolls (@IAPolls2022) June 16, 2023
It also found 66 percent agreeing that Biden is showing he is "too old" to be president. Fifty-nine percent also have doubts about his fitness for office.
RELATED — CRASH LANDING! Biden Falls at U.S. Air Force Academy Commencement:
Those results coincide with a recently released survey from Convention of States Action/Trafalgar Group, which found 63.5 percent of likely general election voters agreeing the 80-year-old president is "too old to effectively" serve a second term in the White House.