Cvetin Chilimanov, vice president of Stop Operation Soros, called into Friday's Breitbart News Daily from Macedonia to discuss billionaire George Soros' efforts to influence Macedonian politics.
Chilimanov noted that Macedonia gained its independence from the defunct Soviet Union in 1991, making it relatively young as a free nation despite its ancient culture. [Correction: Macedonia seceded from the Socialist Federal Republic of Yugoslavia in 1991, not the Soviet Union.]
"Unfortunately, what was waiting for us as soon as we got out of Yugoslavia was that the Left regrouped" with the help of Soros, who is "funding all sorts of outfits throughout Eastern Europe," according to Chilimanov.
"His main base is in Hungary. He's active in the Ukraine now, in Poland. He's organizing protests all throughout the Balkans, from Slovenia, Croatia, Serbia. He has one of the highest per-capita expenditures in Macedonia," Chilimanov said.
SiriusXM host Lee Stranahan assured his guest that Soros is well-known to conservatives in the United States as "one of the big funders of the institutional Left," including unions, think tanks, and media organizations.
Chilimanov described Macedonia as a "country which re-asserted its independence after being partitioned by neighboring countries, with the usual Balkan arguments over identity, over religion with everybody around, but we were at least hoping we were putting socialism to bed after we split from Yugoslavia and tried to rejoin the Western world."
Stranahan clarified for the U.S. audience that Macedonia is also "a very conservative country in the American political sense of the word, in a lot of ways." He offered the strong pro-life movement in Macedonia as an example.
"That's correct," said Chilimanov. "We are conservative in social outlook. We have adopted some American-style conservative policies in economic outlook," such as "a low flat tax rate of ten percent, tax-free zones to spur up manufacturing, easing of the labor laws to make it easier to hire and fire people, and cutting regulatory burdens."
He was proud to report that "just a few days ago," the Heritage Foundation "declared us number thirty-first in the world in economic freedom." (The United States is ranked Number 17 on that list, putting it in the "mostly free" category along with Macedonia. The only five "free" nations in the world are Hong Kong, Singapore, New Zealand, Switzerland, and Australia.)
"Not only in social outlook, but also in economic outlook, we have tried to – whenever conservatism was given a chance to run the country, we have tried to follow the U.S. example, the U.S. conservative example, and it just worked well," Chilimanov said. "We have slashed unemployment, we have doubled the economy over ten years, just by introducing free market reforms. In many ways, we have been inspired by the U.S."
"The voters generally vote for the conservative party and give it wide mandate to rule the country, but this is where Soros comes with his attempts to help the former Communist Party, now the Social Democratic Party, take over power. And now, they do this pretty regularly," he said.
Stranahan pointed out there is even a street in Macedonia named after Ronald Reagan, wryly noting "they wouldn't allow that in many American cities at this point."
Chilimanov confirmed Stranahan's report of seeing activists in the streets of Macedonia wearing "Soros Army" T-shirts: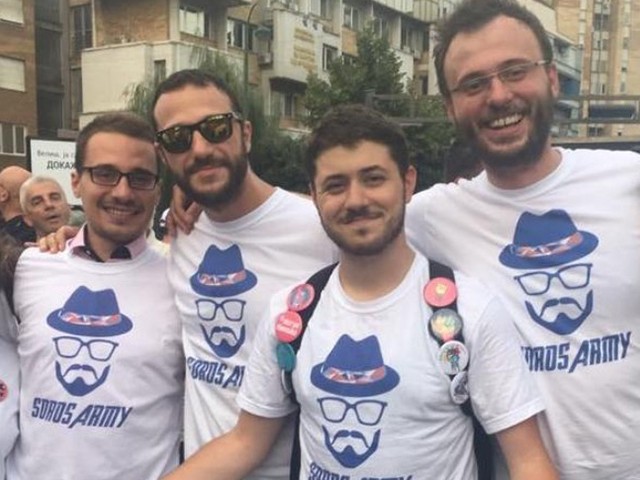 "These are the activists from this former Communist party, which has essentially merged with the sprawling Soros Foundation here," Chilimanov said. "There is the old Communist party, and there are dozens and dozens of what they call 'non-governmental organizations,' NGOs, which are funded by Soros to the tune of about $5 million a year. This is supplemented by several million, up to $5 million a year additionally, coming from the coffers of the United States, usually through USAID."
He added that several other countries help to finance these left-wing activists, who "like to organize protests which would be not out of place to an American who has seen the Black Lives Matter protests." These protests have targeted the office of the president, the Justice Ministry, the Parliament building, and other government offices, often with enough violence to injure police officers.
"They were receiving implicit support from the U.S. Embassy here, considering how the State Department was politicized and controlled," he complained. "This is the most important thing here. The listeners obviously realize how IRS or the EPA were politicized under Obama, but I don't think a good grasp of the extent to which the State Department was politicized, and USAID, which is the international development agency."
"USAID, the U.S. development agency, and the U.S. Embassy here have given tens of millions of dollars over the past several years to George Soros-led groups in Macedonia," he elaborated. "They don't give anything remotely similar to conservative groups. They're essentially supporting only one side of the ideological divide in Macedonia. And they were doing this at a time when these groups were organizing violent protests, attacking the police, doing all they can to bring down the conservative government in this country."
"They keep the money for all sorts of activities. That includes media development, so the U.S. is paying for a long list of far-Left TV programs and news sites in Macedonia. They even pay for, several hundred thousand dollars have gone to essentially a copy of Saturday Night Live going on Macedonian television with similar talking points and similar jokes against conservatives and lionizing the Left," he said.
"I want to make sure people get this," Stranahan interjected. "Tens of millions of dollars in U.S. taxpayer money, correct? You're saying that money has gone to George Soros to promote a culture of leftism, leftist groups in the country of Macedonia. Is that correct?"
"Exactly," Chilimanov agreed. "One of the Soros groups receiving U.S. funding is fighting to make abortion more easily accessible in the country. Other groups are promoting progressive economic policies, discussing inequality, or asking us to make our labor laws more strict or reintroduce progressive taxation. Another group is working on a media forum which is very anti-First Amendment. They're promoting media regulation which will lead to setting up a committee which is going to evaluate whether you are spreading 'fake news' and essentially close down your media outlet if they decide you are."
"Maybe one of the worst organizations they're funding, which is receiving U.S. funding and is set up by George Soros here, it's a group of young lawyers who are very active in the migrant crisis, which Europe experienced in 2015 and 2016, during which Macedonia became essentially the external border of Europe. So the U.S. government was paying a group of lawyers to go to the border every day and to help people from Pakistan, Afghanistan, all over the world cross the border more easily, and apply for documents which will allow them to continue traveling through Macedonia toward Germany," he said.
Update: Macedonia seceded from the Socialist Federal Republic of Yugoslavia in 1991, not the Soviet Union. The error has been corrected above.
Breitbart News Daily airs on SiriusXM Patriot 125 weekdays from 6:00 a.m. to 9:00 a.m. Eastern.
LISTEN: