The owner of the Tour de France's yellow jersey received a yellow jacket on Saturday.
A spectator hurled a cup of urine in Chris Froome's face as he cycled about a third of the way through a grueling 178.5 kilometer (that's 111 miles for obstinate rubes across the Atlantic rebuffing the genius of the metric system) Stage 14. To add insult to injury, the anti-fan yelled "Doper!" at the 2013 Tour de France champion.
"Unfortunately, someone threw a cup of urine into my face and shouted 'doper,' which is extremely wrong on so many different levels," the cyclist said of the typical French hospitality to the press, which he accuses of irresponsibility for speculating that drugs must aid his impressive performance. Froome has not tested positive for any banned substances. The Kenyan-born rider added redundantly that the experience of wearing the local cologne put a "damper" on the day, which witnessed Froome extend his overall lead to three minutes and ten seconds.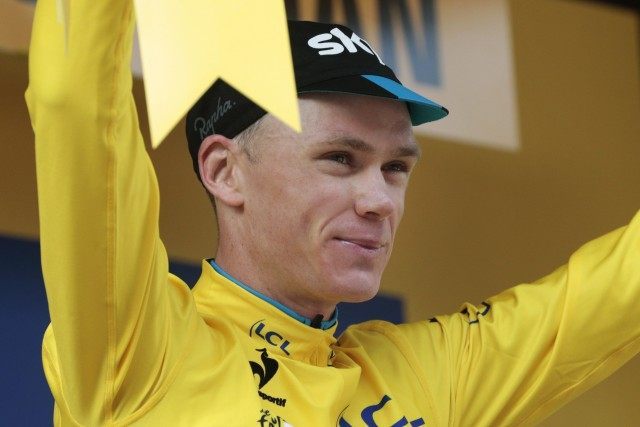 The hilly Stage 14 sent riders from Rodez to Mende in the south of France. Brit Stephen Cummings won the day.
The mingent man remains at large. A urinalysis could aid Froome—in capturing his foul foe at least. One has yet to capture Froome, a situation that frustrates critics who imagine, in a post-Lance Armstrong Tour de France, that dominance means deviance from the rules. Even Armstrong himself, who controversially reappeared on the course this past week to raise money for leukemia, weighed in on the controversy.
1. Clearly Froome/Porte/Sky are very strong. Too strong to be clean? Don't ask me, I have no clue.

— Lance Armstrong (@lancearmstrong) July 14, 2015
Winning, once a recipe for cheers, now elicits boos. Froome's Sky team, which looks to win its third Tour in four years, says it has endured punches from fans, an unopened soda can ("Share a Coke with Chris") thrown at a team vehicle, and a hacker accessing its computers during this Tour de France. The non-consensual golden shower, though not unprecedented on the Tour (or beyond it), represents a low point for the winning cyclist beset by sore losers. For the England-based team in France, like another story set in the two nations, "It was the best of times, it was the worst of times."
"That's unacceptable on so many levels," Froome noted of the excreta assailant. "He just sort of launched this cup toward me."
The man signed up for wheel sports, not water sports.