Tens of thousands of protesters in at least fifty municipalities across Brazil took to the streets Sunday to protest the corruption of the Workers' Party and its leader, impeached president Dilma Rousseff. Aware of mounting international attention as the Olympics begin next week, protesters made signs in English accusing socialist leaders of corruption.
The Brazilian newspaper Folha de Sao Paulo reports that police estimated a total of 43,000 protesters took the streets in every city except the two largest in the nation: Sao Paulo and Rio de Janeiro. Police did not release crowd size estimates for those two cities, but noted that those in attendance believe these two cities boasted the largest crowds.
Protests in various cities both called for the Senate to oust Rousseff – she has only been temporarily removed until her Senate trial takes place in late August – and called for acting president Michel Temer, himself accused of various transgressions, to step down. Anti-Rousseff protesters also demanded that former president Luiz Inácio Lula da Silva, Rousseff's Workers' Party (PT) predecessor, be sent to prison. Da Silva has been implicated in a corruption conspiracy known as "Operation Lava Jato [Car Wash]." The operation involved da Silva's ministers overcharging for projects run by the state-run oil company Petrobras and pocketing millions; investigators found evidence da Silva also benefitted from the scheme.

In Rio de Janeiro, set to host the Summer Olympics beginning August 6, protesters held up signs in English, hoping to attract the attention of international media beginning to settle in to cover the Olympics. "The world's eyes are on Rio, demonstrations are taking place across the country… With the signs in English here we say to the world that there is no coup happening. We want an end to corruption," a protester told the newspaper O Globo (in Portuguese), referring to Rousseff's repeated claims that her impeachment was a "coup."
"We no longer tolerate corruption in this country… UN, Lula is a criminal," another protester on Copacabana beach – the venue for Olympic beach volleyball – said in English.
Protesters held up replicas of the Olympic torch with words of protest on them. They cheered Sergio Moro, the judge in charge of Operation Lava Jato, who became a folk hero for releasing the audio of a conversation in which Rousseff offered da Silva a cabinet position – and the accompanying legal immunity – if investigators got too close to finding him guilty of corruption.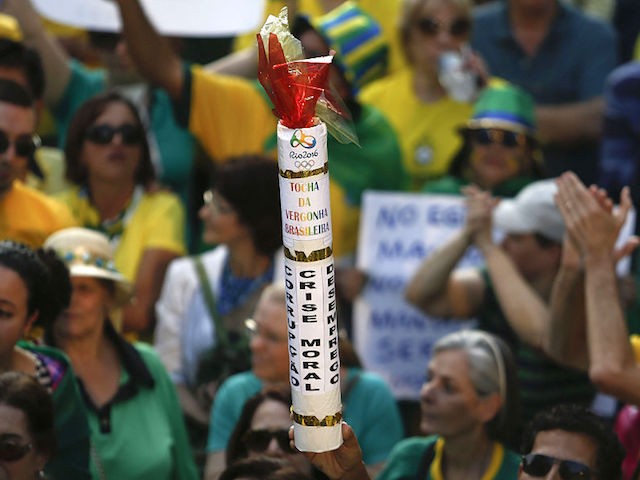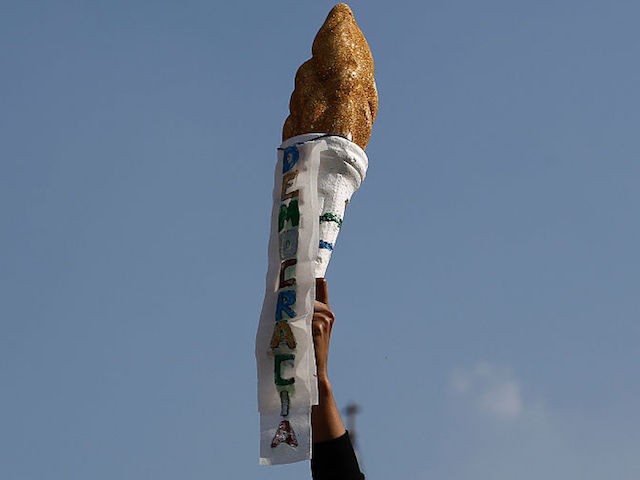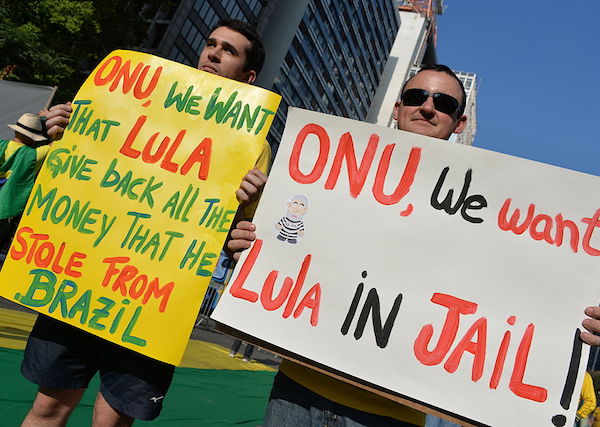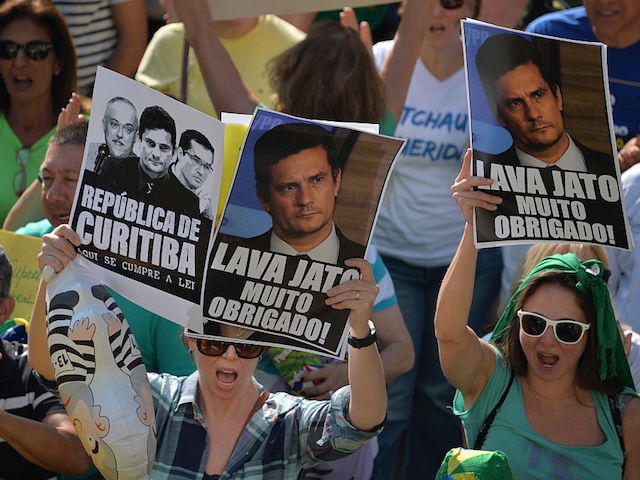 The American news agency McClatchy found protesters eager to engage international media and tourists alike.
"We welcome all of you and wish you a nice stay in our country. Enjoy the Olympic games, because we are paying a high price for it!" Case Carvalho, a Rio politician, said during the parade. Expenses to cover Olympics infrastructure have been so astronomical, the city has been unable to pay police or government medical staff. Police stations have resorted to asking locals to donate toilet paper, as they cannot afford to buy it with government funds.
"It's a lot of spending for uncompleted works that will serve for nothing after the games," protester William Dalvo told McClatchy. "What people want is security, education, health care… we usually just want Carnival and soccer, but for the first time people are waking up!"
Another protester, Lianne Pinheiro, accused the PT of "destroy[ing] Brazilian democracy with this story that they are going to make things better for the poor. It was a lie."
The Olympics Opening Ceremonies are scheduled to occur on Friday, August 5.