Breitbart Texas traveled to the Mexican border cities of Reynosa and Matamoros to recruit citizen journalists willing to risk their lives and expose the cartels silencing their communities.  The writers would face certain death at the hands of the Gulf Cartel if a pseudonym were not used. Breitbart Texas' Cartel Chronicles are published in both English and in their original Spanish. This article was written by "AJ Espinoza" from Matamoros.
MATAMOROS, Tamaulipas — The execution of a local commander with the Gulf Cartel called Ciclon 10 in this border city as he ate a local cafeteria called "La Chiquita" set off a day of firefights and heralds a new wave of violence in the already fierce war within the Gulf Cartel.
Authorities have described Juventino "Ciclon 10 or El Guajolote" Solis Morales as the head of the fuel theft and sale in Matamoros. Solis along with his henchmen Alejandro Soto Liu had been at the cafeteria which is just blocks from an international bridge when two gunmen fired at them with a rifle and a handgun spraying gunfire at the two men.
The cartel commander and his henchmen were left in a pool of their own blood while the two others left. A patron at the restaurant was also struck by a bullet fragment but was not seriously hurt.
The brazen execution in broad daylight set of a series of fierce firefights and pursuits around the city particularly on the East side prompting the deployment of federal and state forces. While Tamaulipas authorities issued a news release about the execution, they have not provided information about the multiple firefights throughout the city.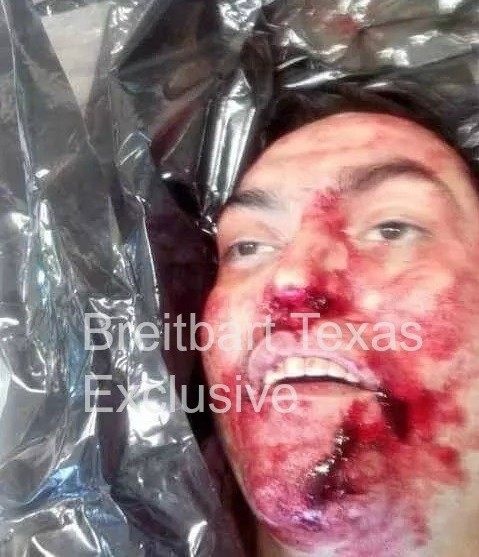 Convoys of troops aided by a military helicopter were seen around the following neighborhoods patrolling and searching for gunmen – Praderas, Culturas, Esperanza, Playa Sol, Popular, Las Americas, Camino Real, Alianza, Lauro Villar and Cantinflas Avenue which is right by Veteran's International Bridge. Other shootouts took place along Constituents Avenues, 12 De Marzo and Sendero Nacional highway.
During the deployment of the troops the soldiers engaged the gunmen in pursuits and in exchanges of gunfire. The soldiers were seen surrounding several vehicles. A teenager was struck by a stray bullet and was rushed to a local hospital and is reported to be in stable condition. Authorities didn't point to any injuries or deaths as far as cartel gunmen, police or soldiers.