MISSION, Texas — Authorities continue to search for multiple gunmen in connection with a home invasion turned drug shootout that killed two men last month near this border city.
As previously reported by Breitbart Texas, last month, a group of gunmen stormed a rural home near Mission. According to authorities, the gunmen were likely there to steal about 414 pounds of marijuana that the residents of the house had been storing.
The Hidalgo County Sheriff's Office provided Breitbart Texas with a copy of a surveillance video this week from the rural home moments before a crew of gunmen stormed into the property.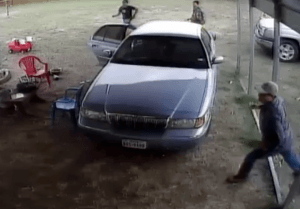 As the video shows, the arrival of multiple gunmen triggered a shootout that killed one of the house residents and one of the gunmen. The man who had been living at the house has since been identified as 24-year-old Rodrigo Villanueva Alvarez and the dead gunman has been identified as Juan Carmorlinga Torres. Investigators at the time arrested 19-year-old Jose Ricardo Chavez on state drug charges since he is believed to have been at the house with Villanueva helping him keep the drug load when the gunmen arrived.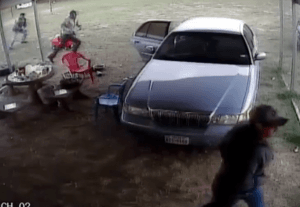 Authorities have since identified 37-year-old Alberto Garcia Ocanas and 50-year-old Ramon Aguilar who are both wanted by authorities on capital murder charges. Other gunmen in the video have not been publicly identified.
Teams of gunmen storming houses in Texas border cities have become rather common as drug traffickers continue to steal from each other in a practice that has become known as "home invasions." Unlike regular home burglaries where criminals look for valuables, in home invasions the gunmen are searching for drugs, cash or human trafficking victims to steal.
As previously reported by Breitbart Texas, the practice, at times, leads to shootouts. In November, the Hidalgo County Sheriff's Office responded to another rural area in Mission in regards to a disturbance. When they arrived, authorities discovered the body of a man believed to have been the person living at the house, various drug bundles and evidence of a shootout.
Ildefonso Ortiz is an award winning journalist with Breitbart Texas you can follow him on Twitter and on Facebook.