GUEMEZ, Tamaulipas — Authorities in this border state continue to probe the discovery of a clandestine grave site found in an area that continues to be fought over by rival cartel factions.
Tamaulipas state police officers made the discovery near the Balconcitos rural community when they were carrying out routine patrols along various dirt roads, information provided to Breitbart Texas by Tamaulipas law enforcement personnel revealed. During the search, authorities came upon an abandoned SUV with Tamaulipas license plates previously reported stolen. In the back of the vehicle, they found various tactical helmets.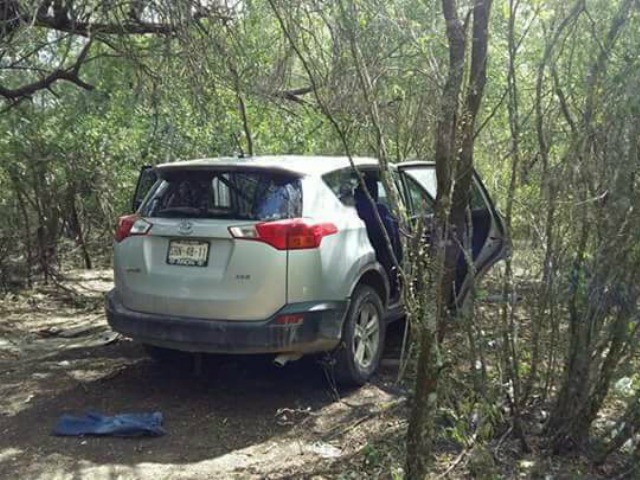 While searching the general area around the SUV, police found two other SUVs and three clandestine graves. In one, a dismembered body was uncovere while in the other two each contained bodies in advanced states of decomposition. In each of the graves, investigators discovered spent .223 ammunition casings commonly used with AR-15 rifles. Authorities believe that the victims were shot at the open graves and were buried.
The discovery of the clandestine grave sites took place soon after motorists found two severed human heads left by the highway. One traveler called authorities, who responded to the scene and recovered two heads left on top of a white blanket. The bodies have not been found.
The victims were identified as Mario Castillo Valles and German Quintana Lopez, both from Guemez. Law enforcement personnel disclosed to Breitbart Texas that the two victims were kidnapped by a team of gunmen one day before. Quintana was part of the Los Hermanos Quintana regional music group.
The area where the gruesome discovery was made is one of the regions that continue to be fought over between rival factions of Los Zetas cartel and their allies. One faction known as Vieja Escuela Z, with the help of the Gulf Cartel, has been trying to take over trafficking territories previously controlled by a Zetas faction called Cartel Del Noreste, Breitbart Texas reported.
Editor's Note: Breitbart Texas traveled to the Mexican States of Tamaulipas, Coahuila, and Nuevo León to recruit citizen journalists willing to risk their lives and expose the cartels silencing their communities.  The writers would face certain death at the hands of the various cartels that operate in those areas including the Gulf Cartel and Los Zetas if a pseudonym were not used. Breitbart Texas' Cartel Chronicles are published in both English and in their original Spanish. This article was written by "Francisco Morales" from Tamaulipas.