Itella, the National Postage Service of Finland, has launched a range of erotic gay stamps featuring a man in police uniform sitting on the shoulders of a naked man, and another with a man looking in between some naked legs. The stamps are to commemorate the life and work of the artist Touko Laaksonen, more commonly known as Tom of Finland.
The stamps will be available from the Autumn. In a statement Itella said: "His emphatically masculine homoerotic drawings have attained iconic status in their genre and had an influence on, for instance, pop culture and fashion. 
"In his works, Tom of Finland utilized the self-irony and humor typical of subcultures. The drawings on the stamp sheet represent strong and confident male figures typical of their designer."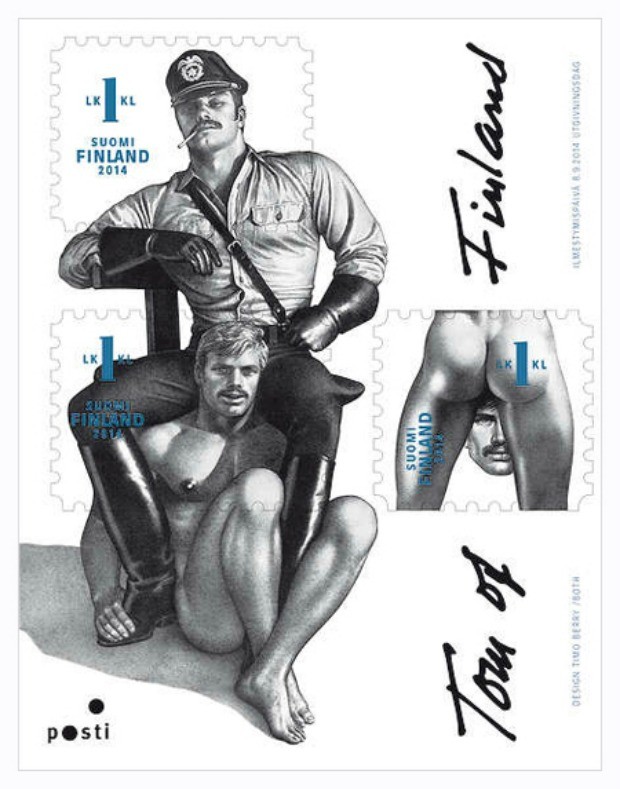 Mr Laaksonen died in 1991 and was famed for his stylised homoerotic fetish art, which inspired artists like the Village People and Freddie Mercury. He was described by the cultural historian Joseph W. Sladeas as the "most influential creator of gay pornographic images".
Finland is not noted as a leading light in the gay rights movement. It has not allowed gay marriage and homosexuality itself was only legalised in 1971. The country also classified transvestism as an illness until 2011.
Stamps commemorating individuals are comparatively rare in Finland. Whilst the Itella online shop has multiple designs the only real people currently featured are the President of the Finland, two Gold Medallists from the Sochi Winter Olympics and Tove Jansson who created the Moomins.
The announcement of the new Finnish stamps comes shortly after the US Postal Service unveiled a stamp to commemorate assassinated gay politician Harvey Milk. It will be formally launched at the White House on 22nd May, which is celebrated as Harvey Milk Day.
Whilst both stamps have a gay theme, the US version is much more conventional, featuring Mr Milk's head and a gay rainbow flag.