A cell of ISIS-supporting women has been uncovered operating in London, meeting in tax payer funded buildings and recruiting young women into the terrorist group.
The women were filmed by Channel 4 claiming that the British were at war with Muslims, that Muslims had a "duty" to join the Islamic State and decrying the "filthy Jews".
The women also urged immediate "Lee Rigby style beheadings" on the streets of London and said they had "plenty more" 7/7 style bombings planned. A police prosecutor has said some of their statements may have broken the law.
An undercover reported first met the women, after a year of covert work on social media, at an 'Islam is Superior' road show event, as reported on by Breitbart London.
The reporter had been invited by Abu Halima who she met at a protest calling for the release of Omar Bakri Muhammad, who's son was recently executed by ISIS. Mr. Halima is a London based extremists who is supposed to be banned from social media for promoting terrorist causes.
https://twitter.com/AbuHaleema99/status/668977085462011904
After meeting the ISIS supporting women who she had tracked online, the reporter was invited to a secret "Islamic women's study group." One of the leading members of the group, known on Twitter name Umm L, was unmasked as Rubana, a mother-of-four who lives in London.
She once set up the women's wing of the now banned al-Muhajiroun group, associated with Omar Bakri Muhammad, the now detained Anjem Choudary and Trevor Brooks, who was arrested in Romania just five days ago.
In a secretly filmed footage, in the presence of pre-school aged children, she says the "good days have already begun," because a "Khilafah" or Islamic State had been established.
In a reference to strikes against ISIS, she added: "It's not the first time nations have plotted against the believers.
"It's not the first time nations have plotted against the believers. It's not the first time the alliance has been formed like they have now with this coalition against the Khilafah [Islamic State]. But Allah one by one he will destroy them."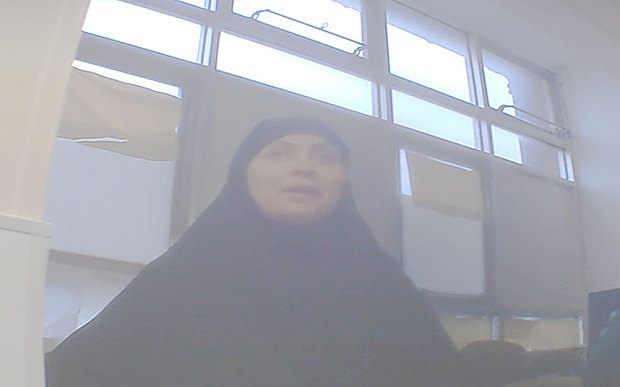 Another of the women present is called Umm Saalihah. She is know to have lived at the same address as Mohammed Shamsuddin, who was arrested last year on suspicion of encouraging terrorism and being a member of al-Muhajiroun. She rants about Western "cowards" who are "throwing air strikes on to the Khilafah".
Nazir Afzal, a former chief prosecutor for the Crown Prosecution Service, said of the women's reference to ISIS: ""She does more than support them, she's saying that the so-called Islamic State is the Caliphate, and by supporting them, she is potentially committing a criminal offence."
Talking to the Telegraph, he added "It's more than worrying, it's extremely dangerous when you're having that conversation. There are young people in the room, there are children in the room, there are women and we've got several examples of women who've taken their whole families, to Syria and Iraq."