One of the British Army units set to join a new European Union (EU) battlegroup prayed at a radical Islamist mosque just weeks ago, Breitbart London can reveal.
The 4th Infantry Brigade – otherwise known as the 'Black Rats' – were revealed by Breitbart London to have been part of an outreach project near their barracks in North Yorkshire which saw them praying at a mosque run by Tablighi Jamaat (TJ) operatives.
TJ, known to some as the 'Army of Darkness', is linked to a number of global terrorist atrocities including 9/11, 7/7, and the recent San Bernardino shootings. They are also linked to the Taliban.
And the unit will now report to the European Union under the direction of High Representative Federica Mogherini who is famed for claiming "Islam belongs in Europe".
At the time, the 4th Infantry Brigade stated: "Brigade officers visit to the Zakaria Mosque. The officers were introduced to the ritual washing of hands, face and feet by Molana Farook Yunus, the project manager of Kumon Y'All, before entering the prayer room".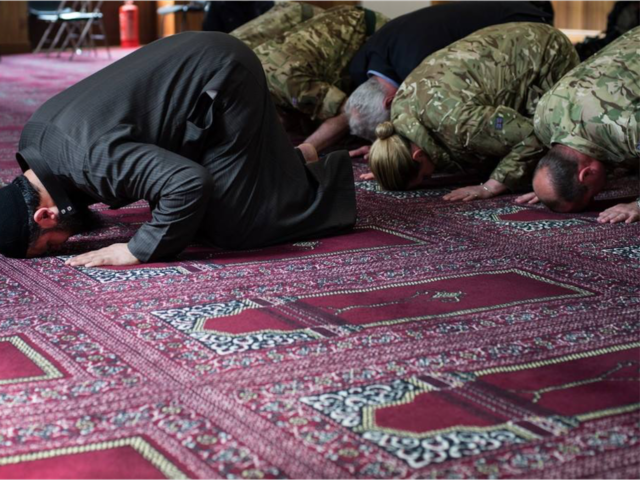 The Deobandi Zakaria mosque sits in the Savile Town area of Dewsbury, which is 98.7 per cent South Asian and has been described as "the most segregated area in the UK."
Now the unit is set to join the 'EU High Readiness Battlegroup' which currently has troops from Sweden, Latvia, Finland, Lithuania, and Ireland as part of it.
The news will no doubt raise concerns as to the 'Britishness' of this British Army battalion – as it liaises with terror-linked mosques and answers to orders from the Council of the European Union in Brussels.
The news will also likely embolden EU referendum campaigners on the 'Leave' side of the debate.
Mike Hookem, a UK Independence Party Member of the European Parliament said: "EU flagged military vehicles on exercise on Salisbury Plain is stomach churning."
"How can the government possibly claim this is nothing to do with having a standing EU Army?"
"This is a British Battlegroup preparing for readiness for an EU instructed conflict – it is a Brigadier who has sworn allegiance to Her Majesty taking orders from the EU's High Representative, Federica Mogherini."
An Army spokesperson told Breitbart London: "The visit to Dewsbury… was part of a wider strategy of demonstrating that service with the British Army is entirely consistent with Islam."
Ms. Mogherini, to whom the new battlegroup will report, has stated that "Islam belongs in Europe," adding: "I am not afraid to say that political Islam should be part of the picture".