A Facebook post penned by a British Muslim calling for Islamists and their families to be deported has gone viral, being shared by more than 119,000 people. Yet the post has brought sharp criticism from fellow Muslims, leading to his Facebook page being taken down.
As a wave of Islamic terror rocked Europe over the last fortnight, the mainstream media was quick to obscure the Islamic link between the various attacks.
Within hours of the Bastille Day attack in Nice, France, which saw 84 men, women, and children crushed to death under the wheels of a truck driven by a "soldier of Islam", one Sky News anchor was attempting to pin the blame on the "disenfranchisement" of the "North African community" in France.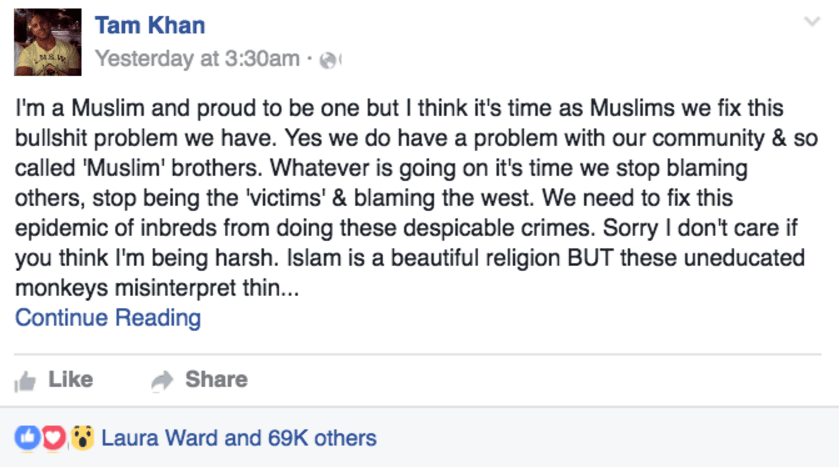 A few days later, when an Iranian-German shot dead ten people in Munich, the BBC Westernised his name by dropping his first name, Ali, and naming him only as 'David Sonboly'.
But British-born Muslim Tam Khan has hit back, taking to Facebook to issue a hard-hitting condemnation of the victim status being conferred on British Muslims, and to call on his fellow Muslims to do more to combat Islamism.
"I'm a Muslim and proud to be one but I think it's time as Muslims we fix this bullshit problem we have," he wrote.
"Yes we do have a problem with our community & so called 'Muslim' brothers. Whatever is going on it's time we stop blaming others, stop being the 'victims' & blaming the west. We need to fix this epidemic of inbreds from doing these despicable crimes."
Railing against Muslims who enjoy the benefits of living in the liberal West while protesting against the British way of life, he continued: "I am fed up of going back to the UK to visit home & see [sic] these pricks protest against the government or army or Poppy's [sic] or flags. Are you having a fucking laugh? It's England, if they want to fly a flag they bloody well should. If they want to celebrate their army and all they should it's their country. If you don't like it, leave.
"I'd love to see these people talk crap in Muslim countries. They would be smashed in seconds. Locked up & tortured."
So far Europe's governments have been reluctant to employ strong-arm tactics in the fight against radical Islam. Following the Nice attack, the French Prime Minister suggested that the West would simply have to get used to living with terrorism, while in the UK is has emerged that just one of more than 2,000 terror suspects are currently under curfew to prevent them carrying out atrocities.
But Khan has a much more robust proposal for dealing with Islamists: "I think it's time the British or west deport not only those who speak bad or against the country but the entire family also," he suggests.
"You come to a country to milk the benefit system, free education & health yet complain. Try that in Pakistan or the Gulf. See what will happen. […] Try talk bad [sic] in the Muslim states and see.@
On Tuesday Scotland Yard released figures showing that Islamophobic incidents had risen by 50 per cent in London over the last year. Home Secretary Amber Rudd announced on the same day £2.4 million worth of public funding for increased security at churches, mosques, synagogues, and temples, in order to address concerns that religious hate is on the rise.
Khan, who currently lives in Dubai, says he too has noticed a change in British culture.
"I was born and raised in England. Never had any issues with racism or islamophobia. My closest friends were English & non-Muslims. They treated me like a brother and likewise. I was able to practice my religion without offending them and they did without offending me. But over the last decade I have noticed real changes and I don't like it."
But he insists that the solution must come from Muslim communities, not the wider British community.
"I feel more Muslims need to start cleaning up our society. We are lucky to be able to have so many mosques in England, able to have free speech but don't take the piss. If you don't like what you see it's simple, LEAVE!
"We need to clean our society up and start being more active in mosques and Muslim 'areas'."
He says it's the responsibility of moderate Muslims to tackle those who follow Islamist ideology, urging them to "Educate them, flag the authorities if you see individuals act strange or become illusive, any dodgy behaviour go flag these people. The end of the day it's your country also so you need to protect it just as much."
At the time of writing, his post has been shared by 119,101 people, with many Muslims posting comments in agreement.
Fizz Hussein said he could "echo every single word you say."
He added: "We need to really take a DEEP look into our lives ask ourselves: Are we doing enough? How engaged are we with our communities? What are we doing to provide any real substantial change? How proactive are we in dealing with the current climate? How much time are we INVESTING in changing the narrative?
"We Muslims need to stop becoming so emotional on every other little thing. […] we need to get away from this victim mentality & get involved into a progressive thinking approach."
Dina Ibellini, a Londoner living in Dubai simply said: "Couldn't have said it better myself!!!! Sad and so very true!!!"
British non-Muslims have also thanked Khan for having the "courage" to speak out.
Andrew Cluley wrote: "Absolutely fantastic post, can't tell you how refreshing it was to see your honest and down to earth view. I grew up in Birmingham city and lived in ward end/Alum rock and had many Muslim friends and neighbours and all were very accepting of different faiths beliefs and cultures within Birmingham.
"I would say that like most cultures it's a minority that create the catalyst and unfortunately they will always attract followers and sympathisers."
Yet others were clearly less impressed by the professional fighter's words. Taking to his Twitter account, Mr. Khan wrote that some were attacking him for his viral post. In one Tweet, he reported that a "Certain British born Pakistani I knew growing up has been trying to block my FB account". Days after the Facebook status had gone viral he admitted defeat — temporarily at least — and said he was deactivating his Facebook account, remarking that "some people cannot handle the truth".
Seems some people cannot handle the truth. Deactivated my FB due to my viral post for a while until I resolve the issue.

— Tam Khan (@Tam_Khan) July 30, 2016
Follow Donna Rachel Edmunds on Twitter:

Follow @Donna_R_E

or e-mail to: dedmunds@breitbart.com