Student Union Welfare Officer Mahamed Abdullahi is campaigning for the "outdated" National Anthem to be removed from the end of King's College London's graduation ceremony due to its apparent links to "far right nationalism".
Mr. Abdullahi, a Danish national and geography student, made the statement on Facebook, saying: "In the context of increasing far right nationalism across Europe and the legacy of the British empire, [the National Anthem is] just a bit shit" and exclaimed: "Fuck the nation state", reports the MailOnline.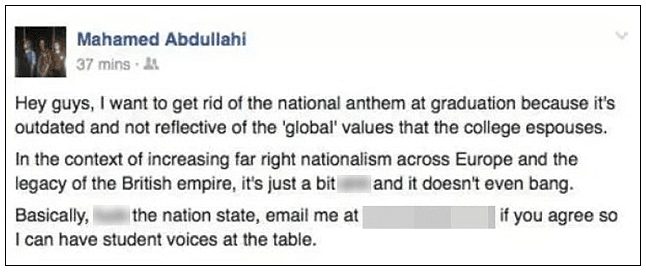 His comments led to a petition by James Findon, a member of KCL's Conservative Association, to keep "God Save the Queen".
Mr. Findon told MailOnline: "It is an embarrassing reflection on students at King's that one of our elected officers has resorted to such a petulant and disrespectful outburst on social media with so many expletives."
A fellow critic of Mr. Abdullahi, Alex Sanso who is studying for an MA in politics, said: "It is deeply worrying that an elected student representative should promote his own political agenda with such a lack of respect for the traditions of the university, particularly on an issue of historic and cultural salience.
"For someone who condemns issues that divide us, it is bizarre that the VP should criticise the nation state – the ultimate institution to promote and enable unity amongst us."
In his manifesto to become Vice President for Welfare and Community at the near-200-year-old university, Mr. Abdullahi called the government's anti-terror strategy Prevent "racist" and said he wanted to "decolonise" the curriculum.
However, the university, which was founded in 1829 under the patronage of King George IV, is reported to being taking Mr. Abdullahi's "feedback" into serious consideration.
A spokesman from King's College London said: "We are always open to feedback from students, staff and alumni and are currently in discussion with KCLSU student officers about various elements of the ceremonies, including the use of the National Anthem.
"Feedback from all members of the King's community will be used in planning the next set of ceremonies."
Last year Oxford University students campaigned to have a "racist" 100-year-old statue of Cecil Rhodes removed from a grade II listed building, and to "decolonise" the "Eurocentric" curriculum.
In January, Oxford Union voted 245 to 212 in favour of removing the statue of Rhodes from the Oriel College, but the decision was overturned when furious donors
threatened
to withdraw millions of pounds in donations to the Oxford college.