Breitbart London Editor in Chief and UKIP leadership hopeful Raheem Kassam is giving a campaign speech in the Westminster Arms public house this morning.
Speaking to lay out his plans for the party and the country should he be elected leader of the party, Mr. Kassam is speaking in a favoured watering hole of both he and Mr Farage over the course of the 2015 General Election, and the 2016 Brexit referendum.
UKIP supporters keen to hear Mr. Kassam's speech turned up early this morning packing out the venue. Among those present were two dozen Justice For Marine A supporters, whose aims Mr. Kassam has supported through his campaign, and during his editorship of Breitbart London.
Speaking from behind the bar of the Arms in front of a Make UKIP Great Again banner, Mr. Kassam declared himself the "Faragist" candidate, proposing a concept of Faragism which he defined as anything but "the squishy centre-ground". He called it "a belief in your country, in your culture, a belief in the people of this great nation".
Mr. Kassam repeated his pledge to drive UKIP membership to 100,000 by the next General Election and vowed to resign as leader if he failed.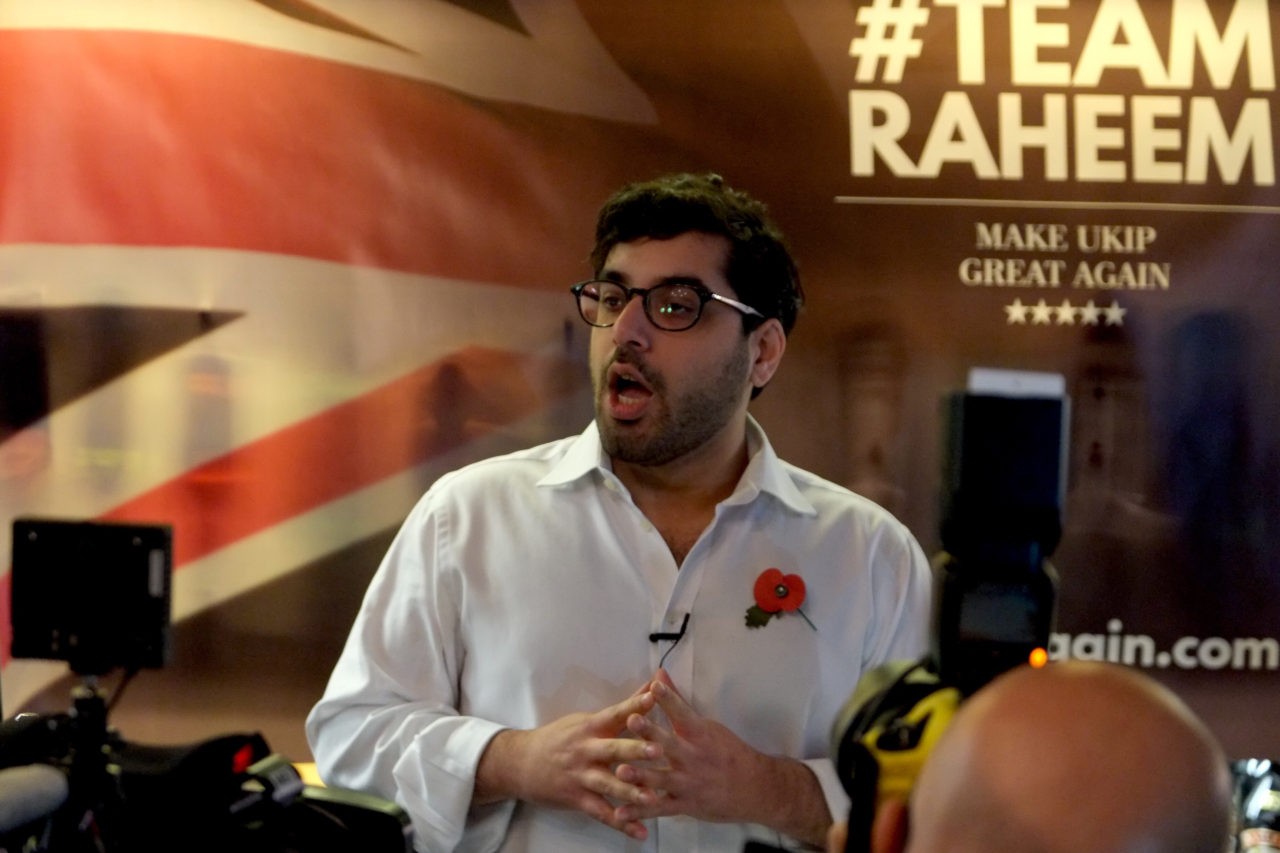 Mr. Kassam was the first to moot his candidacy for the UKIP leadership after the unexpected departure of Diane James after just 18 days in the role. Having refused to sign the official Electoral Commission papers giving her government-recognised leadership of the party, that position automatically reverted to Nigel Farage upon her resignation, citing family reasons and difficulties with the party hierarchy.
Mr. Farage continues as the interim leader during the selection process, and had said he wanted to keep neutral in this vote as he had during the one which selected Mrs. James. He quickly reversed this decision after fellow leadership contender Suzanne Evans used her campaign launch to smear the party and attack Mr. Kassam, blasting him as "far right".
Speaking just minutes after the attack on the Peston show, Mr. Farage hit back at Suzanne Evans, calling her campaign style "poisonous". Although he has not yet gone so far as to publicly back Mr. Kassam, UKIP's main donor Aaron Banks who it is known tends to be in agreeance with Mr. Farage on such matters has gone on the record as being pro-Kassam, saying "I've been very impressed with Raheem's ideas despite Paul Nuttall running I think he's the candidate to beat. He's got my support".
Mr. Kassam has stated after his campaign speech in London today, he will be attending hustings in London, Newport, Leeds, and Wolverhampton.
Follow Oliver Lane on Twitter:

Follow @Oliver_Lane

or e-mail to: olane@breitbart.com