Today, Friday, May 25th, the people of Ireland are voting to decide whether the unborn's right to life should be repealed from the Irish constitution.
Ireland has been much divided in the weeks leading up to country's referendum to remove the eighth amendment from its constitution, which guarantees the right to life for unborn children. Groups such as Together For Yes, who support the legalization of abortion, and pro-life group LoveBoth have gone head to head over the issue.
Together For Yes tweeted today that the vote was a "once in a lifetime opportunity to make Ireland a safer place for women and girls."
18 hours until polls open.

This is it, the final push for Yes. We have a once in a lifetime opportunity to make Ireland a safer place for women and girls.

Let's do it. #together4yes #Together2vote pic.twitter.com/jbEuwycPRX

— Together for Yes (@Together4yes) May 24, 2018
LoveBoth has claimed throughout the campaign that the repeal of the eighth amendment is "too extreme" and tweeted today that only a 'no' vote could prevent abortion on-demand in Ireland.
#8thref isn't about abortion in limited cases. It's about abortion on demand for any reason. Only a NO VOTE can stop this.

County Wicklow needs to have its voice heard. Bring your friends and family with you to #VoteNO today. #LoveBothVoteNO: https://t.co/G2GvAGmzKM pic.twitter.com/sSsa7xQZd5

— LoveBoth (Official) (@lovebothireland) May 25, 2018
John McGuirk, a spokesman for the pro-life Save The 8th campaign appeared on The Tonight Show where he argued against the repeal of the 8th amendment noting that in the UK in 2016 eleven babies "had lethal injections into the heart in the womb and were delivered dead, and the stated reason was that they had a cleft palate."
McGuirk stated that the "terrifying" thing is "not that those horrible, horrible, brutal things happened, but that in the UK they weren't even a news story, because when you legalize abortion, you change the culture of a country utterly. You change the way we think about life, you change the way that we as a society relate to each other."
https://www.facebook.com/savethe8th/videos/1372738462870337/
Recently, the owner of a field in the Dublin Mountains in which a large "NO" sign was erected was forced to remove the display after allegedly receiving a number of threatening phone calls.
The pro-life group behind the sign stated that they chose "more innovative methods of communication" following what they believed to be censorship of their views in traditional media and digital media. The owner of the field said that he removed the sign "for the sake of his wife" claiming that he was threatened over the display.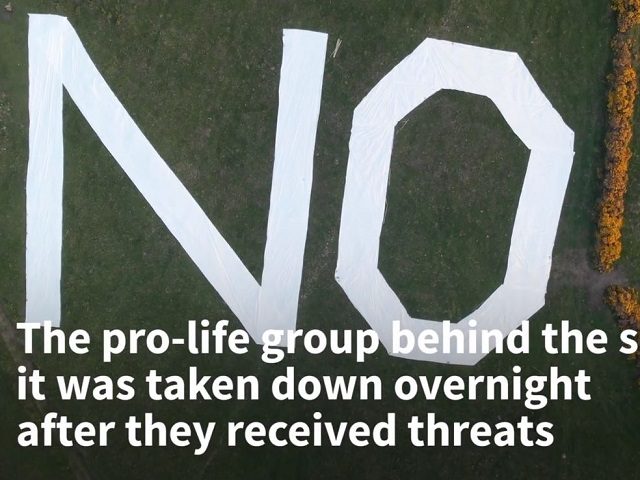 Facebook and Google both announced separately that they would be banning the advertisement of ads relating to the referendum. Facebook has banned ads from organizations based out of Ireland, while Google has banned all ads regardless of source.
Facebook said in a statement:
We understand the sensitivity of this campaign and will be working hard to ensure neutrality at all stages. We are an open platform for people to express ideas and views on both sides of a debate. Our goal is simple: to help ensure a free, fair and transparent vote on this important issue.
A Google spokesperson stated:
Following our update around election integrity efforts globally, we have decided to pause all ads related to the Irish referendum on the Eighth Amendment.
Irish Times political reporter Pat Leahy discussed the move by the tech companies, stating that for many pro-abortion campaigners on the left, this was good news.
The move by Facebook to no longer accept foreign advertisements relating to the upcoming referendum on the Eighth Amendment will come as welcome news to some on the Yes side of the campaign.

There has been rising concern among some pro-repeal groups and supporters that the referendum could be swayed in its decisive weeks towards a No vote by an avalanche of online ads.

Facebook's move is likely to be directly related to this fear: and a fear that if the referendum were defeated, the company would face questions about its role in influencing votes, as it has in the US and UK.

In the past fortnight, there has been a rising sense of pessimism in some repeal quarters that the campaign was slipping away from them. Yesterday, the transparency campaigner Gavin Sheridan tweeted that it was now his view that the No side would win the campaign because its online spending was dwarfing that of the Yes campaign.
Irish students studying abroad in England were offered up to £110 to travel home in order to vote in the referendum. The far-left group the National Union of Students (NUS) created bursaries for Irish students to vote in the referendum, with six universities aiding in these efforts including Oxford, Cambridge, Birmingham, Nottingham, Goldsmiths, and the Royal Central School of Speech and Drama.
The NUS stated that it supports the "rights of pregnant people" (note: not pregnant women, gender-neutral pregnant people) to have an abortion and as such would match any monetary contributions towards students travel funds made by local branches up to £110, as this is the Irish limit for political donations before they must be declared.
Irish Students Offered Grants to Fly Home and Vote 'Yes' to Abortion https://t.co/YAIocy2ddx

— Breitbart London (@BreitbartLondon) May 23, 2018
Analysts expect that urban areas are likely to favour a 'yes' vote to repeal the amendment, while rural areas could see a majority 'no' vote.
Irish taoiseach (prime minister) Leo Varadkar said in statement statemen that it was "a big 'yes' from me", adding: "Not taking anything for granted of course, but quietly confident — there's been good turnout across the country so far and hoping for a Yes vote tomorrow."
This is sure to be one of Ireland's most divisive votes in years, while the mainstream media and far-left groups have been pushing for a repeal of the eighth amendment, a silent majority may swing the result for 'no' in a Brexit or Trump style upset.
"One of the great things about democracy is that the government, media, corporate Ireland and a bunch of Hollywood actors can all line up on one side, and you can quietly toddle into a ballot box and vote for them all to fuck off, as I'm about to do," observed McGuirk.
Lucas Nolan is a reporter for Breitbart News covering issues of free speech and online censorship. Follow him on Twitter @LucasNolan_ or email him at lnolan@breitbart.com