Sadiq Khan's City Hall has replaced female toilets and shower rooms with "gender neutral" facilities, Breitbart London can reveal, prompting concerns the changes will be rolled out across the city and possibly put biological women at risk.
Sources inside the headquarters of the Greater London Authority (GLA) and the Mayor of London's offices say the changes have been made in some of the staff areas on the upper floors.
Images passed to Breitbart London show new signs, which are claimed to have appeared this week, reading "Gender Neutral Toilets and Showers." Some of the men's toilets, with urinals, are still marked as for men.
The shower rooms have always been available to both men and women, but the sign on the door previously showed a man and a woman. The female toilets were previously marked as for females.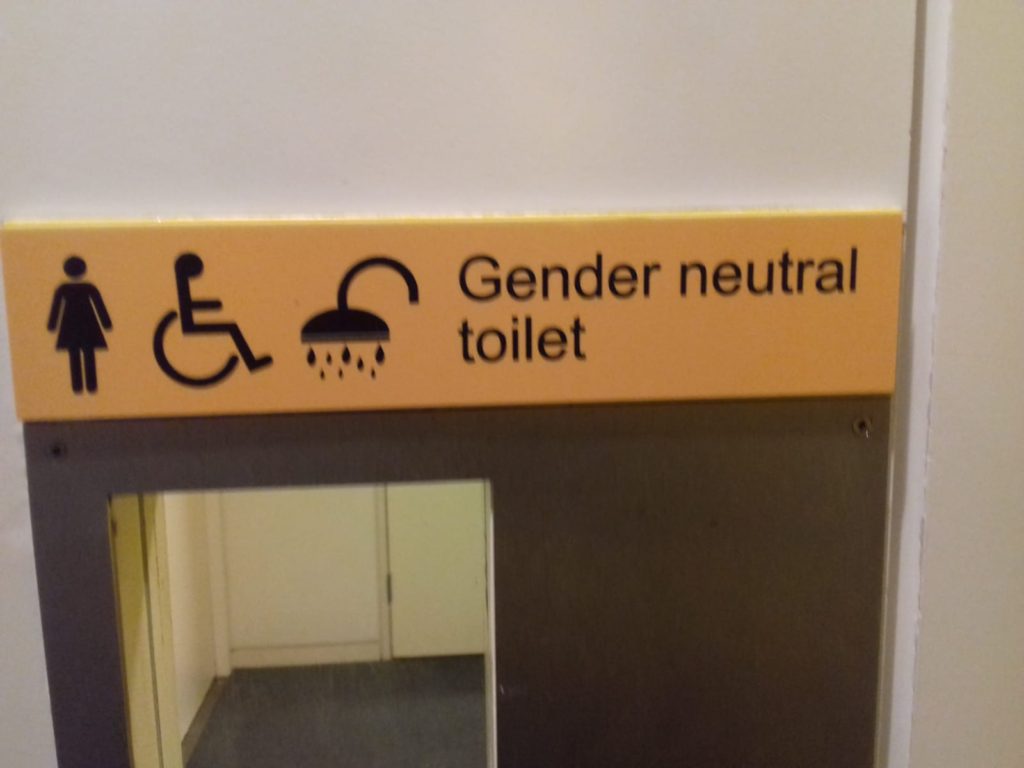 Other female toilets on the upper floor were also briefly changed to "gender neutral" before being changed back to "female," a source said.
Breitbart London spoke to UKIP London Assembly Member and Education spokesman David Kurten, who commented of the changes:
"I often have both male and female visitors coming to see me to discuss London issues. Female staff and visitors to London Assembly Members no longer have their own toilet facilities.
"A number of staff told me that they were uncomfortable with the change and are worried about men coming into the toilets while they were using them.
"Nobody would have even considered changing the signs on the toilet doors a few years ago, but now City Hall, under Sadiq Khan as mayor, is willing to risk harming women's comfort and safety for the sake of a politically correct agenda which the vast majority of the population do not agree with.

"There have always been men's and women's toilets, and everybody is happy with it that way apart from a few vociferous activists.
"It is concerning that this may just be the start of a process where all the toilets on the Greater London Estate including at Underground stations, bus stations, police stations, and in the Olympic Park may be replaced by gender-neutral facilities, which may put women at risk."
Labour mayor Mr Khan and City Hall have failed to respond to requests for comment from Breitbart London, and it is not clear at this time who authorised the changes.
However, on November 27th last year, Mr Khan "outlined important measures today… encourag[ing] increased provision of gender-neutral toilets."
Toilets are a vital public service. My draft #LondonPlan sets out plans to ensure all Londoners, including disabled people, older people & families with young children can travel around our city with dignity. https://t.co/QYnrm3QBRa

— Sadiq Khan (@SadiqKhan) November 28, 2017
A City hall statement said "gender-segregated" toilets could make the transgendered and "anyone whose gender expression doesn't conform with traditional gender roles" to "feel uncomfortable or unwelcome".
The mayor did not mention the concerns of many women's and feminist groups, which claim women-only spaces are important for biological females to remain safe.
In September, it was revealed that the vast majority of reported sexual assaults at public swimming pools in the UK take place in mixed-gender changing and shower rooms.
Data obtained by The Sunday Times showed that mixed-gender facilities are significantly more dangerous for women and girls than single-sex facilities.
Just under 90 per cent of complaints regarding changing room sexual assaults, voyeurism, and harassment are about incidents in mixed-gender facilities and two-thirds of all sexual attacks at leisure centres and public swimming pools take place in mixed-gender changing rooms.
Sadiq Khan Bringing 'Gender Neutral' Toilets to London to 'Reflect the Incredible Diversity of the City' https://t.co/e3t2npLrju

— Breitbart London (@BreitbartLondon) November 29, 2017
Responding to a question last month about possible changes, the mayor clearly stated his intention to scrap safer, separate toilets and showers.
He said: "There has always been gender inclusive toilet provision in City Hall in the public area on 2nd floor, the Chamber on the 1st floor and in staff areas in the separate toilet/shower rooms.
"However, the signage was not helpful on reflecting that they were gender inclusive.
"We have replaced the signage on 1st and 2nd floors with the word 'toilet' and removed the male/female pictograms.
"Replacement signage has been ordered for the staff shower rooms with toilets on staff floors to read 'gender neutral toilet and shower' and male/female pictograms will also be removed.
"Unfortunately, it has not been possible to make all toilets gender neutral, due to the configuration and sanitaryware."