Sen. Marco Rubio's (R-FL) deputy campaign manager allegedly punched a senior adviser to the rival presidential campaign of Sen. Rand Paul (R-KY) in the face.
"Rich Beeson, the CM for Rubio, punched me in the face tonight on Mackinac Island," Paul adviser John Yob Tweeted at 3:13 a.m. ET on Friday. "The Michigan State Police are looking for him."
"I am hereby calling on Marco Rubio to fire Rich Beeson immediately," Yob added on Friday morning.
For now, Rubio's campaign is standing by Beeson. Spokesman Alex Conant hasn't responded to a request for comment.
Rubio, one of the architects of the Senate's "Gang of Eight" amnesty bill, is coming off a debate performance Wednesday evening in Simi Valley, California, at the Ronald Reagan Presidential Library where he doubled down on his support for open borders immigration policies and amnesty for illegal aliens.
Security camera footage from the scene of where things happened—at Horns Bar on Mackinac Island—provided to Breitbart News by Yob, purports to have caught the sucker punch from Beeson. That video is contained here in this piece.
A photo Yob provided Breitbart News also purports to show Beeson flipping his middle finger at the camera inside the bar.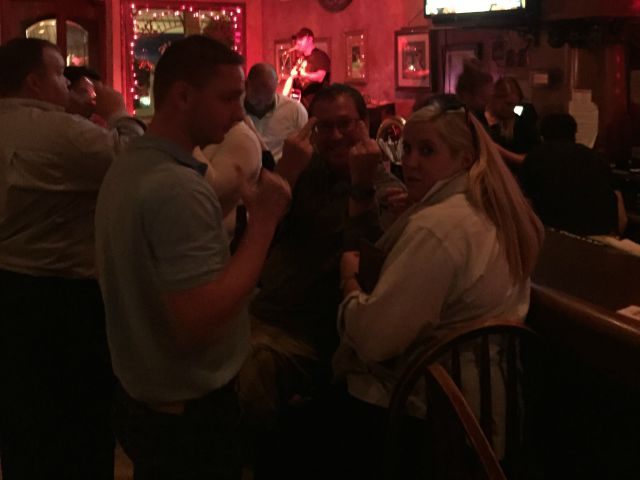 Yob told Breitbart News he's unsure if police in Michigan have found Beeson yet or not, but as of 4 a.m. they had not yet tracked him down.
Beeson is the GOP establishment mastermind behind the massively failed Project ORCA last election cycle.
"One prominent figure at the Romney campaign — Political Director Rich Beeson — and one prominent figure at the RNC — Chief of Staff Jeff Larson —  were both until recently partners at FLS Connect LLC," Breitbart News' Michael Leahy previously reported about the failed Project ORCA.
"It's unclear what, if any, ongoing relationship they may have with the company. A second prominent player in the Romney campaign — Digital Director Zac Moffat — has not fully disclosed what, if any, ongoing business relationship he maintains with Targeted Victory LLC. Press reports have referred to Moffat as the co-founder of Targeted Victory LLC."
Later in the piece, Leahy detailed that Beeson was personally the creator of Project ORCA.
"Connections between FLS Connect LLC and the Romney campaign are equally strong. Rich Beeson, who was named Romney's Political Director in 2011, worked as an FLS Connect LLC partner prior to that time," Leahy wrote. "The failed election day software program ORCA was Beeson's idea."
UPDATE:
Rubio's campaign remains silent on the allegations, which Breitbart News has confirmed were forwarded to a prosecutor for review.
"We are handling it. A complaint was filed. It has been forwarded to the Mackinac County prosecutor for review. We are not currently seeking Mr. Beeson," Mackinac Island Police Chief Brett Riccinto tells Breitbart News.
Contrary to original reports, Michigan State Police are not involved in the investigation into the Rubio aide's actions.
"The Mich State Police are not involved. The Mackinac Island Police Dept is investigating [the incident of Rubio CM allegedly punching Paul campaign adviser in face]," a spokesperson for the Michigan State Police tells Breitbart News.
In addition, Rubio's campaign manager Terry Sullivan apologized to Yob—but not publicly—for Beeson's violence, according to emails Politico obtained.
"According to the email exchange, Sullivan at first believed Yob was joking but then apologizes when he realizes Yob is serious," Politico wrote of the emails without publishing them.
"It is understandable that he would have initially thought that this was too crazy to actually be true," Yob told Politico about Sullivan's reaction. "The Rubio campaign is not to blame. Today I hope that he and Senator Rubio will take action on this matter as the state police investigate."
Breitbart News' Michael Leahy contributed reporting for this story