LOS ANGELES, California — About five hundred left-wing protesters braved rainy conditions and traffic to gather along Santa Monica Boulevard in Beverly Hills on Tuesday evening as President Donald Trump arrived in Los Angeles for a Republican fundraiser.
The demonstration featured a giant inflatable Trump doll, holding a missile; a Mexican band; street theater performers; and a small group of pro-Trump counter-protesters who braved the hostile crowd.
Several signs called for Trump to be impeached; others mentioned Russia or Special Counsel Robert Mueller.
As at many anti-Trump rallies, some of the signs were vulgar, featuring "f-bombs" and even Spanish profanity. The Mexican flag also made an appearance.
Many of the cars passing by on Santa Monica Boulevard, near the world-famous shopping district along Rodeo Drive, honked in solidarity with the protest.
However, there were a few Trump supporters on the road, as well. "MAGA!" one man yelled from his SUV.
There were a few arguments with Trump supporters, including "Angel Mom" Agnes Gibboney, whose son, Ronald da Silva, was murdered by an illegal alien in 2002.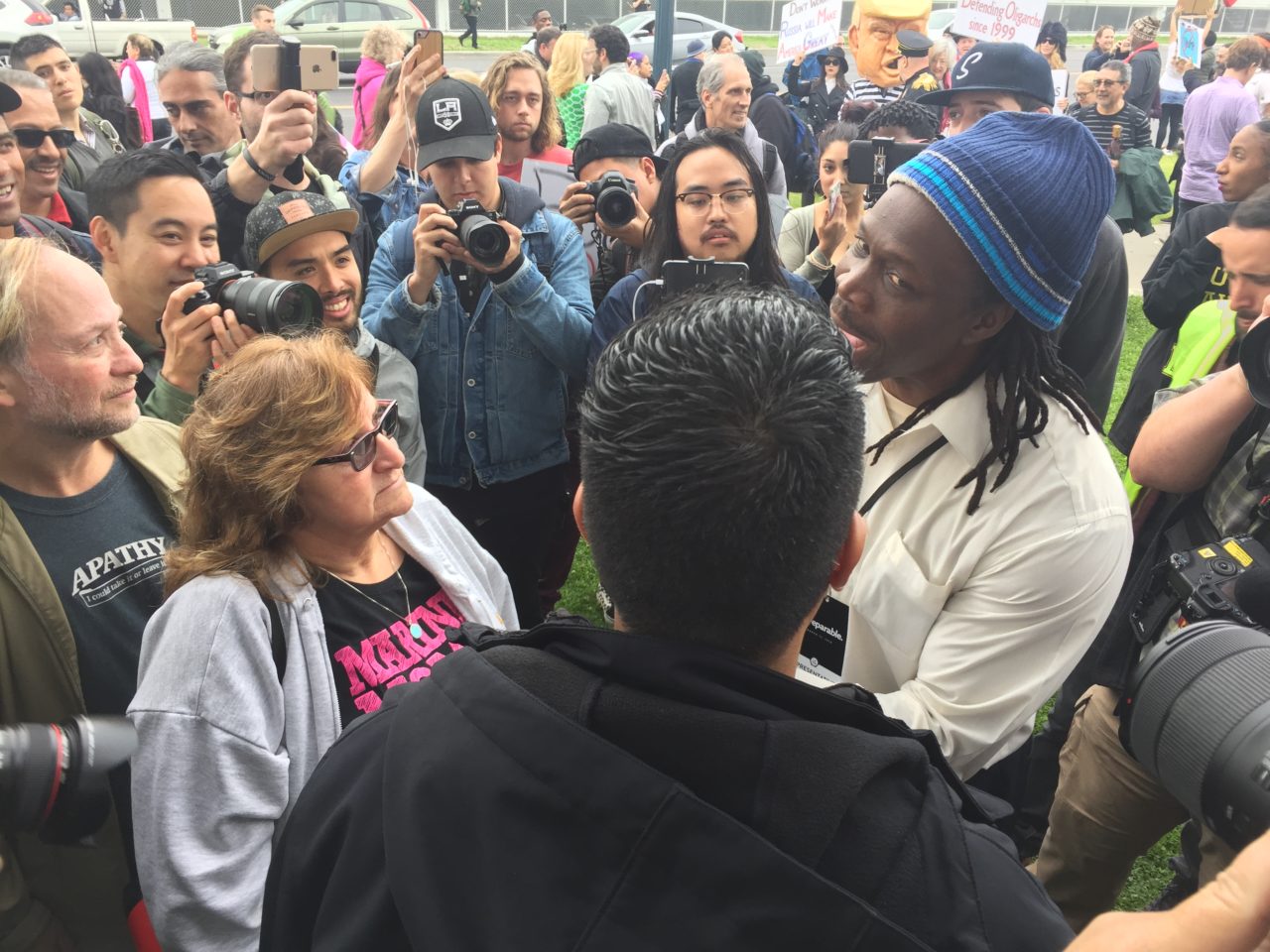 The rally also attracted radicals representing various tangential causes. One man, who hid his face with a pink bandana, carried an anti-Israel sign around the rally. Other protesters carried flags associated with the gay rights movement.
Trump's visit Tuesday was his first to California since taking office. He visited the border wall prototypes in San Diego earlier in the day and spoke to members of the armed forces at the Marine Corps Air Station Miramar.
Joel B. Pollak is Senior Editor-at-Large at Breitbart News. He was named to Forward's 50 "most influential" Jews in 2017. He is the co-author of How Trump Won: The Inside Story of a Revolution, which is available from Regnery. Follow him on Twitter at @joelpollak.