Republican and conservative voters have turned on multinational free trade agreements under President Trump's economic nationalist leadership, with now a majority of GOP voters saying free trade has cost American jobs and largely hurt the United States.
A poll by Harvard-Harris reveals that conservative voters are now the most opposed to free trade, with 54 percent saying free trade has hurt the U.S.
Republican voters and Trump supporters follow closely behind conservatives in their opposition to free trade, with 53 percent of GOP voters agreeing that free trade has hurt the U.S. and 52 percent of Trump voters saying the same.


Likewise, 54 percent of conservatives say free trade has cost Americans their jobs by allowing multinational corporations to readily outsource and offshore their work overseas to cheap, foreign markets.
Independent voters are the most likely, about 65 percent, to say free trade costs American jobs, while 51 percent of Trump supporters say the same.
Overall, a majority of Americans—55 percent—now say that free trade has come at the expense of American jobs.
The poll comes as Trump has gone full speed ahead with his economic nationalist trade agenda, with the help of Commerce Secretary Wilbur Ross and adviser Peter Navarro, imposing a 25 percent tariff on imported steel and a 10 percent tariff on imported aluminum.
Like mass immigration, multinational free trade has come at the expense of working and middle-class Americans.
Since 2001, free trade with China has cost millions of Americans their jobs. For example, in a report by the Economic Policy Institute, between 2001 and 2015, about 3.4 million U.S. jobs were lost due to the country's trade deficit with China.
U.S. Trade Deficit with China Has Eliminated at Least 3.4M American Jobshttps://t.co/AuWL4ZZ4qo

— John Binder 👽 (@JxhnBinder) April 5, 2018
Of the 3.4 million U.S. jobs lost in that time period, about 2.6 million were lost in the crippled manufacturing industry, making up about three-fourths of the loss of jobs from the U.S.-Chinese trade deficit.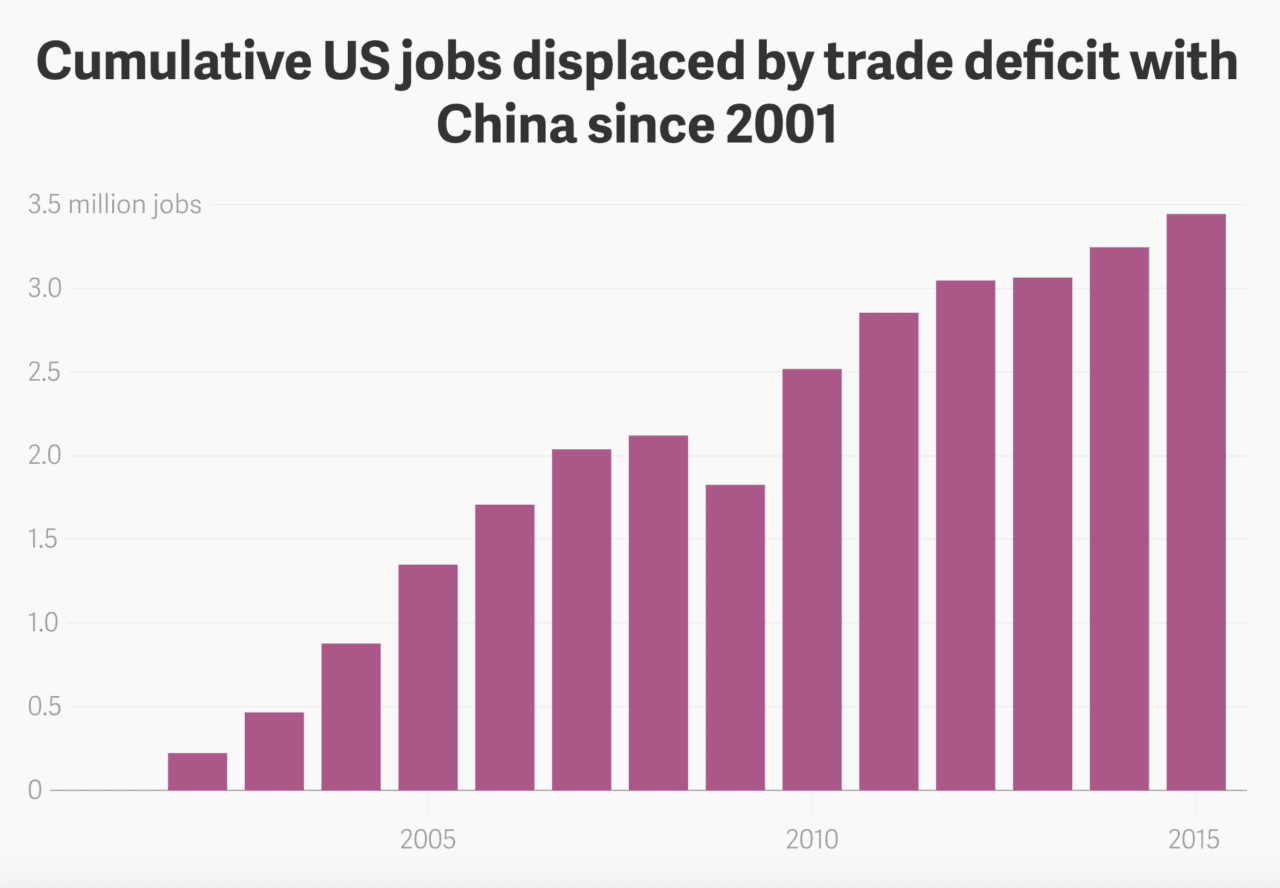 The Rust Belt has been one of the hardest regions hit because of U.S. free trade with Mexico. In total, about 700,000 U.S. have been displaced, including:
14,500 American workers displaced in Wisconsin
43,600 American workers displaced in Michigan
2,600 American workers displaced in West Virginia
26,300 American workers displaced in Pennsylvania
34,900 American workers displaced in Ohio
34,300 American workers displaced in New York
6,500 American workers displaced in Iowa
24,400 American workers displaced in Indiana
34,700 American workers displaced in Illinois
Meanwhile, since the North American Free Trade Agreement (NAFTA) took effect in the 1990s, at least one million net U.S. jobs have been lost because of the free trade deal. Between 2000 and 2014, there have been about five million manufacturing jobs lost across the country as trade deficits continue soaring.
One former steel town in West Virginia lost 94 percent of its steel jobs because of NAFTA, with nearly 10,000 workers in the town being displaced from the steel industry.