MONTERREY, Nuevo León — Authorities in this border state destroyed more than 5,000 firearms during a special event with 500 of those from the infamous Fast and Furious gun-walking operation.
During a special event, Nuevo Leon governor Jaime "El Bronco" Rodriguez Calderon oversaw and participated in the destruction of the weapons in the downtown area of Monterrey. High ranking military and state law enforcement personnel accompanied Rodriguez as he spoke about cartel violence and the destruction that those weapons had brought.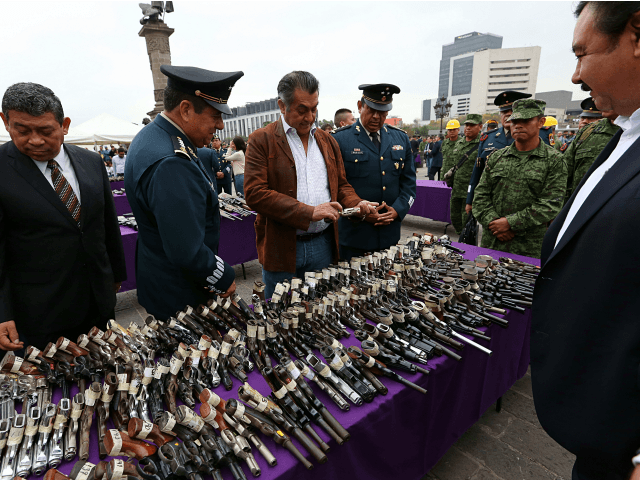 According to Nuevo León officials, the weapons had been seized from criminal organizations and from crime scenes. Rodriguez Calderon stated that the weapons had been smuggled into Mexico by criminal organizations from other countries.
More than 500 of the seized weapons were traced back to the failed Fast and Furious Operation where the U.S. Department of Justice allowed Mexican cartels to illegally purchase weapons in the U.S. in order to move them into Mexico. The weapons were supposed to be traced to high ranking cartel figures, however the U.S. Department of Justice lost track of thousands and bolstered the arsenals of criminal enterprises.
Two U.S. federal agents were also killed in connection with guns that were part of the Fast and Furious program. U.S. Border Patrol Agent Brian Terry was killed in December 2010. Two guns from the program were found at the scene of his murder. Immigration and Customs Agent Jaime Zapata was killed in Mexico in February 2011.
Kent Terry, the brother of the slain Border Patrol agent, told Breitbart Texas on the sixth anniversary of Brian's murder, "We have two federal agents, Brian Terry, and ICE Agent Jaime Zapata, along with hundreds, if not thousands of Mexican civilians who have lost their lives because of the Obama Administration's stupid decisions," Kent Terry stated. "What do I have to do? Stand in Washington DC holding up a sign to get accountability and justice?"
"Evidently we have to close the Mexican border to the introduction of firearms because they had destroyed thousands of lives," Rodriguez Calderon said in Spanish. "This day in addition to destroying the weapons, we have to build and strengthen our values and principles."
Ildefonso Ortiz is an award winning journalist with Breitbart Texas. He co-founded the Cartel Chronicles project with Brandon Darby and Stephen K. Bannon. You can follow him on Twitter and on Facebook.
Tony Aranda and Bob Price contributed to this report.