An anti-Semitic Salafist hate preacher has released "Peace Mobile 2", the second edition of the "world's first authentic Islamic smart phone".
For just $250 you can purchases the "solution for mankind", as the advertisements claim, branded by the wildly popular television preacher Dr. Zakir Naik.
However, the old edition drew attention for all the wrong reason, as the phallic appearance of the wallpaper could be considered haram (forbidden in Islam).
The revolutionary phone contains over 80 hours of Dr. Naik's videos, more than 50 "authentic Islamic applications", 100 Islamic wallpapers, 200 Islamic ringtones, and books on Islam and comparative religion by Dr. Naik.
Dr. Naik is an Indian preacher who tells followers that "the Jew" are their "enemies", and is banned from entering the UK by the Home Office.
When the home secretary Theresa May banned him in 2010, she said he had made "numerous comments" which were "evidence to me of his unacceptable behaviour" and "on their face supportive of Osama bin Laden, anti-Jewish and otherwise unacceptable".
"Coming to the UK is a privilege, not a right and I am not willing to allow those who might not be conducive to the public good to enter the UK," she added.
However, despite Mrs. May's comments, it was reported earlier this year that Peace TV, Dr. Naik's 24-hour satellite station, is partially funded by tax breaks from the UK Treasury.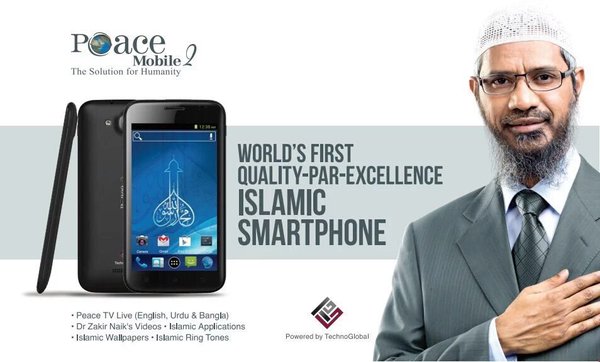 Ofcom, the broadcasting regulator, slammed the channel for screening a series of racist lectures by a scholar who referred to Jews as a "cursed race", and said the comments could be deemed "hate speech".
The channel broadcasts to almost 100 million people worldwide from a studio in Dubai, but is funded by a charity called the Islamic Research Foundation International (IRFI) based in Birmingham, England.
Thanks to its charitable status, the IRFI received £77,000 last year in gift aid tax relief donations, courtesy of the British taxpayer.