The Student Union (SU) at Lincoln University has forced the Conservative Society to suspend their social media accounts, allegedly because they used the platform to criticise the institution's restrictions on free speech.
The Society disappeared from Facebook and announced a two-month hiatus in its Twitter output on Monday, with the SU confirming it had ordered censorship as part of a "disciplinary matter".
Speaking to the university's student paper, the SU said: "…we can confirm that due to a suspected breach of the code of conduct a request has been made that the Conservative Society temporarily suspend their social media account."
"For obvious reasons, we cannot comment on live disciplinary matters concerning members of one of our clubs…" they added.
The "decision was reached by the SU following an anonymous complaint over two tweets by the society account", a Conservative Society spokesman said in a statement.
The society had recently tweeted a screenshot from the Spiked! University free speech survey, claiming Lincoln was "very intolerant" on free speech issues.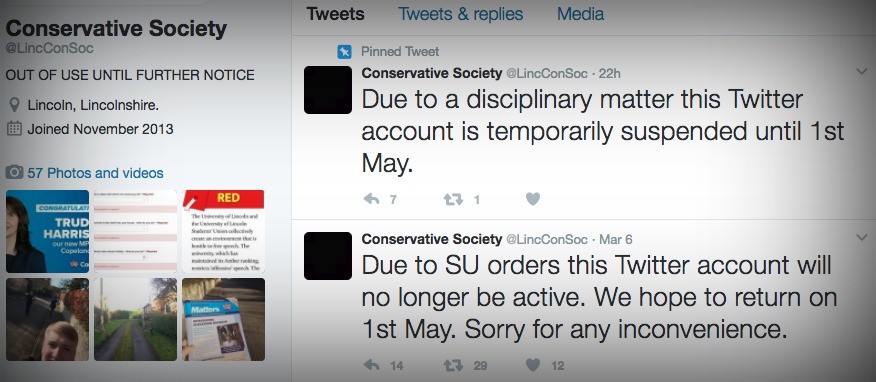 "As a result of this, their [SU] deemed this acknowledgment [sic] of their intolerance of free speech as 'bring[ing] the [SU] into disrepute' and has restricted their use of social media", Hull University Conservative Association claimed on Facebook.
"Just to reiterate the irony of this situation – their [SU] upon being criticised for being anti-free speech have silenced those complaining about a lack of free speech," they added.
The claim was met with widespread derision, and Lincoln MP Karl McCartney told The Telegraph the institution should be "ashamed".
"This intolerant, illiberal and totalitarian response is akin to something out of the Soviet Union or North Korea rather than a place for learning and debate," he said.
"I am sure the authorities of the University itself will be embarrassed by this as it does not help the University's reputation for tolerance, debate and learning.
"They should send a public message to say they disassociate themselves from their Students' Union's actions."