The left-leaning Economist's Berlin bureau chief enjoyed a brief stint in political leadership Tuesday evening, giving his new concept the Radical party a soft launch on social media, before immediately stepping away from the idea.
Giving his anti-Brexit, pro-Britain joining the Europ currency and European army, and high tax party a name, logo, and Twitter account, journalist Jeremy Cliffe boasted he was getting 45 emails from interested potential members a minute, reports Westminster political gossip blog Guido Fawkes.
Taking @RadicalsUK forward from here not compatible with my job as Berlin Bureau Chief, so I'm handing over control: https://t.co/MuE5VcD4p6

— Jeremy Cliffe (@JeremyCliffe) October 18, 2017
Yet just hours later, the hapless journalist was apparently forced out of his own party, possibly by his employer, as he said in a statement: "It is also clear from the — entirely unanticipated — scale of this unplanned experiment that taking this forward would not be compatible with my job as Berlin Bureau Chief for The Economist."
Despite that little setback, Cliffe remained determined to not allow the nascent movement he had sparked to die, and so vowed to pass the list of potential supporters onto a new management committee who would work to see their goals implemented.
Among other policy pronouncements made in the first hours of the Radicals' concept going live were halting Article 50, creating a "UK-Germany economic axis" and "UK-France security axis", pushing for the EU army headquarters to be in the United Kingdom, and making Conservative remain campaigner Ken Clarke the next EU commission president.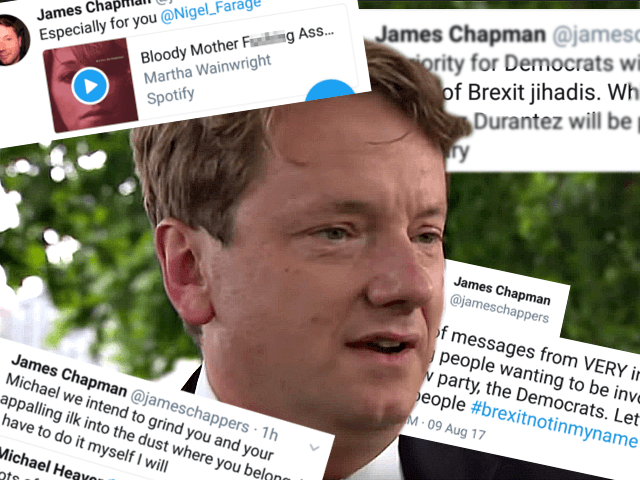 The strange episode will recall the brief foray into internet-stardom by George Osborne loyalist and former Department for Brexit Chief of Staff James Chapman — Chappers — who used his August holiday to Greece to launch foul-mouthed rants at what he called "Brexit Jihadis" including Nigel Farage, and launch a new political party. Called the Democrats, like Cliffe's attempt, Chappers' party was, too, a centrist movement determined to stop Brexit.
As well as promising his Democrats would take power in 2019, Chapman also called for IQ tests for voters, and for Nick Clegg's Spanish wife Miriam to be made foreign secretary.
Follow Oliver Lane on Facebook, Twitter: Follow @Oliver_Lane

or e-mail: olane[at]breitbart.com